There have been some interesting groups that have gathered in the Gladhill Board Room in the Health Sciences and Human Services Library over the years. Perhaps the most eclectic group of 90 met there on May 10 to celebrate the launch of 1807: An Art & Literary Journal.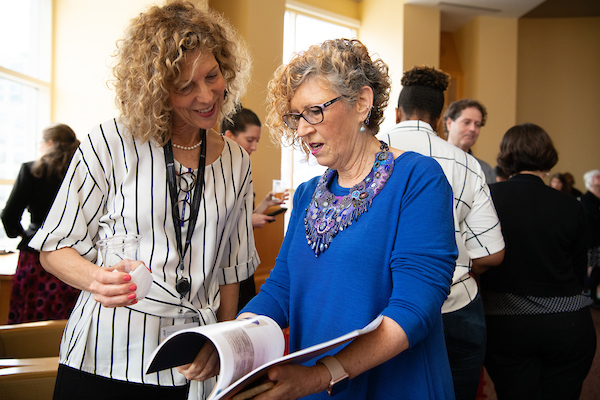 The 73 artists whose work was displayed among the more than 250 submissions came from faculty, staff, and students at the University of Maryland, Baltimore (UMB) as well as Medical Center employees and our West Baltimore neighbors.
The breadth of diversity among both artists and types of art (writing, visual arts, photography, and varied media) was pointed out by Maryland First Lady Yumi Hogan, honorary chair of UMB's Council for the Arts & Culture and an artist herself, whose painting "Nature's Breath" adorns the cover of the 60-plus-page journal.
"In art, it doesn't matter where you come from or what you do, we are all one and the same as artists," said Hogan, who is an adjunct professor at Maryland Institute College of Art.
UMB President Jay A. Perman, MD, expressed his excitement about the launch, giving special thanks to 1807 editor-in-chief Jennifer Litchman, MA, senior vice president for external relations, and creative director/managing editor Dana Rampolla, senior marketing specialist, Communications and Public Affairs.
"This has been a long time in coming, more than four years, and you all made it happen," he said to the room filled with those who created the art and those who turned it into a glossy, attractive, full-color journal. "It's incredible to me and very reinforcing to me how many of our people here at UMB leave work each day and go home to another life … a life of art, and reflection, and creative expression. Thank you for letting us see this other side of you — this beautiful, artistic side of you.
"I wrote, because I don't have qualifications otherwise, an afterword for this journal," Perman said to laughter from the audience. "I said that at UMB, we are more than our science. We are more than our legal argument. We are more than our evidence-based practice. I said that all of us have the capacity for creativity and analysis both, and that creativity can make us better providers, better researchers, better lawyers, better social workers, and … probably … better people. Because art and culture illuminate our universal human experience as people. They help us connect with one another. They help us empathize and understand, which is at the core of our professions."
Those assembled enjoyed each other's artwork that rotated on TV screens around the room, as well as food and drinks.
"I made these," housekeeper Rita Boone said proudly, showing a colleague the circular metallic earrings labeled "Plum Passion" on page 31 in the journal. "I'm so excited. I didn't think anything of mine would be picked but here I am!"
Kate Tracy, PhD, vice chair of the School of Medicine's Department of Epidemiology and Public Health, was more low-key but obviously pleased. Her "Lessons from Glassblowing" on page 50 are a release from her daily research duties, she explained.
"The point is I spend my entire day thinking, operating like a scientist. I wanted to learn something new and creative," she said. "So I got into an intensive glassblowing experience in Corning, N.Y. … it's like meditating, it's so completely out of your body."
She described in a text block next to her glassblown art in 1807.
"Physical creativity is transformative: Working with my hands for hour after hour, day after day to learn glassblowing was mentally absorbing, meditative, challenging, and tiring. It lifted me completely out of my academic head and left me feeling a different kind of confidence. Spend time making things and staying connected to your body."
Maryland Secretary of Education James Fielder Jr., PhD, was on hand as a journal contributor. Described by Perman as a "poet laureate," Fielder agreed that art rounds out a person. "Each of you penetrates so many parts of the community because you do so many important things," he said, adding that STEM courses are now STEAM courses because art has been added to the traditional science, technology, engineering, and math. "The more that you can bring creativity to each of those fields, the more we can move forward."
Litchman, founder of the Council for the Arts & Culture, closed out the presentations by reminding the artists to sign several journals for the archives and to consider adding their art to a campus exhibit this summer.
The journal can be seen online and can be purchased for the fitting price of $18.07 (also the date of UMB's founding). "So in closing," Litchman said, "thank you, thank you, thank you, thank you for exhibiting, for being here today, for being supportive. Thank you!"