Reflecting on the many ways the school is meeting nursing needs in the state, nationally, and even globally, University of Maryland School of Nursing (UMSON) Dean Jane M. Kirschling, PhD, RN, FAAN, delivered her 2019 State of the School address on April 11, in Baltimore, with a repeat performance at the Universities at Shady Grove (USG) on April 23.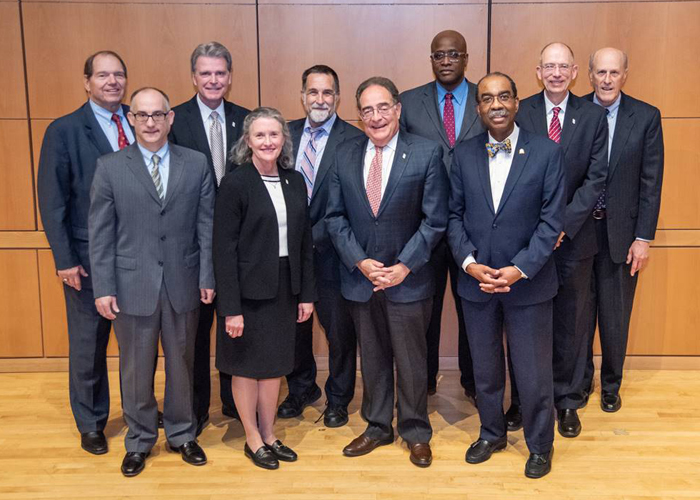 "I wrote recently in my column for the spring 2019 issue of our Nursing For/um magazine that we often think of ourselves as the quintessential Maryland institution, given our role within the University of Maryland System, UMB, and the state of Maryland. But we are also part of a vibrant national and international nursing community and that brings its own set of responsibilities," Kirschling said, addressing an audience of University of Maryland, Baltimore (UMB) leadership, UMSON faculty, staff, students, and other invited guests gathered in the UMSON auditorium.
Kirschling welcomed UMB President Jay A. Perman, MD, and her fellow deans: Bruce Jarrell, MD, FACS, dean of the University of Maryland Graduate School and executive vice president and provost, UMB; E. Albert Reece, MD, PhD, MBA, dean of the University of Maryland School of Medicine, the John Z. and Akiko K. Bowers Distinguished Professor, and executive vice president for medical affairs, UMB; Richard P. Barth, PhD, MSW, dean of the University of Maryland School of Social Work; Mark A. Reynolds, DDS, PhD, MA, dean of the University of Maryland School of Dentistry; and Donald B. Tobin, JD, dean of the University of Maryland Francis King Carey School of Law.
The event started off with a "virtual tour" video created to attract the 440 entry-level students the school admits each academic year. This year's address also featured a series of short videos highlighting research projects, academic programs, student support and success, and initiatives that are addressing the often-cited 2010 Institute of Medicine report, "The Future of Nursing: Leading Change, Advancing Health," which, Kirschling said, has substantially reshaped the landscape of nursing education and all aspects of the profession, in Maryland, regionally, and nationally.
"The School of Nursing not only responds to Maryland's needs, but as a program ranked in the top tier of all schools with master's and doctoral programs, we have a special obligation to help lead the way in responding to national needs," she said.
Kirschling said UMSON is responding to the needs:
to increase the percentage of nurses with baccalaureate degrees or higher to 80 percent of nurses by 2020, to ensure a workforce equipped to deal with the growing complexity of care;
to double the number of nurses with doctoral degrees, so that nurses are prepared for advanced practice, teaching, research, and scholarship;
to increase the diversity of the nursing workforce to make it more reflective of the population it serves and better equipped to provide culturally competent care; and
to increase interprofessional education.
Among other highlights of the annual review of the school's accomplishments, 742 new degrees and certificates will have been conferred this academic year. UMSON's increasing presence at USG is a reminder of the importance of USG in providing access to nursing education for students from the capital region and Western Maryland, Kirschling said.
The State of the School also highlighted:
the Debra L. Spunt Simulation Laboratories, which celebrated their 20th anniversary in December 2018;
the Doctor of Nursing Practice Neonatal Nurse Practitioner specialty;
Dual-admission partnership programs with 13 community colleges to transition students earning an Associate Degree in Nursing to a Bachelor of Science in Nursing degree;
the Maryland Nursing Workforce Center led by Rebecca Wiseman, PhD, RN, chair of UMSON at USG and an associate professor;
the increasing number of diverse students changing the face of nursing;
the 2020 U.S. News and World Report rankings of graduate nursing programs, which ranks UMSON's Nursing Informatics master's specialty No. 1, as it has since U.S. News first ranked nursing informatics programs five years ago.
For other highlights and the full UMSON State of the School address, watch the video below.