Barbara Pierce Bush believes in the power of partnership and that health is a human right. Ten years ago, she combined those beliefs into action as co-founder of Global Health Corps (GHC), a nonprofit committed to mobilizing young professionals in an effort to boost health equity around the world.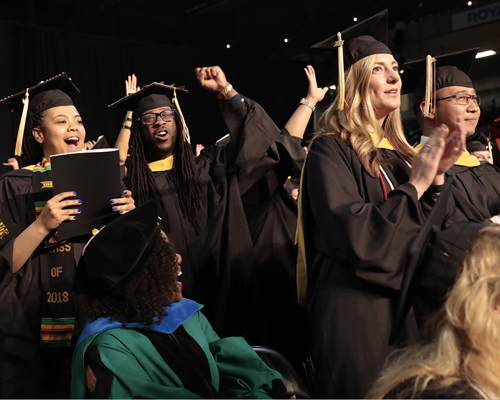 And as the keynote speaker at the University of Maryland, Baltimore's (UMB) commencement on May 16, she's eager and excited to tell the Class of 2019 about GHC, its fellows, and their inspirational work.
"Our fellows work every day to make a difference in the world," says Bush, chair of the nonprofit's board of directors and its former CEO. "Their stories are not dissimilar to those of the UMB graduates — young leaders who have the skills, drive, and passion to make a positive impact on the world and serve others."
(Read more about UMB's 2019 commencement.)
Bush, the daughter of former President George W. Bush and First Lady Laura Bush, was first moved to action in the area of global health equity in the summer of 2003, when as a Yale student she accompanied her father on a trip across eastern Africa as he launched the President's Emergency Plan for AIDS Relief. Once thinking of a career as an architect, she switched gears, graduated with a degree in humanities, and began to focus on global health.
"I was in college, and I vividly remember landing in Uganda, and there were hundreds of people waiting in the streets for drugs that had been available in the United States for years," Bush recalls. "Those stark images of the inequity that exists in the world certainly blew my 21-year-old mind, and it taught me an unbelievable lesson of not stepping back."
Bush certainly has stepped forward, co-founding Global Health Corps in 2009 and serving as its CEO until January 2018. Since its inception, GHC has placed more than 1,000 professionals from 40-plus countries into one-year paid fellowships with government health entities or nonprofits in eastern Africa, southern Africa, and the United States. The fellows, who help to fill areas of need in those organizations, work in teams of two — one national fellow and one international fellow.
And fellowships are not given only to those from the medical fields. A fan of interprofessional collaboration, a hallmark at UMB, Bush believes it takes a variety of professionals to tackle health inequity. For instance, GHC fellows with architectural backgrounds helped design a system that changed the way air flows through a health center in Rwanda, decreasing the risk of spreading tuberculosis, and other fellows have worked on improving drug-delivery methods in impoverished African communities.
"We need finance gurus and supply chain analysts, architects and designers, and educators and journalists," Bush says. "We need leaders with diverse skill sets to come together to solve the most complex challenges and ensure everyone has access to quality health care. This is who we've been recruiting and training at Global Health Corps."
Under Bush's leadership, GHC made sure its training integrated leadership and professional development with self-reflection and personal learning, building skills that are essential for effective and ethical leadership. The organization also is committed to diversity, describing it as the key to driving its fellows' ability to be empathetic and effective leaders in the health equity movement.
"Diversity and inclusion matter enormously in global health," Bush says. "Historically, the people who have effected change in global health have often been from medical backgrounds. They've often been academic, and they've often been Western. And while we've made tremendous strides in global health, it is critical to acknowledge that change-makers can come from everywhere."
Bush's work with GHC has not gone unnoticed. In 2011, she was named one of Glamour magazine's Women of the Year. In 2013, Newsweek recognized her as one of its Women of Impact. In 2014, she was named one of Goldman Sachs' 100 Most Intriguing Entrepreneurs. And in 2018, she won the Skoll Foundation's Award for Social Entrepreneurship. Bush also is a member of UNICEF's Next Generation Steering Committee and has served on the board of directors of Covenant House International, PSI, and the United Nations' Global Entrepreneurs Council.
The awards are nice, but Bush says she's most proud of the community of global leaders GHC has cultivated and then connected to a wide range of health entities, as well as the fact that 95 percent of fellows remain in the global health field beyond their one-year GHC tenure.
"Each leader individually is incredible — committed to health equity, eager to learn from others, and willing to show up day after day and listen, regardless of the challenge they and their team are facing," Bush says. "But collectively, this network blows me away. It's incredibly rewarding to see young leaders who are deeply passionate about health but don't necessarily see how they fit in the sector complete the fellowship and emerge with a deeper understanding, passion, and commitment to being health equity advocates for life."
And her advice to UMB's graduates? Stay open to new ideas and don't be afraid to explore new avenues in your career.
"I was on a clear path to becoming an architect, a job I'd always dreamed of," Bush says. "And, lucky for me, I didn't stick to that path. Instead, I nurtured the voice in my mind that was always interested in reading about global health and said yes to a number of moments in life that led to the founding of Global Health Corps. For that, my life is so much bigger than it would've ever been."