Among the thousands of people filling the National Mall in Washington, D.C. on April 22 to raise awareness about the importance of science were faculty members from the University of Maryland School of Social Work (SSW) and the University of Maryland School of Nursing (SON). Also attending were faculty and students from the University of Maryland schools of Pharmacy, Dentistry, and Medicine, who gathered at the Southern Management Corporation Campus Center to ride a bus organized by Campus Life Services.
The March for Science grew out of concern for President Donald Trump's proposed budget cuts to funding for scientific research. Similar marches took place in more than 500 locations throughout the world.
"I am a scientist, educator, and researcher," said UMSON associate professor Yulan Liang, PhD. "This was an important historical event I couldn't miss."
She and associate professor Arpad Kelemen, PhD, are committee members of UMSON's Climate Change Task Force.
Kelemen said he was inspired to attend by a "strong call to action" made by University of Maryland, Baltimore (UMB) President Jay A. Perman, MD, who wrote about the importance of the March for Science in a university-wide letter.
"I agreed with him 100 percent about how science, the EPA (Environmental Protection Agency) and climate change research, et cetera, are being crushed by politicians and science itself needs defending these days," Kelemen said.
Other participating faculty from the School of Nursing included assistant professors Pei-Ying Chuang, PhD, MSN, RN; Karen Wickersham, PhD, RN; Valerie E. Rogers, PhD, RN, CPNP; Shijun Zhu, PhD; and Veronica P.S. Njie-Carr, PhD, RN, ACNS-BC, FWACN.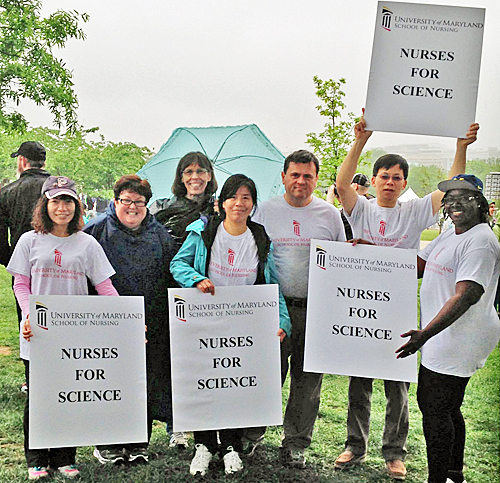 Richard P. Barth, PhD, MSW, and SSW dean, helped to organize faculty members from his school as well as social workers from several organizations around the country.
Barth is a founding member and past president of the American Academy of Social Work and Social Welfare (AASWSW), an organization he described as "one that is particularly focused on social progress through science."
About a month before the march, Barth and AASWSW Executive Director Sarah Butts, MSW, organized a conference call with other social work organizations, including the Council for Social Work Education, the Consortium of Social Science Associations, the Group for the Advancement for Doctoral Education in Social Work, the National Association of Social Workers, and the Society for Social Work and Research.
"Given our central mission and my location being close to D.C., we agreed that the academy would take the lead," Barth said, noting the activity was organized as part of The Grand Challenges for Social Work, an initiative of the AASWSW. "We created some banners and mocked up some poster graphics for people to download and away we went."
Wearing orange and teal, the colors of the AASWSW, the groups heading to the march met at a predetermined spot - the Smithsonian Institution Building, also known as The Castle, on Independence Avenue.
After waiting in a 2-hour line to get through a security checkpoint, eventually the group made it to the Washington Monument and began waiting to join the parade of marchers. The crowds were so thick that two hours and 40 minutes later, Barth and his group had not moved.
"We know it was a big crowd because we didn't budge," he said. "It was a very exciting day."
Barth and his wife, clinical professor Nancy Dickinson, MsSW, PhD, took the Metro in. "It's a very serious topic but people were in good humor," he said of the crowded trains.
"I think it raised the nation's attention to science," Barth said of the March for Science. "I hope it made the president more aware of the cuts he may not even be aware of that were coming from some of the budget cutters on his staff."
Barth said he saw people marching representing the Society for Research on Childhood Development and the American Psychiatric Association.
When people hear about the March for Science, Barth said, they tend to think about physics, climate change, and medical science.
"We thought it was important to make people understand that our social relationships, our social progress also depends on science, which is at least as important to the future of the planet as virtually every kind of science," Barth said. "What these marches signify is lots of different people, for lots of different reasons, caring about science, saying this is a common interest. This is a path to a better future. Science is not a liberal conspiracy. It's a necessity for the future of our planet."
Other attendees from the School of Social Work included assistant professor Geetha Gopalan MSSW, MPSW, PhD, and associate professor Nalini Negi, PhD, MSW.