The University of Maryland, Baltimore (UMB) held a grand opening for its Community Engagement Center in West Baltimore at 1 N. Poppleton St. on Saturday, April 16, including a spring community festival to introduce the neighborhood to the center and its valuable services. Maryland's First Lady Yumi Hogan was a guest at the grand opening, assisted with the ribbon-cutting, and spent the day with community members at the spring festival.
The center is designed to extend into its surrounding West Baltimore community the services and expertise available at UMB and its six professional schools and Graduate School. At the center, local residents have access to healthy living seminars, workforce services and a weekly organic market, as well as legal services such as guidance on expunging criminal records.
"We see a great need in the community, particularly after the unrest that faced West Baltimore this time last year," said UMB President Jay A. Perman, MD. "As an anchor institution in Baltimore, we have the resources and expertise to help our neighbors, and our sense of community obliges us to make that possible. This Community Engagement Center enhances our existing ties to the community by creating a new space right in their own neighborhood where residents can access services that can help to make them healthier, happier, and more successful. We have great hopes for this center and for this city, and we're delighted to celebrate its grand opening with our wonderful neighbors."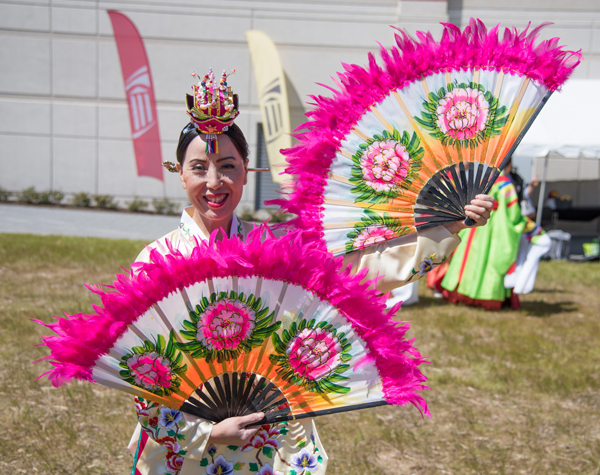 The Community Engagement Center provides a physical space in which community members can interact with UMB faculty, staff, and students from the schools of dentistry, law, medicine, nursing, pharmacy, social work and the Graduate School. Its grand opening began at 9:30 a.m. with a ribbon-cutting featuring dignitaries including Mrs. Hogan, Congressman Elijah Cummings, JD, Southwest Partnership Executive Director Michael Seipp, Baltimore mayoral candidate Catherine Pugh, Maryland Delegate Antonio Hayes, and City Councilman Pete Welch. The community festival from 10 a.m. to 3 p.m. offered legal and health services and advice as well as fun activities like food, games, and a clown with balloon animals and face-painting.
"West Baltimore is a growing community in which residents have made a commitment to make their community stronger every day," said Mayor Stephanie Rawlings-Blake, JD, like Cummings a UMB graduate. "Collaboration with anchor institutions like UMB empowers these residents to improve their neighborhood and the city as a whole. UMB has been a strong partner for the city of Baltimore and our residents, and we are thrilled to see it expand its community engagement efforts with this new center."
Many residents in West Baltimore neighborhoods face certain obstacles to health and success including higher rates of cancer, heart disease, and chronic conditions such as asthma, as well as poverty, crime, and violence. At the same time, motivated and involved members of the community have committed to improving their neighborhoods.
Poppleton resident Cassandra Fair said she sees the impact the University makes on the community. "I really do think the University makes a difference, reaching out to people for different kinds of activities – job training, letting people come to learn about their credit, being informative about a lot of health issues," she said. Her mother, Ernestine Fair, is a longtime West Baltimore resident involved in the community through her leadership role with the Poppleton Community Development Corporation.
Cassandra Fair said she has visited the Community Engagement Center several times a week since it began offering services. "I try to participate in everything they do over there, diabetes classes, the food market, aerobics," she said. There is no other place in her community to access such services, she adds. Her son graduates this month from a job training program through Baltimore Green Works, which he accessed through the University, that is preparing him for a more highly skilled, higher paying career, she added.
"I hope once other residents start hearing about it and seeing people that actually did something in the Community Engagement Center – who have actually benefited from it – the community will get more involved," Fair said. "I do my best to spread the word."
"It is residents like Cassandra Fair and her neighbors who helped us open the center from the ground up," said Ashley Valis, MSW, UMB's executive director of strategic initiatives and community engagement. "It was important for us that the community felt that they had a 'front door' to the University and all of our resources. We listened to feedback and suggestions from community members when programming the activities the center offers today, and we are thrilled to have gotten such a positive response from our neighbors this early on."