The University of Maryland, Baltimore (UMB) has spent the past 2 ½ years preparing for the reaffirmation of its accreditation with the Middle States Commission on Higher Education. On April 6, UMB took a giant step toward that important goal with a glowing preliminary report from the Middle States evaluation team.
The government accreditation is needed every 10 years to ensure the University remains eligible to receive federal funding for students and researchers. UMB "appeared to meet" all 14 standards necessary, said the evaluation team, which will turn its findings over to the Middle States full commission for a final decision in November.
"UMB has a clearly articulated and well-demonstrated commitment to fulfilling its obligations as a public institution that is training the next generation of health care, social work, and legal professionals for the state of Maryland," said Middle States evaluation team chair Denise V. Rodgers, MD, FAAFP, vice chancellor for interprofessional programs at Rutgers University Biomedical and Health Sciences. "The University mission statement speaks eloquently about the need to improve the human condition and serve the public good. The educational, research, clinical, and community service activities in most of the schools all have components that specifically address the needs of Maryland residents as well as the needs of the adjacent community in West Baltimore."
Rodgers, whose evaluation team included eight other academic standouts from institutions in New York and Pennsylvania, also lauded UMB President Jay A. Perman, MD. "During his six-year tenure as president, Dr. Perman through his transformational leadership has created a culture that values interprofessional education and collaboration, enhanced financial transparency, shared governance, and the adoption of seven core values."
The evaluation team arrived in Baltimore Sunday to add several days of interviews and impromptu visits with UMB personnel to put into context the "comprehensive and very well organized" 3,000-page Self-Study Report those at the University submitted in February. The in-person visits left an impression on Rodgers and the evaluation team.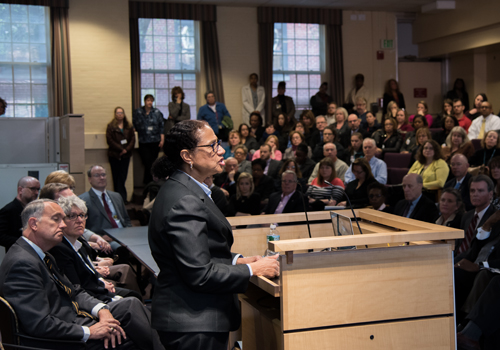 "Throughout the University," Rodgers said to a huge crowd assembled in the School of Social Work Auditorium, "faculty, students, and staff are all highly complimentary of Dr. Perman's inclusive and consultative leadership style. He is also making significant progress in his goal to create UMB as one institution out of many."
UMB enrolls 6,300 students in six nationally ranked professional schools — dentistry, law, medicine, nursing, pharmacy, and social work — and an interdisciplinary Graduate School. Breaking down silos in the schools and taking a "team approach" has been a priority of Perman. Middle States was such an interprofessional project, with contributors from all UMB schools and units helping with work groups, attending town halls, and supporting UMB's Middle States Steering Committee, headed by co-chairs Natalie Eddington, PhD, FAAPS, FCP, dean of the School of Pharmacy, and Roger Ward, EdD, JD, MPA, chief accountability officer and vice president for operations and planning.
Rodgers noted UMB's "strong commitment to high-quality research, education, and clinical care" and said "establishing the Center for Community-Based Engagement and Learning is an excellent example of a central effort to align school-based efforts in the local community and serve as a catalyst for greater collaboration in community-based student engagement."
She urged UMB to pursue six priorities it established in the Self-Study Report for its next strategic plan and to act on faculty support for a Universitywide Center for Excellence and Innovation in Teaching, Learning, and Instructional Design.
Through the Middle States evaluation process, institutions can receive probation, warning, recommendations, or suggestions. The evaluation team will present to the Middle States Commission that UMB receive the most favorable action — reaccreditation with suggestions.
Among them were to enhance professional development for school-based student affairs staff, to include course level expected student learning outcomes in all syllabi, to develop a committee for online learning, and for the School of Medicine to consider developing a stronger shared government model.
But Rodgers' comments for all 14 standards, ranging from Leadership and Governance to Institutional Assessment to Student Admissions and Retention, were favorable and Perman and his Middle States leadership team were obviously pleased afterward.
"They gave us a clean bill," said Perman, who had expressed his thanks to the University community in his March newsletter message. "Throughout this 30-month evaluation process, UMB has had to hit dozens of important milestones and deliver impeccable products that reflect the strengths and ambitions of this University. The fact that we uniformly did so is a tribute to the hundreds of people who took part."