University of Maryland, Baltimore (UMB) President Jay A. Perman, MD, traveled to Cumberland, Md., April 20 to promote team-based health care and education, and to help the region's Area Health Education Center (AHEC) celebrate 40 years of service.
"This AHEC is a win-win," Perman said. "It's wonderful that this community welcomes students here from their big Baltimore environments and schools, but I think the students give us back something, too, in terms of keeping our community practitioners very grounded."
AHECs are nonprofit organizations that work to improve access to health care through education and partnerships with providers, educators, and other civic organizations. AHEC West, as it's now known, was Maryland's first. Now there are AHECs in the Baltimore region and on the Eastern Shore. AHEC West Executive Director Susan K. Stewart praised Perman and the center's partnership with UMB. "We have long facilitated clinical rotations in our community from the health profession schools at the University of Maryland, Baltimore," she said, "so having Dr. Perman visit our agency is very exciting."
Stewart and her staff explained some of the challenges AHEC West faces in a rural environment, as well as some programs that are improving access to health care.
One very successful program helps connect emergency department patients complaining of dental pain to low- and no-cost providers. Perman said he was very aware of the lack of oral health care in rural areas, having served as the dean of medicine at the University of Kentucky from 2004 to 2010. "Emergency medical facilities used to tell me that one-third of their ED [emergency department] visits were dental," he said, adding that emergency departments can do very little to address those issues.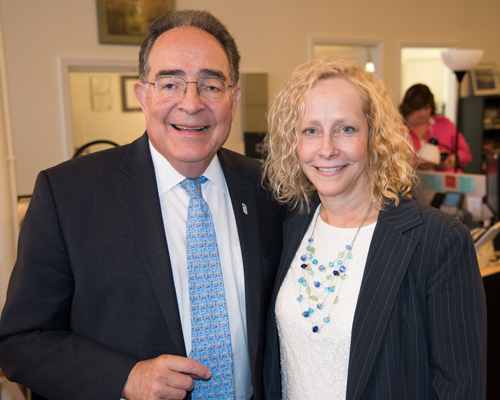 Dorian Birkholz, a community health worker with AHEC West's Mountain Health Alliance (MHA) – a network of public health care agencies, hospitals, and community organizations in five counties in three states – explained how their dental referral service works. When patients present with dental pain, she said, hospitals can securely fax their contact information to MHA, and MHA can connect patients with providers who have agreed to provide service at a low, fixed rate. MHA also has provided more than $2 million worth of donated dental care for 1,900 patients through three "Missions of Mercy."
Stewart also touted an impressive list of accomplishments in AHEC West's core mission, providing continuing education for medical professionals. Since 2010, the center has conducted more than 300 education events for more than 10,000 health professionals, and hosted nearly a thousand students for more than 4,500 weeks of clinical rotation education. Three of those students, Michael Rozak, Gregory Fu, and Grace Koo from the University of Maryland School of Medicine, said they were just wrapping up their rotations. All agreed that their time in Western Maryland provided valuable insight and experience.
UMB also helps educate and provide resources for geriatrics continuing education for care providers through the University's Geriatrics and Gerontology Education and Research Program (GGEAR). GGEAR director Reba Cornman, MSW, accompanied Perman, and regularly meets with AHEC West community partners to identify educational needs and help connect speaker resources. GGEAR directs a University System of Maryland (USM) Redeployment Grant that also funds the efforts of the Geriatric Assessment Interdisciplinary Team (GAIT). GAIT provides interdisciplinary education opportunities for students in health profession programs from several USM institutions. Students from the schools of medicine, nursing, pharmacy, dentistry, and social work have participated in GAIT programs in Western Maryland and the Eastern Shore. AHEC West coordinated six such programs in 2015 alone.
After the anniversary event, Perman was scheduled to provide training to local health care professionals at the nearby Western Maryland Regional Medical Center on the importance of interprofessional education and team-based care. Effective care for patients with chronic conditions, such as diabetes and hypertension, often requires a coordinated and collaborative team working with many aspects of the patient's health care experience.
Before heading to the medical center, however, Perman had some long overdue recognition to receive. Last summer he was unable to travel to Cumberland to accept the John M. Dennis Award, bestowed for his support of the Western Maryland AHEC mission. The award honors John M. Dennis, MD, who was vice chancellor for health and academic affairs at UMB from 1977 to 1988. Receiving the award, along with citations from U.S. Senators (and UMB alums) Barbara Mikulski, MSW, and Ben Cardin, JD, and the region's delegation to the Maryland legislature, a proud President Perman said, "I've always wanted to qualify as something of a knowledgeable person in regards to rural health and I guess this is my diploma."