The Maryland House of Delegates honored the University of Maryland School of Dentistry on Friday, April 3, in recognition of the school's 175th anniversary. Dean Mark A. Reynolds, DDS, PhD, MA, accepted a certificate at the Maryland State House on behalf of the School of Dentistry, the world's oldest dental school.
House Speaker Michael E. Busch (D-30A) awarded the certificate to Reynolds and sponsored the legislation, House Resolution #142, that congratulated the school on its long history.
The resolution reads:
"Be it hereby known to all that the House of Delegates of Maryland offers its sincerest congratulations to University of Maryland School of Dentistry in recognition of the celebration of your 175th Anniversary as the world's 1st dental college. The entire membership extends best wishes on this memorable occasion and directs this resolution to be presented on this 6th day of March, 2015."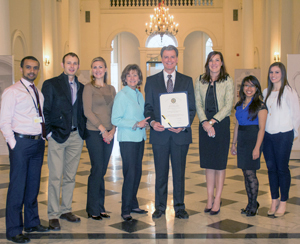 Bad weather prevented the House from recognizing the school on the original scheduled date earlier in the winter.
The School of Dentistry was established as the Baltimore College of Dental Surgery in 1840. Its mission is to improve the quality of life in Maryland through education, research and service related to health, with special emphasis on improving dental, oral and craniofacial health through comprehensive education, research and service programs.
The School of Dentistry is Maryland's pre-eminent provider of comprehensive and emergency oral health services for individuals of all ages, including the underserved and disadvantaged. Each year, nearly 35,000 people are served through more than 122,000 patient visits. The school is the largest provider of oral health care to persons living with HIV and Medicaid-eligible children in Maryland. The Special Patient Clinic provides easy access and specialized care for medically challenged patients.
In addition to the Doctor of Dental Surgery degree, the school offers bachelor's and master's degrees in dental hygiene and graduate programs in oral and craniofacial biological sciences and experimental pathology. Advanced dental education in the following programs is also offered: advanced education in general dentistry, endodontics, oral and maxillofacial pathology, orthodontics, pediatric dentistry, periodontics and prosthodontics.
A six-year combined certificate/MD program is offered in oral-maxillofacial surgery. Selected PhD and DDS/PhD students are supported through a National Institutes of Health training program in oral biology and neuroscience and funds from the Dean's Office. The student body is one of the most diverse in the nation and the school has more than 6,500 living graduates working in oral health professions.
The School of Dentistry is rapidly developing its research programs. The school ranks fourth among the nation's dental schools in NIH funding. It is the home of the University of Maryland's Organized Research Center on Persistent Pain, devoted to multidisciplinary approaches to the mechanisms and management of chronic pain. Through the center, School of Dentistry researchers collaborate with colleagues from the other schools of the University of Maryland, Baltimore, the Baltimore VA Medical Center, and Johns Hopkins University.