Jane M. Kirschling, PhD, RN, FAAN, dean of the University of Maryland School of Nursing, was among leaders of nursing, public health, and medical schools who participated in a White House Roundtable held April 9 to address climate change.

As part of a series of National Public Health Week announcements by President Obama to reduce the health impacts of climate change on the American people, the White House hosted the roundtable discussion with deans from universities around the country who are committing to training the next generation of health professionals to address the health impacts of climate change.

At the University of Maryland, Baltimore (UMB), Kirschling is the University's director of interprofessional education in addition to her role as dean of the School of Nursing.

"It was an honor to be invited to participate in this White House Roundtable on Climate Change and Medicine, Nursing and Public Health Education," she says. "President Obama and his senior staff will be hosting a summit later this spring to further address how to effectively prepare the next generation of health care professionals in addressing climate change."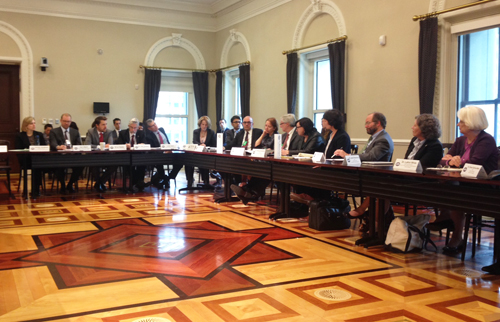 Over the past three decades, the percentage of Americans with asthma has more than doubled, and climate change is putting these individuals and many other vulnerable populations at greater risk of landing in the hospital. Certain people and communities are especially vulnerable, including children, the elderly, the sick, the poor, and some communities of color. Rising temperatures can lead to more smog, longer allergy seasons, and an increased incidence of extreme-weather-related injuries.

The leaders participating in the White House roundtable discussion are responsible for educating the nation's next generation of health professionals and ensuring that they are fully prepared to address all of the health risks their patients and communities face. At the roundtable, they discussed the climate related health impacts communities across the country are experiencing and a commitment to ensuring their students are trained to effectively address the health impacts of climate change.

Senior administration officials participating in the roundtable included Brian Deese, advisor to the president; John Holdren, assistant to the president and director of the Office of Science and Technology Policy; Christy Goldfuss, managing director of the Council on Environmental Quality; and Dan Utech, deputy assistant to the president for energy and climate change.

Kirschling was among six nursing deans. The other participants represented the College of Nursing, Washington State University; the School of Nursing, Johns Hopkins University; the Nell Hodgson Woodruff School of Nursing, Emory University; the College of Nursing, New York University; and the School of Nursing, University of Pennsylvania. The roundtable also included seven deans of schools of public health and seven medical school deans.

To read the White House Fact Sheet on President Obama's National Health Week announcements, click here.