Soon after dozens of people had come together at the Universities at Shady Grove (USG) for a panel discussion on the opioid crisis, they heard Maryland's grim statistics for 2017. Opioid-related deaths occurred at a rate of more than five people a day and nearly double what it had been two years earlier.
Last year there were 2,009 deaths statewide and 91 in Montgomery County, where the panel was held as part of a series being presented by the Office of Philanthropy at the University of Maryland, Baltimore (UMB). (See video below.)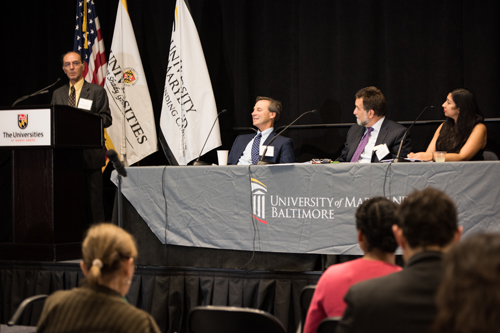 Richard Barth, PhD, MSW, professor and dean of the University of Maryland School of Social Work (UMSSW), reviewed the statistics and then asked those at the event for a show of hands. Did they know someone who has struggled with addiction or is struggling still?
Barth and many others raised their hands. "That's nearly everyone," he observed.
The statewide toll of the opioid epidemic is in keeping with the widespread experience of addiction. "Any relief that we may be seeing from the leveling off of heroin and prescription opioid deaths was wiped out by the increase in synthetics," Barth added. These drugs, such as fentanyl and carfentanil, account for nearly 80 percent of Maryland's fatal opioid overdoses.
The event, held Oct. 11, 2018, in Rockville, was the third in a series of panel discussions featuring UMB researchers and addiction experts. "UMB: Targeting Solutions to the Opioid Crisis," was presented last month in Howard County and launched in April in Anne Arundel County. The next in the series will be held Nov. 8 in Baltimore County.
In welcoming the group to USG, Executive Director Stewart Edelstein, PhD, noted the collaboration going back more than a decade with several schools at UMB. Among them is UMSSW, and several of its students who are enrolled at Shady Grove were in the audience.
Barth took on the role of moderator in his position as co-decanal lead of the Center for Addiction Research, Education, and Service (CARES), UMB's interdisciplinary effort to address the adverse impact of addiction on individuals, families, communities, and society. It's co-decanal lead is Natalie D. Eddington, PhD, FAAPS, FCP, dean and professor of the University of Maryland School of Pharmacy (UMSOP).
"We have to address the stigma of addiction," Barth told the group. He also said addiction treatment has not made needed scientific progress, which means that far too many people receive interventions "that are not as good as they should be and are based on misunderstandings about how addiction works."
CARES seeks to bring strong science to addiction treatment and services, to develop pharmacological and behavioral health solutions, to better educate providers on evidence-based practices, and to look at state and national policy.
Andrew Coop, PhD, FAAPS, professor of pharmaceutical sciences and associate dean for academic affairs at UMSOP, told the crowd how he had been searching for a pharmacological breakthrough since the formative period of his career, which began in the United Kingdom. His mentor at the University of Bristol was John W. Lewis, PhD, who discovered buprenorphine, an analgesic that is successfully used in medication-assisted treatment of opioid addiction.
"We need to go further. We need an analgesic that has no abuse liability," Coop said, referring to his own search that has produced the compound, UMB 425. He avoids the term addiction for what he noted is a brain disease, and he instead described mechanisms of the disease. If a user is motivated by avoiding withdrawal symptoms, perhaps after being given a painkiller because of surgery, the term is "dependent." A substance is "reinforcing" if the subject, whether a human being or a lab animal, uses it to get high.
"After a lot of work, I am halfway there," he said. UMB 425 causes no dependence but remains reinforcing, or vulnerable to misuse.
Coop said his lab is moving forward, step by step. "The next thing is to stop 'the reinforcing,'" a goal he said he is determined to reach for the sake of his mentor, Dr. Lewis.
Eric Weintraub, MD, associate professor at the University of Maryland School of Medicine (UMSOM), addressed behavioral innovations that share a common strategy. "It's based on engagement and access," said Weintraub, who directs the School's Division of Alcohol and Drug Abuse as well as the University of Maryland Medical Center's Psychiatric Emergency Services (PES).
Starting with PES, Weintraub and colleagues have developed a protocol for emergency departments at hospitals in Baltimore City to provide immediate help to patients who come in with addiction problems. People are given medication-assisted therapy such as buprenorphine or methadone as well as a referral to next-day treatment.
In the medication-assisted therapy clinic that Weintraub oversees, he said, 60 percent of patients now are walk-ins. Noting that timing and staffing barriers may have to be overcome, he said the ideal is to treat people when they show up and request help. "We take them then and there," he said.
Another UMSOM innovation, among others, is intended to improve access in rural areas that have too few providers or programs. Weintraub said UMSOM now offers a telemedicine option in six counties: Garrett, Washington, Frederick, Caroline, Talbot, and Dorchester.
Nalini Negi, PhD, MSW, associate professor at UMSSW, is a nationally recognized scholar who studies the behavioral health of Latino immigrants. She described her research focusing on day laborers, sharing the fact that Montgomery County and Baltimore City are home to a growing population of Latino immigrants.

She said national data show that we don't know much about the impact of the opioid epidemic on Latino immigrants, and there may be an opportunity for prevention.

Speaking of Latino immigrant day laborers, she said, "We know that they're employed in informal markets where there are significant workers' rights abuses and poor labor conditions." As an example, Negi shared with the group what she had heard from a 44-year-old man from Peru. " 'They think that the Hispanic is like a pack mule. Things they don't want to do, they make the Hispanic do them,' " she said he told her. " 'And then they pay them very little.' "

Given the ties to pain, injury, and despair among other populations that have succumbed to opioids, she called for improved access to public health services for immigrant workers to keep the epidemic from worsening.
The panelists took questions from the audience during the presentation and made themselves available afterward to talk directly to those in attendance.