If not us, who? If not now, when?

Those two questions were at the heart of the University of Maryland, Baltimore's (UMB) black-tie Gala on Oct. 14. The event, part of the University's annual Founders Week celebration, kicked off UMB's multiyear, $750 million fundraising campaign, Catalyst.
(See the Photo Gallery.)

After emcee Denise Koch of WJZ-TV welcomed the crowd of 500 supporters at the Hyatt Regency Baltimore, UMB President Jay A. Perman, MD, explained why the Catalyst Campaign was critical to "securing UMB's future."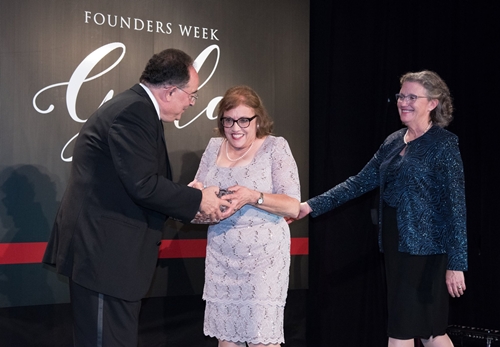 That $750 million goal "is essential to getting the most talented, most dynamic students on this campus — regardless of their ability to pay. It's essential to recruiting renowned faculty who can elevate our prominence and to developing our early- and mid-career investigators so that their scholarship, too, can achieve international influence," Perman said.

"Catalyst will fund new laboratories so that we can enlarge a research enterprise that already saves countless lives around the world. It will allow us to reward UMB's change-makers who innovate how we teach and learn — and how we make a difference in the communities that need us now more than ever."

Earlier, Koch had praised the University's community involvement, "how the University strives to lift up its neighbors and the communities close to campus" with initiatives like the UMB CURE Scholars Program, which she did a segment on for WJZ.

After a short Catalyst video (available below), deans and representatives of UMB's seven schools (dentistry, graduate, law, medicine, nursing, pharmacy, social work) joined Perman onstage and he praised their collaboration.

"While Catalyst will fund priorities specific to each of our seven schools," Perman said, "it also will support our Big Ideas — bold, interdisciplinary projects that depend on all of us working together to:

· End the epidemic of addiction;

· Relieve people of chronic, debilitating pain;

· Treat and cure critical diseases that diminish so many lives;

· Advance health, wellness, justice, and economic opportunity in communities so often left behind;

· Grow the next generation of entrepreneurs who will rewrite what's possible; and

· Join with the University of Maryland, College Park in cutting-edge projects that mine the best expertise of both institutions."

Perman and Donald B. Tobin, JD, dean of the Carey School of Law, presented the UMB Distinguished Service Award to Henry and Nancy Hopkins, who among their many contributions to the law school created the endowed Samuel and Anne Hopkins Scholarship, which honors Henry's parents.

Campaign co-chairs Ellen Yankellow and Brian Gibbons shared with guests why they've taken leadership roles in Catalyst.
"The University of Maryland has made a transformational difference in my life," said Gibbons, JD '87, who earned his undergraduate degree in College Park and his law degree at the Carey School of Law at UMB. "I feel I'm one of the lucky ones and I feel it's incumbent upon the lucky ones to give back."
Added Yankellow, PharmD '96: "I am a proud graduate of the University of Maryland School of Pharmacy, twice, and my UMB experience has given noble impetus to my life and to my career." She urged other alums to join her in "paying forward" their good fortune "to educate and motivate those many bright young people who are or who will be following in our footsteps as students."
Thomas J. Sullivan, CFRE, MS, UMB's chief philanthropy officer and vice president, thanked the co-chairs, the Catalyst cabinet, and the UMB Foundation and its chair, William T. Wood, Esq. He told the audience, "We thank you for being here to celebrate the greatness of the University but also the greatness of the possibilities that lie before us" before a graphic announced the campaign total to date, $317 million-plus.
The Gala is the signature event of Founders Week, which honors UMB's proud 210-year history, marks the achievements of current faculty, staff, and students, and looks ahead to the innovations to come. This year's top researcher, teacher, public servant, and entrepreneur — who were honored after dinner — carry on that fine UMB tradition.
Bartley P. Griffith, MD, the Thomas E. and Alice Marie Hales Distinguished Professor in Transplant Surgery at the School of Medicine, is UMB's Entrepreneur of the Year. A world-renowned heart and lung transplant surgeon, Griffith has spent more than 20 years developing the world's first wearable, artificial lung system. His progress on the technology, which should help hundreds of thousands of patients each year, led him in 2014 to found Breethe, Inc. Griffith could not be present for the Gala. His award was accepted by 2014 Entrepreneur of the Year James Gammie, MD.

Robert K. Ernst, PhD, professor and vice chair of the School of Dentistry's Department of Microbial Pathogenesis, is UMB's Researcher of the Year. He is at the forefront of innovative research, engineering rationally designed mimetics based on bacterial surface molecules that will inhibit the body's ability to mount the damaging immune response present in sepsis, a blood-borne infection that causes a death every two minutes in the United States.

Fadia Tohme Shaya, PhD, MPH, professor and vice chair for academic affairs in the Department of Pharmaceutical Health Services Research at the School of Pharmacy, earned UMB Teacher of the Year for teaching the skill, coaching the effort, and applauding the success of her students. Fluent in five languages, Shaya teaches courses that are highly sought after and often referenced by graduates as among their most influential.

Susan M. Antol, PhD, RN, director of the Wellmobile and school-based programs at the School of Nursing, was saluted as UMB Public Servant of the Year. Antol has been a champion of the underserved, caring for them in their homes and communities, both as a leader and a health care provider. Staff in the portable Wellmobile treat thousands of patients annually.

The Capitol Steps, a comedy troupe, closed out the Gala on a lighter note, poking fun at Presidents Trump and Obama, the Supreme Court, and many others.

For more information, visit http://www.umaryland.edu/founders/ for details on UMB's Founders Week celebration.