The University of Maryland, College Park and the University of Maryland, Baltimore unveiled ambitious plans for the Center for Sports Medicine, Health and Human Performance on Oct. 20. The new center, a signature component of the Cole Field House project, will serve as a treatment facility for a wide spectrum of sports-related injuries and also will serve as a research center for investigation into the treatment of sports-related conditions, including neuroscience and, specifically, the effects and consequences of traumatic brain injury. Traumatic brain injuries can cause depression, sleep disorders, and cognitive decline and adversely impact a victim's ability to function.
Watch "The Science of Cole Field House."
Through state support of the MPowering the State initiative, an initial $3 million will be invested in collaborative research that joins the strengths of both universities, by integrating the work of cutting-edge research scientists and engineers in College Park with the front-line preclinical investigators and clinicians in Baltimore. A new orthopaedic outpatient center will be at the core of the facility, and will serve the community by providing access to high-level care for sports-related and general orthopaedic injuries throughout the region. The program will feature an outpatient faculty practice devoted to concussion evaluation and care.
"The breadth and scope of this center is well beyond what currently exists in other sports performance centers. It is intended to harness unique and complementary capabilities across the two campuses," said Alan Faden, MD, the David S. Brown Professor in Trauma at the University of Maryland School of Medicine in Baltimore and co-director of the center. Faden's counterpart and co-director, Elizabeth Quinlan, PhD, professor in biology at the University of Maryland, College Park (UMCP), added, "The collection of scientists and clinicians from diverse fields that are brought together in the new Cole Field House will allow us to approach the study of nervous system injury and neuroscience in an exciting and highly interdisciplinary way."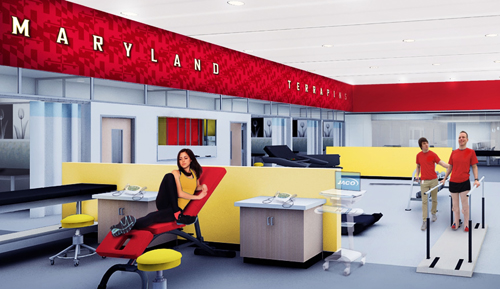 "The Center for Sports Medicine, Health and Human Performance at Cole Field House will deliver to the state's citizens the power of partnership," said UMCP President Wallace D. Loh, PhD, JD. "Bringing together clinicians and scientists from the state's two biggest public research universities under one roof creates connections that will contribute to breakthroughs in human health."
"We envision an ambitious research enterprise at the Center for Sports Medicine, Health and Human Performance," said Jay A. Perman, MD, president of the University of Maryland, Baltimore. "We believe our initial $3 million investment will lead to million-dollar, multidisciplinary grants in critical areas of neuroscience and traumatic brain injury."
The center will have more than 40,000 square feet of research and clinical space for experts in neuroimaging, genomics, and biomechanics, and the orthopaedic outpatient facility will provide the Prince George's County and D.C. metropolitan communities with access to the same world-class sports medicine clinical care as the University of Maryland intercollegiate athletic teams.
The Terrapin Performance Center, with a full-size indoor football field, two outdoor fields, and advanced strength, conditioning, and hydrotherapy centers, will be an athletic training facility unmatched in Division I sports. Cole Field House also will house the Academy for Innovation and Entrepreneurship. In a uniquely designed space, the academy will provide students and faculty with opportunities to work across disciplines in innovation and collaborative spaces.
View high-resolution renderings of the project at http://go.umd.edu/cfhimages
About the University of Maryland, College Park
The University of Maryland, College Park is the state's flagship university and one of the nation's pre-eminent public research universities. A global leader in research, entrepreneurship, and innovation, the university is home to more than 37,000 students, 9,000 faculty and staff, and 250 academic programs. Its faculty includes three Nobel laureates, three Pulitzer Prize winners, 56 members of the national academies, and scores of Fulbright scholars. The institution has a $1.9 billion operating budget, and secures $550 million annually in external research funding. The University of Maryland, College Park (UMCP) is ranked No. 20 among public universities and No. 25 for most innovative schools by U.S. News & World Report, as well as No. 14 among public universities by Forbes. According to The Princeton Review and Entrepreneur Magazine, UMCP is ranked No. 10 overall for undergraduate entrepreneurship programs. The university is recognized for its diversity, with under-represented students comprising one-fourth of the student population. For more information about the University of Maryland, College Park, visit www.umd.edu.
About the University of Maryland, Baltimore
Founded in 1807 along a ridge in what was then called Baltimore Town, the University of Maryland, Baltimore (UMB) is now a 71-acre research and technology complex encompasses 67 buildings in West Baltimore near the Inner Harbor. UMB is Maryland's only public health, law, and human services university. Six professional schools and a Graduate School confer the majority of health care, human services, and law professional degrees in Maryland each year. Under the leadership of President Jay A. Perman, MD, the University is a leading partner in the redevelopment of Baltimore's Westside. The University of Maryland BioPark, which opened in October 2005, promotes collaborative research opportunities and bioscience innovation. Sponsored research totaled $499.6 million in Fiscal Year 2015. With 6,329 students and 7,119 faculty members and staff, the University is an economic engine that returns more than $15 in economic activity for every $1 of state general funds appropriation. The University community gives more than 2 million hours a year in service to the public.