Just like every person with a smartphone isn't the next TikTok star, every teacher with WebEx or Zoom can't instantly transform their lecture into a TED Talk that keeps students on the edge of their seats.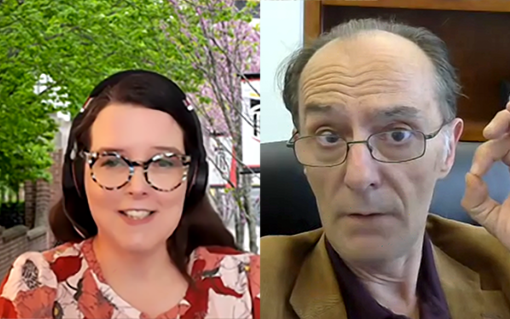 There can be a tendency to cram as much work as possible because of a perception that online course work is easier. Course bloat. Information overload. Call it what you want.
"One of the concerns by students is that it's just way too much stuff," said Andrew Coop, PhD, associate dean for academic affairs and professor of pharmaceutical sciences at the University of Maryland School of Pharmacy (UMSOP), during Monday's Teaching with Technology Virtual Conference. "You've added stuff. And you've added me doing an assignment, and you've added me doing an essay. This takes way longer than when we used to do class time."
Quality hybrid education is harder than it looks. Faculty certainly felt the pressure to provide the right "stuff."
"For some, these past months have felt like a sudden plunge into very cold water. And for some, they have been filled with aha moments. And for others, they have been simply a part of the inevitable evolution of how to teach. No matter where each of us started on the teaching with technology spectrum, we are united in our sense of triumph over the dislocations of the past months," said Jane M. Kirschling, PhD, RN, FAAN, the Bill and Joanne Conway Dean of the University of Maryland School of Nursing (UMSON), who also is the director of Interprofessional Education at the University of Maryland, Baltimore (UMB).
The pandemic forced academia to examine what works and what doesn't in online and hybrid learning. Triumphs and tips were in store at the Teaching with Technology Virtual Conference, co-sponsored by the UMB Faculty Center for Teaching and Learning and UMSON. This year's theme was "Stories from the Front Lines: Teaching with Technology During COVID."
(Presentations and a recording of the conference can be viewed on the Faculty Center for Teaching and Learning website.)
Having all sorts of online tools at their disposal, at the end of the day, teachers had to teach despite all the challenges over the past year.
"People are realizing that it's the teaching and the quality of teaching that matters, as opposed to the platform, the venue where that teaching occurs," said Roger J. Ward, EdD, JD, MSL, MPA, interim provost, executive vice president, and dean of the University of Maryland Graduate School.
That especially goes for virtual meeting software becoming dreadful for all of those involved.
"The problem, and this is well documented in the literature, is that Zoom uses a lot of cognitive energy because it violates so many social norms, yet academic classes traditionally are scheduled on them," Coop said.
The emergency pivot to online synchronous learning in the spring 2020 semester provided universal negative feedback on the well-being of students, faculty, and staff, Coop said.
UMSOP spent last summer examining the student experience and implemented several changes to provide consistency and flexibility in students' lives.
"Our day did not start until 10 a.m., and that was intentional because we had students who moved back to the West Coast, and we had parents dealing with the shift of K-12 and an online environment," said Shannon Tucker MS, CPHIMS, an affiliate assistant professor at UMSOP, who is also assistant dean for instructional design and technology at UMSOP. The schedule created built-in times for breaks, administrative meetings, and student organization meetings. UMSOP also limited synchronous instruction and re-educated instructors to use asynchronous delivery methods to create a balance. A dedicated instructional designer for each course provided support.
Coop, who recognized all the extra "stuff" in hybrid courses, said the Wake Forest Workload Estimator 2.0 accounted for everything to show how hard UMSOP courses are with online components instead of looking at how long students are in their seats. A one-credit course turned out to be 45 hours of instructional work.
"But the important thing here is actually the fact that this calculates the number of hours and gives us a wonderful way of ensuring that the student activities with the synchronous and the asynchronous actually are not bloated, which is obviously incredibly important in terms of wellness for the students," Coop said.
A quick assessment showed while most faculty wanted a more synchronous time, it was well received by students, Coop said, and that 10 a.m. Eastern exams, and early afternoon synchronous courses were also favored by students.
Short talks, polls, and breaks are all helpful to making the synchronous courses a success, but there is one big secret to making everyone happy: Don't go over your time.
"The student doesn't have a break before the next class," Coop said.
(Not going over your time is also good for the instructor's health. Protect and Prioritize Your Personal Time is one tip presented by Michelle Pearce, PhD, professor in the Graduate School, included in her "Seven Strategies for Building Resilience and Preventing Burnout for Online Instructors." Set and communicate your boundaries!)
Team-based learning (TBL) is a popular approach in health professions education where students work together to answer problems to provide high-quality online instruction. The in-person interaction between teammates can be closely replicated online if given the tools, demonstrated by Zachary Noel, PharmD, BCCP, assistant professor of pharmacy practice and science at UMSOP.
One strategy to have students work together in real time is to have them answer a question built into a quiz in Blackboard or Microsoft Forms, and they cannot proceed to the next question unless they answer correctly. Google Sheet or Microsoft OneNote could be used for instructors to see teams work collaboratively in real time.
"It's kind of like being a fly on the wall if you will, and kind of getting a unique angle for how the students were doing," Noel said. "And this is very much analogous to how TBL would work in a classroom where the instructor is circulating around the room and monitoring progress, answering questions where necessary."
Keys to succeeding using this approach include keeping a team together throughout a semester or year to develop relationships and creating a structure and routine for students to know what to expect.
"We thrive when we're in an environment where we know what's coming next," Noel said.