On a cloudless May morning, Paapa Nyanin, MD '21, strikes a commanding pose in his green-and-black University of Maryland School of Medicine regalia. He is recently hooded, with a custom-made stole designed by his Ghanaian father cascading down the front of his gown featuring an embroidered fern, an Ankaran symbol representing endurance.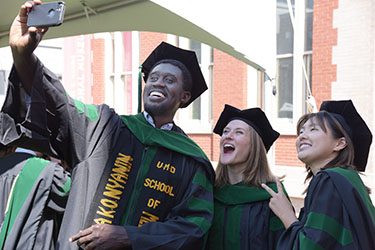 During a year that tested the endurance of the entire Class of 2021, graduates proved their mettle by displaying courage and resilience in the face of unprecedented obstacles. The past year definitely had its fair share trials and tribulations, said Nyanin, who spent a large portion of his final year of medical school concerned not only about his own health, but also the health of his patients, family, and friends due to a global pandemic.
"With every difficulty, there's always a silver lining at the end," Nyanin said as he motioned around the lawn outside Davidge Hall dotted with smiling, recently hooded graduates. The carefully organized outdoor ceremony served as a way for graduates and faculty to participate in the sacred academic ritual while following University and Centers for Disease Control and Prevention COVID-19 safety guidelines.
"This moment is the culmination of all the stress and all of the work," added Nyanin, who is headed to the University of Pennsylvania for a residency in family medicine. "Even in the weirdest time possible, you get to the other side and graduate."
After careful consideration and meticulous planning, several University of Maryland, Baltimore schools conducted small, in-person graduation ceremonies in addition to virtual celebrations.
At the University of Maryland School of Dentistry (UMSOD), Paula Green and her husband watched a livestream of their daughter Anne's hooding ceremony from their parked car. "I watched her graduate on my phone, which was nice, but it's not the same as being there," Green said.
The UMSOD graduation ceremony took place inside the school with 15 students receiving their degrees at a time ­— no guests permitted. As Anne emerged from the building in her black gown and purple hood, she was greeted with a long embrace from both parents.
Green recalled the difficult conversations she had with her daughter throughout a trying year.
"It was really tough under those circumstances. They had to wear N-95 masks all day, and maybe they couldn't get into the clinic. So many of them were worried about their credits and their eligibility to graduate. And now, here we are at this beautiful day," she said, beaming at Anne, who is heading to Long Island, N.Y., for a residency in pediatric dentistry.
Donald B. Tobin, JD, dean of the University of Maryland Francis King Carey School of Law, credits students' resilience for helping them navigate the challenges posed by COVID-19 and remote learning. As part of the school's celebration, students took photos with Tobin in their regalia and participated in a virtual ceremony that will be followed up by an in-person event in August.
"I feel for them," Tobin said, "They're not getting the graduation experience that people look forward to, but they're also starting a whole new chapter, one that hopefully isn't filled with COVID restrictions."
Edward Healy, JD '21, president of the 2021 Evening Program class, said despite feeling a lack of closure, it's still an exhilarating time.
"When we left for the pandemic, we didn't know it could actually be the last time we saw some people," he said. While Healy is grateful for the May 21 virtual ceremony for which he was a speaker, he looks forward to returning in August for the in-person event.
The past year has been particularly hard for University of Maryland School of Social Work graduate Rosalene Allen, MSW '21, who lost her brother and father to COVID-19. As she stood among happy graduates after an outdoor ceremony in front of the School of Social Work, she was filled with emotion. "This has been an up-and-down year for me," she said, her voice cracking.
Allen is 64 years old, and receiving her master's in social work is the culmination of a 10-year journey, so the physically distanced ceremony was the epitome of triumph over tragedy. "I'm so grateful for the opportunity to do this at my age. This is a new lease on life," she said.
Carolyn Walker said she was ecstatic when she found out she would be able to see her daughter Cari Bland, MSW '21, receive her School of Social Work diploma in person. Even though families were situated across the street from the hooding due to physical distancing restrictions, Walker was thrilled with the arrangement and had words of encouragement for all.
"I just want to say congratulations to all the graduates," Walker said. "I know it's been a tough year for everyone, but it was all worth it and led up to this amazing day."