As a chaplain in the United States Army, Catrena Almonte often witnessed the negative impacts of post-traumatic stress disorder (PTSD) and traumatic brain injuries on soldiers' careers. Feeling ill- equipped as a burgeoning chaplain to assist men and women with such conditions, she began to research other treatment solutions.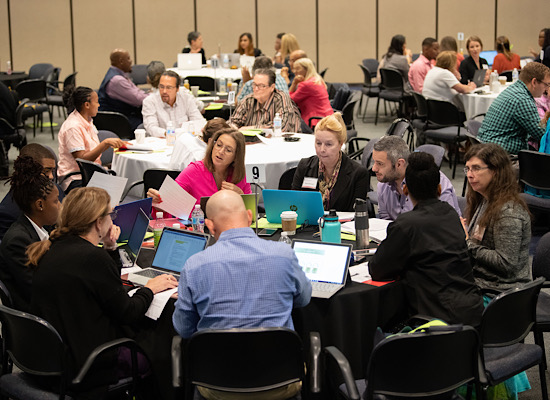 Her research into ways of helping suffering soldiers led Almonte to join 131 other students in graduating in the first class of the University of Maryland School of Pharmacy's (UMSOP) Master of Science in Medical Cannabis Science and Therapeutics (MCST) program, the only program of its kind in the nation.
The hard work and dedication of the inaugural class were celebrated in a virtual graduation ceremony May 21 (see video above). The event featured remarks from Natalie D. Eddington, PhD, FCP, FAAPS, dean and professor of UMSOP; a keynote address from David Casarett, MD, professor of medicine at the Duke University School of Medicine and chief of palliative care for the Duke Health System; congratulatory messages from faculty; the reading of each graduate's name; and degree conferral from University of Maryland, Baltimore President Bruce E. Jarrell, MD, FACS.
"I began to look for treatment modalities for these conditions and found that cannabis was a truly effective option," Almonte said after receiving her degree. "I then began to look for career pathing opportunities that would assist me in that goal. I found this program, and it has been the answer, hands down. I learned so much about cannabis' scientific, therapeutic, and medicinal impact on PTSD. This has been the core concept that will lead me to build upon as I seek to build a practice."
Eddington described the inaugural graduates as "trailblazers and leaders, innovators and risk-takers, and change-makers.
"As states have legalized medical cannabis, trailblazers like you have lined up to be at the forefront of this emerging industry by opening or working in dispensaries or welcoming patients into your medical practice," she said. "Those of you not directly involved in the industry seek ways to be involved, to advocate for improved regulations and policies, to change laws, and to better understand the science of this plant."
Launched in August 2019, the program provides students with the knowledge and skills needed to support patients and the medical cannabis industry, add to existing research in the field, and develop well-informed medical cannabis policy. Based at the Universities at Shady Grove (USG) in Rockville, Md., the two-year program blends online learning with face-to-face experiences and is designed for any individual who has completed an undergraduate degree and is interested in pursuing a career in the medical cannabis industry. During the COVID-19 pandemic, students and faculty were required to adapt to a fully online learning model.
The MCST program aims to meet the needs of all individuals interested in advancing their knowledge about medical cannabis, including health care physicians, nurses, and pharmacists; scientists and regulators; growers and dispensary owners; and policy and industry professionals.
According to Eddington, the program was developed with three goals in mind: to professionalize the face of the medical cannabis industry; to remove the stigma long associated with the plant; and to produce a diverse and highly educated medical cannabis workforce "to support the millions of patients who are turning to cannabis for relief from a host of symptoms associated with a wide range of diseases."
Traditional educational programs for health care practitioners, analytical chemists, policymakers, and business and sales professionals have not typically included instruction on the science, policy, and therapeutics of medical cannabis, Eddington said.
"There is a tremendous need for quality medical cannabis education. And the University of Maryland School of Pharmacy is proud to be at the forefront of this field and to now send its first graduates into the medical cannabis workforce and industry," she said.
Professional Pioneers
In his keynote address, Casarett welcomed graduates to "the strange and wonderful and really exciting world of cannabis science." For two years, he and others in the medical cannabis arena excitedly watched from the sidelines, hoping the program would be successful.
"And it is. It has been extraordinarily successful and you're the proof of that," Casarett told graduates.
He shared five hopes for them, noting that along with the completion of their degrees comes a responsibility to share what they've learned with patients and society as a whole, which generally lacks an understanding about medical cannabis. "There are not that many people out there with a rigorous education in medical cannabis science," he noted.
His hopes for the pioneering graduates are that they would:
Apply the emerging medical cannabis science to the science of patient care.
Bring evidence to care. "Too many decisions that patients are making are influenced solely, or at least in part, by a recommendation of friends or family members, or bud tenders, and we really need to change that. Twenty years ago there wasn't much evidence to support use of cannabis, but now there is."
Be active and engaged in educating health care providers.
Think about ways to enhance the scope and the scale of cannabis use for medical purposes. "I'm not asking you to all be researchers, but as many of you will be front-line providers, or engaged in some front-line care, you're really in a unique opportunity to identify potential new uses for an old product."
Be the face of medical cannabis. "Think about also how many patients want medical cannabis to help them gain control of their own health and health care. Think about what our patients expect from us, and try to be that, do all of that, and you'll do well, and you'll help us move the field forward."
Leah Sera, PharmD, MA, BCPS, assistant professor in UMSOP's Department of Pharmacy Practice and Science, director of the MCST program, shared her pride in seeing the inaugural cohort of students complete their studies.
"I am so proud of everything you've accomplished in this program over the last two years in addition to managing your jobs and taking care of your families and coping with a global pandemic," she said. "The field of medical cannabis has grown and evolved in the two years since you started this program, and I see now, clearer than ever, the need for individuals with your expertise to nurture and push this industry forward.
"With your passion, knowledge, and skill, you will improve the lives of patients through research, practice, education, and advocacy," Sera continued. "Keep blazing new trails and keep inspiring others like you've inspired me."
The virtual ceremony also included well wishes from program faculty members, among them Andrew Coop, PhD, professor and associate dean for academic affairs.
"It was my pleasure to meet you at the initial symposium at the Shady Grove campus," he said. "I knew when I saw the energy in that room, of you all as pioneers, with a passion for medical cannabis, that you would all be so successful, and that this was a wonderful program. I hope you take all this knowledge, all this experience, and importantly, all the networking. Graduates, go out and do us proud."
Paving Paths for the Future
For Kevin Merillat, MBA, MS '21, entering the program was a way to achieve his goal to validate cannabis use.
"Now that I've graduated, I have the tools needed to make change through education based on scientific foundations," he said. "I am honored to be one the first people to receive an MS degree in cannabis science so I can help influence lawmakers to make decisions based on science, not prejudice."
The inaugural class drew students of diverse backgrounds together for one cause: to be pioneers in legitimizing cannabis education and to pave the way for the normalization of cannabis as a medicine, according to graduate Brandon Coleman, MS '21.
"I am incredibly thankful for the opportunity to have graduated with this degree from University of Maryland School of Pharmacy, and I look forward to playing my part in advancing this emerging industry," he said. "I plan to use my degree to continue along my professional path within the cannabis industry and explore the opportunity to conduct research at the doctoral level."
Karriem Farrakhan, PharmD '03, MBA, MSc, MS '21, and his wife, Tecoya Farrakhan, PharmD '02, MBA, MS '21, graduated together despite the pandemic challenges of helping two teenage daughters with remote learning and also running a health and wellness company and a pharmacy services business.
"When I heard that the University of Maryland School of Pharmacy was offering a graduate program focused on the science and therapeutics of cannabis as medicine, I was overwhelmed with excitement and anticipation," Karriem Farrakhan said. "My alma mater was offering the nation's first master's program in cannabis science and therapeutics, and I knew that I had to be a part of it."
"I've been able to create amazing connections with amazing people as a result of this program, and it will be something I will never take for granted," Tecoya Farrakhan said. "This experience has been game-changing personally and professionally. I'm humbled to be a part of the elite 132 master's degree recipients of this program. It is super special."
As for Almonte, with graduation over, her next goal is to continue her education in psychopharmacology and psychology to become a clinical psychologist who will be able to administer care and offer pharmacological treatment modalities as well as cannabinoid therapeutic options for patients.
"Since I have a passion for veterans, I hope to lend a large portion of my practice to veterans," she said.
To learn more about the program, visit https://www.pharmacy.umaryland.edu/academics/ms-medical-cannabis-science-and-therapeutics/.