The graduation spirit filled the University of Maryland, Baltimore (UMB) campus with a swell of excitement as students came together to receive their professional degrees the week of May 17. Several of the schools gave their convocations a personal touch by holding small, in-person ceremonies to celebrate the graduates and their accomplishments after a difficult and unpredictable year.
"It feels very surreal, especially after the past year," Dan Yang, DDS '21, said after receiving his degree from the University of Maryland School of Dentistry (UMSOD). "I think our dean actually said something very great at the ceremony, which was, 'Our class will be remembered for what we accomplished and not what we missed.' That really resonated with me because this was a tough year, but we made it."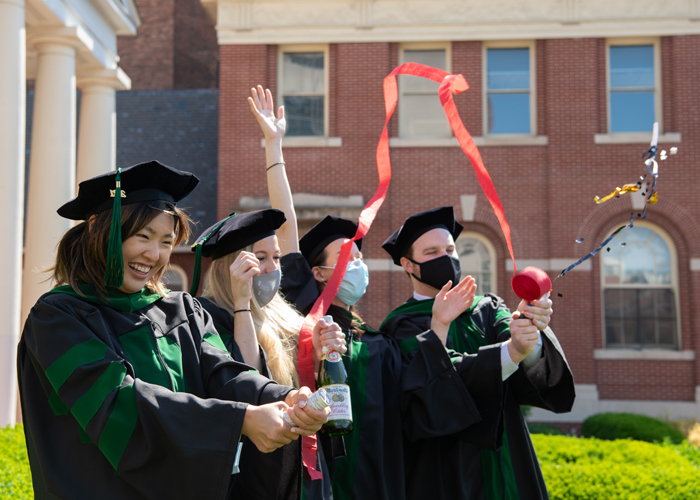 Even without the stress and uncertainty of a global pandemic, this year's graduation ceremony was a long time coming. Some students have been dreaming of this moment since childhood.
"She has wanted to be a doctor since she was 3 years old," said Michelle Meyer, who had just watched her daughter, Nicole Meyer, MD '21, receive her MD hood in front of Davidge Hall. "She made a collage when she was a toddler with pictures she cut out from magazines and said, 'I want to be a doctor.' Now, here we are, her dream has come true."
In lieu of a large, indoor hooding ceremony, the University of Maryland School of Medicine (UMSOM) instead had their students go to Davidge Hall in small groups. There, they were given the ceremonial hood by one of their professors to congratulate them on completing their medical school journey.
"I know it's not the typical type of hooding ceremony, but this year hasn't been a typical year," Paapa Nyanin, MD '21, said after receiving his hood. "This atypical ceremony was par for the course, and I'm just happy to be here with my fellow graduates."
The feeling was mutual for other graduates who earned their professional degrees that week. After an abnormal year of virtual learning, social distancing, and wearing masks and face shields, everyone was thrilled to celebrate this major milestone together.
"To be honest, this year was very difficult," said Desire Renggli, DDS '21, who graduated from UMSOD and will be starting her general practice residency in Long Island, N.Y., in the fall. "There were a couple of times where I was worried about whether or not I was going to finish on time, but we got through it and I couldn't have done it without all of my good friends. When they say it takes a village, it really does. Today, seeing everyone here has made it really special."
The celebrations did not end with the individual convocation ceremonies. Many graduates had plans to celebrate afterward with family and friends in a COVID-friendly location.
"It's definitely exciting to have everyone in town together. It's been a long road, so you have to make sure you celebrate," said James Peabody Harrington, JD '21, who just graduated from the University of Maryland Francis King Carey School of Law and will be starting a judicial clerkship with the Honorable Alison L. Asti in the Circuit Court for Anne Arundel County. "We're going to head over to Patterson Park after this. It's going to be the first time that I've even been able to see some people in a while, so we're all really happy that this could happen."
Being surrounded by family and friends enhanced the excitement for all of the graduates. For LaToya Barnes, MSW '21, who received a Master of Social Work degree from the University of Maryland School of Social Work (UMSSW), it was especially meaningful to be surrounded by loved ones when she received her degree from UMSSW Dean Judy L. Postmus, PhD, ACSW.
"I've been through a whole lot this year," she said. "I lost my mom, but thanks to all the support the school provided me, I really was able to make it through. I'm so happy to be out here celebrating in person with people I love and who supported me when I needed them most. It feels great. I feel very loved, and I couldn't ask for better people to celebrate with."
Whether they were receiving their MD, JD, PhD, DDS, or any other professional degree, everyone could feel the electricity in the air as the Class of 2021 turned their tassels to the left side of their mortarboards. After a long road of papers, projects, practicums, and a pandemic, the celebration was well-deserved.