University of Maryland School of Medicine (UMSOM) Dean. E. Albert Reece, MD, PhD, MBA, along with University of Maryland Medical Center (UMMC) President and CEO Mohan Suntha, MD, and Stephen Davis, MBBS, the Dr. Theodore E. Woodward Chair and Professor, Department of Medicine, announced that a new Division of Palliative Medicine has been established within UMSOM's Department of Medicine.
Palliative medicine is specialized patient care for those living with a serious illness. The care focuses on relief from the symptoms and stress of a serious illness. The program focuses on improving the quality of life for both patients and their family members.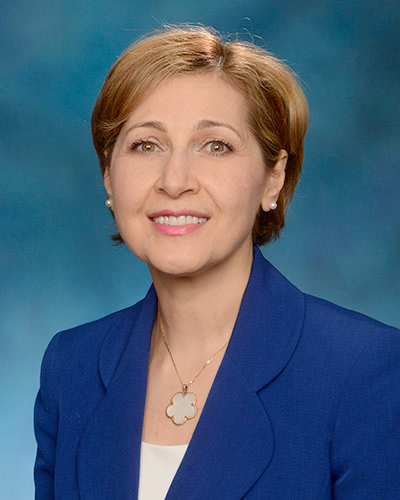 The new division is led by Raya Kheirbek, MD, professor of medicine, who is board-certified in internal medicine, geriatric medicine, and hospice and palliative medicine. Kheirbek came to UMSOM with more than 20 years of experience in patient care as well in the management of clinical services and the building of infrastructure for performance improvement. Kheirbek previously served as an attending physician and assistant professor of medicine at Georgetown University. Since 1998, she had been working at the Washington, D.C., Veterans Affairs Medical Center as an internist, geriatrician, and palliative medicine physician.
"We are extremely enthusiastic about the creation of this new division and the appointment of Dr. Kheirbek," Davis said. "We will be focused primarily on symptom management and providing a medical treatment plan addressing pain and other physical, psychosocial, and spiritual problems associated with life-threatening illnesses. In addition, we look forward to creating a fellowship and robust research program to strengthen and improve health care delivery."
Suntha, who's also the Marlene and Stewart Greenebaum Professor of Radiation Oncology at UMSOM, said, "Many of our patients struggle with maintaining their quality of life while undergoing aggressive therapies for serious and life-threatening illness. Palliative medicine affords them the specialized care they need to relieve their pain and manage their symptoms — and get on with their lives. We are delighted to have a faculty physician with Dr. Kheirbek's expertise oversee this vitally important service to our patients and their families."
Kheirbek also has held the rank of associate professor of medicine at George Washington University's School of Medicine. She has extensive experience in quality improvement project development and implementation in older adults. The hospice and palliative medicine program at the Washington VA Medical Center, which Kheirbek developed and implemented, is nationally recognized across the VA health system as a model for integrated care.
Kheirbek received her MD degree and Master's in Public Health degree from the Damascus University Medical School in Syria. She completed residency training in internal medicine at Washington Hospital Center, followed by a fellowship in geriatric medicine at George Washington University.
The Palliative Medicine Division is composed of an interdisciplinary team. Bonnie Marr, MD, assistant professor with a primary appointment in emergency medicine, and Ila Mulasi, MD, assistant professor, with a primary appointment in family and community medicine, moved from the General Medicine Division to this new division. The clinical care team includes a pharmacist, a social worker and a pastoral care expert. Jennifer Goldborough, NRNP, Marguerite Russo, CRNP, and Steve Eveland, RN, also are part of the team.
"Palliative medicine services are in increasing demand nationwide." said Reece, who also is the Executive Vice President for Medical Affairs, University of Maryland, Baltimore, and the John Z. and Akiko K. Bowers Distinguished Professor. "As the nation faces a rising population of terminally ill and older patients with declining health, there is a need to place a greater emphasis on palliative care to ensure a high quality life for both patients and their families."