Speaking over the steady chirp of a hand-held carbon dioxide monitor, Dan Fucich, a PhD candidate in the Marine Estuarine Environmental Sciences program at the Institute of Marine and Environmental Technology (IMET), encouraged attendees of Grid Pitch '19 to take a deep breath.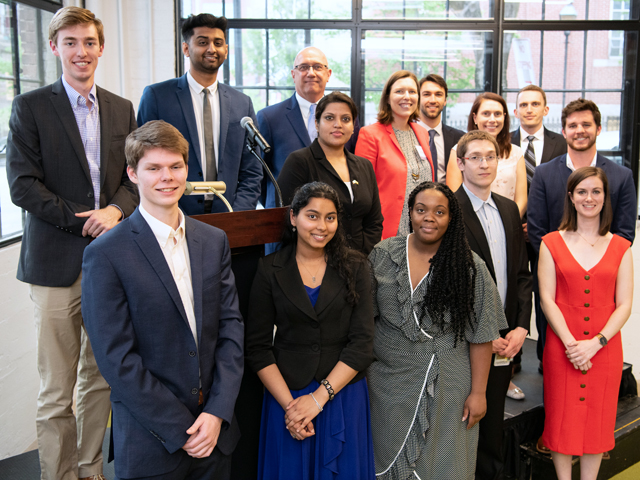 As they exhaled, Fucich shared the results of the monitor — 1,500 parts per million. "The air you just put into your lungs contains carbon dioxide levels that are three times what is occurring outside," he warned. At levels above 1,000 parts per million, "you start to feel drowsy. You might not be able to think clearly," he said, ticking off a list of the negative effects of high CO2 levels, including headaches and respiratory problems.
Fucich and his partner, Kelsey Abernathy, also a PhD candidate at IMET, are co-founders of AlgenAir, an e-commerce company that has developed a natural air purifier called the Aerium, which uses algae to combat indoor air pollution. The entrepreneurial students pitched their idea and displayed a working prototype at Grid Pitch '19 held at the Grid, an innovation space at the University of Maryland, Baltimore (UMB) where students, entrepreneurs, faculty, and staff connect to bring innovative health and social impact ideas to life.
(Watch a Grid Pitch '19 video below.)
AlgenAir was joined by five other groups of fellow business-minded students for the Grid Pitch, which is described as a "celebration of ideas and student entrepreneurs," rather than a Shark Tank-like competition.
"This is not a contest, it's a showcase," said Jim Kucher, DPA, faculty program manager of the Grid. "We want to give each team feedback because this is a learning experience." To that end, attendees were encouraged to talk to teams during the event and to scan a QR code on the program linked to an online survey of each presentation.
After applying and being accepted to Grid Pitch, each team received several weeks of mentoring from experienced industry professionals and seasoned entrepreneurs. The mentors included David Wise, MALD, director of the Maryland Momentum Fund; Darryl Carter, MD, co-founder and former vice president of Nora Therapeutics and advisor for University of Maryland Ventures; Newt Fowler, partner, business transactions, Womble, Bond, and Dickinson; and Neil Davis, director of entrepreneurial development, TEDCO.
Davis said serving as a Grid Pitch mentor was an energizing role that served a dual purpose as a scouting mission. "TEDCO is always looking out for the next wave of really good entrepreneurs, so it makes sense for us to be here to find out who they are and what they're doing, so we can help them get ready," he said.
Unlike at last year's event, Grid Pitch '19 teams were separated into three categories depending on the concept's stage of development. As the most advanced entry, AlgenAir earned the title "MVP," short for Minimum Viable Product, an industry term that refers to a product that will appeal to early adopters and can provide market analysis before a full rollout. Other categories were "Vision," which encompassed teams just beginning to think about their ideas, and "Venture" for those that have moved further along in the process but are still in the early development phase.
The Aerium air purifier, which is reminiscent of a lava lamp stylishly revamped for the new millenium, contains water tinted green by live algae and has the air-scrubbing power of 25 houseplants, according to creators Fucich and Abernathy.
The team made its debut at last year's Grid Pitch with an idea to produce algae nutraceuticals using rooftop bioreactors. After consulting with mentors at the Grid, they realized an air purifier was a more viable option and made the switch in August 2018.
"One of the most important things you can learn as an entrepreneur is that 'no' is a very good thing," noted Kucher. "Finding out a project won't work is extremely valuable."
The AlgenAir team learned that lesson, as well as three teams in the Vision category, which Kucher described as beginning-stage ideas that are still being fleshed out. "We started out with six Vision projects," he said. "Tonight, you're going to see three. That means three didn't make it. That's not fun. Not fun for the entrepreneur, not fun for the mentor, not fun for anybody. But it's a valuable lesson to learn."
The three Vision teams that presented at Grid Pitch '19 are:
Sri Lankan American Knowledge Exchange (SLAKE): Nimasha Fernando, MPH candidate, University of Maryland School of Medicine (UMSOM); Rishvi Jayathliake, PhD candidate, University of Maryland, College Park.
SLAKE is an organization that aims to remedy brain drain in Sri Lanka while creating global learning opportunities in the United States. SLAKE will do this by serving as a connecting hub that harnesses the potential of teams of students and young professionals in the U.S. who have an interest in Sri Lanka and connecting them with research teams and community organizations in the country.
Healthcare Collective (HCC): Sierra Fisher, University of Maryland School of Nursing (UMSON).
Healthcare Collective will bring the power of preventive medicine to underserved populations and act as a resource for individuals with health concerns. The goal of HCC is to address the whole individual — socially, environmentally, and with physical and mental health.
HomED: Serban Negoita, Yi An, UMSOM.
HomED is a web application that will utilize user-generated input to provide patient-specific and clinician-validated information regarding whether to pursue care at an emergency department, urgent care center, or primary care practice. Patients who are unwilling to pursue care at a medical facility will be offered home-based emergency medical services through the HomED platform.
Negoita, a first-year student at UMSOM, has worked full time in an emergency department and volunteered in an ambulance and hopes his idea will improve health care outcomes. "One of the things that drives us towards medicine is that we want to make a change that's positive for patients," he said, explaining the origin of HomED. "At times that means on an individual level taking care of patients, but it also means thinking about how we make systems work better.
"I came out to share my vision and to get ideas about how to make it work."
The middle category called Venture included two teams — CAP Strategies, composed of three University of Maryland School of Pharmacy students who want to encourage medication adherence by using pill cap monitoring technology, and Danielle Miller, an FNP candidate at UMSON who wants to improve patient follow-up care in emergency departments.
The CAP strategies team — pharmacy students Jeff Banasazak (first year), Griffin Savageau (second year), and Jay Shah (third year) — said its goal is to encourage patients to take their prescription medications by collecting usage data using pill cap monitoring technology. America is paying for non-adherence to the tune of 125,000 lives lost each year, according to the CAP Strategies team. By assessing medication adherence and providing the information to patients, doctors, and insurance companies, the team says its medication therapy management system will decrease hospitalizations, mortality, and overall health care costs.
Set to graduate this month, Miller is using her experience as a Shock Trauma nurse to fill a gap she sees in patient care transition. "The problem we have here in Baltimore," she explained, "is patients utilizing emergency care for primary care and the lack of coordination after the patients leave the ER," which leads to lingering problems and increased readmission rates.
Her solution is to offer primary care within emergency departments to ensure easy referral and triage so the patient can be followed by a primary care team. Her nonprofit organization would be affiliated with the R Adams Cowley Shock Trauma Center and the University of Maryland Medical Center emergency department, and it would make use of multidisciplinary care from the schools of medicine, nursing, pharmacy, and social work. Her vision is to "to change how we deliver health care and do it in an interprofessional manner as a teaching approach here at UMB," she says.
Each team walked away from Grid Pitch a winner with a monetary prize provided by UM Ventures intended to further their projects. The MVP team received $2,500; Venture teams each received $1,000; and the Vision teams each received $500.
Miller said she is grateful for the Grid Pitch experience and that the prize is a bonus. "It's been really amazing to bounce ideas and get the support of experienced professionals who have been through the business development adventure themselves," she said.