"I'm like everybody else. Stuff gets on my nerves. I'm not a politician. I can't kill people. Consequently, I have to use my artwork."
MacArthur Fellow, artist, sculptor, quilter, performance artist, installation artist, lecturer, and educator Joyce J. Scott reflected on the many ways she uses her artwork as commentary and biographical storytelling as the keynote speaker in the latest installment of the UMB Roundtable on Empowerment in Leadership and Leveraging Aspirations (also known as the UMBrella Group) Speaker Series, "The Art and Advocacy of Joyce Scott."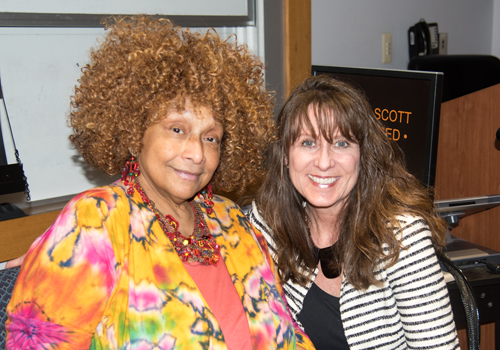 "I'm sure you're all familiar with Ms. Scott," Jennifer B. Litchman, MA, senior vice president for external relations and special assistant to the president, told the audience gathered April 25 at the University of Maryland School of Nursing. Litchman is founder and chair of the UMBrella Group and the UMB Council for the Arts & Culture. Both groups sponsored Scott's visit to the University of Maryland, Baltimore (UMB).
"She is a jewelry maker, and a sculptor, who repositions craft, and in particular beadwork, as a potent platform for commentary on social and political injustices," Litchman said. "In handmade works ranging from elaborate oversized neck pieces … to two- and three-dimensional figurative sculptures to the installations that she does, she upends conceptions of beadwork and jewelry as domestic or merely for adornment by creating exquisitely crafted objects that reveal, upon closer examination, stark representations of racism and sexism and the violence they engender. Her diverse and adventurous body of work blurs the boundaries between fine art and craft, and challenges viewers to confront the darker aspects of human nature in scenes both contemporary and historical."
Named a MacArthur Fellow in 2016, Scott is best known for her figurative sculptures and jewelry using free form, off-loom bead-weaving techniques, similar to a peyote stitch. One piece may be constructed with thousands of glass seed or pony beads and incorporate other found objects and materials such as glass, quilting, and leather. In 2018, she was hailed for working in a new medium — a mixture of soil, clay, straw, and cement — for a sculpture meant to disintegrate and return to the earth. Scott is influenced by diverse cultures, including Native American and African traditions, illustration and comic books, and pop culture.
She is renowned for her social commentary on issues such as racism, sexism, violence, and stereotypes, as well as themes of spiritual healing.
Scott's mother encouraged her creativity growing up, and an art teacher in her senior year of high school, Olin Yoder, helped her to receive a four-year scholarship to the Maryland Institute College of Art (MICA).
"My senior high school art teacher, Olin Yoder, saw that light in me. My mother knew, because she was an artist, but my daddy, absolutely not," Scott said.
Years later, when Scott received her MacArthur Award, MICA hosted a party in her honor, and Yoder attended. When he was introduced to the audience, "he got the kind of applause that athletes get," Scott recalled.
A Baltimore native, she earned a bachelor of fine arts degree from MICA and a master of fine arts degree from Instituto Allende in Mexico. Later, Scott pursued further education at Rochester Institute of Technology in New York and Haystack Mountain School of Crafts in Maine.
Scott's practice includes performance in addition to sculpture. Her unapologetically critical and humorous personality is often employed in her performances to explore issues such as feminism, sexism, and racism. Like her jewelry and quilt works, her performance often addresses storytelling and memory.
Scott's works are held by the Baltimore Museum of Art; the Detroit Institute of Arts; the Mildred Lane Kemper Art Museum in St. Louis; the Mint Museum in Charlotte, N.C.; the Spencer Museum of Art at the University of Kansas; and the Smithsonian American Art Museum in Washington, D.C.
"Needle and thread and fabric have been my passport for many, many years," she said. "That kind of passport from my mom and my ancestors has really opened many doors for me."
Some of her works were displayed during an hourlong slide show in which Scott recounted how family stories were passed on to future generations in quilts made by her ancestors.
"I think of them as writing," she said of her grandmother's quilts, "as pre-literate kind of writing by people who don't read and write very well or maybe not at all. I mean, how many things can you write in that family Bible? So, each stitch becomes a word and sentences and paragraphs, talking about the family through their use of recycled garments and the fabrics that they bought. And sitting around and all that love happening."
The artworks discussed during her lecture included pieces depicting African-American residents of Gee's Bend, Ala., in the 1960s finding alternative modes of transportation to get to vote when the ferry they used to get to the mainland stopped operating.
"They were trying to get their right to vote. The government knocked down the ferry so they couldn't vote, but they rode horses and walked," Scott said.
"I do a lot of work that is politically and socially oriented," she continued, pointing out work about African albinos who are "harvested and many times killed just because of their skin tone."
Her grandmother did a lot of quilting, because quilts back then cost less than blankets, Scott said. "Many times, the fabric that they used to quilt was bartered or bought from the mills that supplied the fabric from the very cotton they picked.
"When I look at her quilts, I see what people talk about, traditional African-American quilts, meaning we use the same symbology as everyone else and we repeat it over and over again," Scott said. "It's historical. I can hear my grandmamma singing the blues or a hymn in the creation of this work. People say that's African-American artwork. Well, it may be one form. No ethnic group has only one way of expressing themselves.
"I'm right back to what my ancestors did, telling stories," Scott continued. "I have a light. I'm not afraid to say it. I have a very bright light. It was given to me by my parents. It was given to me with great love because they were forced to hide their lights under the bushels, is what you say in the South, because of their ethnic group or their lack of education. …
"If you can't see that this is the one life you've got that you know about so you've got to glow, then step off, because I am going to blaze," Scott added, before closing out her lecture with a rendition of the traditional gospel song "This Little Light of Mine."