Listen to your peers. Listen to your patients or clients. More than 400 students heard that advice delivered in innovative ways at the annual interprofessional education event held April 13 at the University of Maryland, Baltimore (UMB).
Conducted by UMB's Center for Interprofessional Education (IPE), the event drew 406 students, including 50 from the UM School of Nursing (UMSON) and School of Pharmacy (SOP) programs at the Universities at Shady Grove (USG). The large group gathered at the UMSON Auditorium for a panel discussion and a send-off from UMB leaders.
(View a photo gallery.)
UMB President Jay A. Perman, MD, spoke of his own path to "recognizing the power of team." A pediatric gastroenterologist, Perman gained insights early on when relying on professionals other than physicians to help care for infants who had feeding disorders.
"Just soak up from each other what it took me these many decades to appreciate," he told the audience, which included students from each of UMB's seven schools.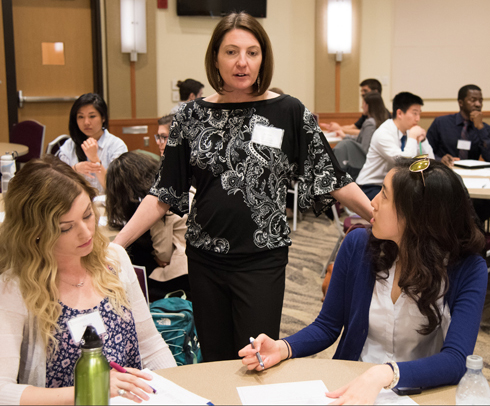 UMSON Dean Jane M. Kirschling, PhD, RN, FAAN, director of UMB's Center for IPE, outlined multi-disciplinary activities structured so that students would be able "to learn with, from, and about one another." To facilitate learning in small groups, 30 faculty members were assigned to perform as mentors on IPE Day.
On March 23, 70 faculty members had attended IPE Faculty Development Day.
Elsie Stines, DNP '15, MS, CRNP, who together with Perman conducts the President's Clinic, a weekly pediatric clinic at the University of Maryland Medical Center that provides interdisciplinary learning opportunities, gave students tips for a successful IPE Day. The nurse practitioner's advice: "Be open and not judgmental about your team being able to work together."
The panel, made up of eight students and alumni of various schools, had words of wisdom of their own. Elizabeth Shannon Walters, BSN '15, spoke of what she learned in Malawi while paired with a physical therapist and a social worker during research overseen by the UMB Center for Global Education Initiatives.
"Actively listen," said Walters. Referring to patients as well as providers, she said to be "open to what everyone's opinion is" about the case at hand.
For the hundreds of IPE Day participants, the case at hand would unfold in 10 different venues but with the same medical facts and social determinants. Actors portrayed a standardized patient, either Dolores Darling or Doug Darling, who was seeking treatment in a primary care setting. The complaint: hypertension as flagged by a nurse at a recent health fair.
But there was much more to making an assessment. A heavy smoker with a complex personal life, Darling suffered from Type II diabetes and crucial symptoms that emerged during students' collaborative interview process.
The teams prepared a care plan, explained their recommendations to the patient and, with the actors momentarily stepping out of role, were given a review.
Maryland Carey Law Dean Donald B. Tobin, JD; School of Social Work clinical instructor Christopher Wirt, MSW, LCSW-C; Perman, and Stines were facilitators in Group One. They listened and occasionally offered guidance. But for the most part, the students did the talking as they pored over a case history and considered challenges, such as the patient's financial difficulties.
Alayna Blazakis, a UMSON student who is studying to be a nurse practitioner, spoke about the medication regimen. She asked whether Darling could afford his diabetes medications and observed that the range of costs is broad. "They can be really expensive," she said.
In Group Two, students sought to turn the patient's finances to their advantage in telling Darling he could save money by quitting cigarettes. How much did he smoke? Two packs a day for 25 years, he replied. "I guess you would call it a crutch," he said.
Athena Balanou, a UMSON student in the Clinical Nurse Leader program, observed to the students at her table that Darling "had so many stressors in his life." If the team were to recommend nicotine replacement therapy, students debated, how about suggesting meditation? Or yoga?
When the patient heard the team's care plan, Darling promised the group that he would ponder quitting. But he added: "I could decrease [smoking] but I don't think I could ever quit."
Later all 10 groups united during a wrap-up session, and Godly Jack, a student at the School of Medicine (SOM), was among the first to express what would be an oft-repeated reaction to peers in other professions.
"Enlightened," he said, explaining how his personal focus on medicine had left him unaware of others' disciplines. "We had a good experience collaborating with social work, law, and dental" to work up the case.
When law got another shoutout, from a pharmacy student who called the group experience "my eye opener," it was duly noted amid applause that Maryland Carey's dean was in the room.
Later it was pharmacy's turn to draw applause for comments such as the one from Logan Buckley, a student in SOM's Physical Therapy and Rehabilitation Science program, who praised SOP students' knowledge of blood sugar monitors, including where to buy them and how much Darling would likely pay.
"Our team did a good job of listening to everyone's point of view," Buckley said.
School of Dentistry student Glenda Caceres of the Dental Hygiene program talked about interacting with a standardized patient. "The patient told us he really appreciated the fact that we showed empathy," she said. "He needs to feel like he's part of the plan."
Overseeing IPE Day were the center's co-directors, Heather B. Congdon, PharmD, BCPS, CDE, assistant dean for the SOP program at USG; and David B. Mallott, MD, associate professor and associate dean for medical education at the SOM.
Kirschling, Stines, Congdon, and Tobin joined in fielding microphones and in conducting an exuberant raffle to conclude activities. A buffet supper was served at the Southern Management Corporation Campus Center, where several of the groups had met earlier. IPE Day was supported by a gift from James Earl Jr., PhD, and Sylvia Earl.