Norman Augustine, MSE, former chair and CEO of Lockheed Martin Corp., was introduced as the person most qualified to discuss leadership at the University of Maryland, Baltimore's (UMB) second installment of its Core Values Speaker Series. He spent the next 80 minutes showing why (Video).
In addition to heading the nation's largest defense contractor and serving on advisory boards ranging from Procter & Gamble to six U.S. departments, Augustine five times has received the Department of Defense's highest civilian decoration, the Distinguished Service Medal.
But his self-deprecating nature, wit, and memorable quotations showed why he has endeared himself to professional groups for more than a half century, including those assembled in UMB's Southern Management Corporation Campus Center on May 11.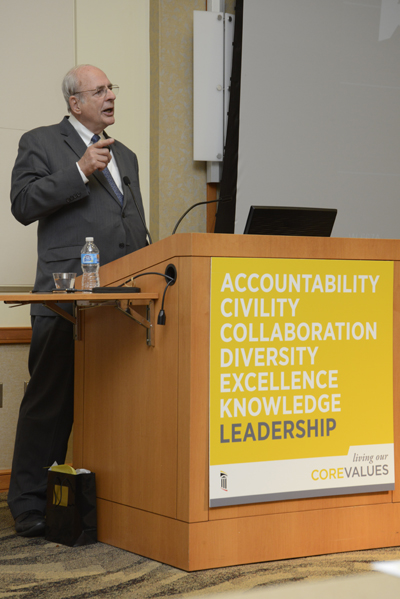 "General Eisenhower said leadership is the art of getting someone else to do something you want done because they want to do it," said Augustine, who would go on to drop other names ranging from Neil Armstrong to Alexander the Great.
Augustine, who was asked to chair the National Academies committee that wrote the landmark 2005 report, "Rising Above the Gathering Storm," which warned of America's diminishing science and technology leadership and outlined steps to strengthen our STEM enterprise, said great leaders create environments where others can excel.
He also said those who drive people to do bad things, such as Adolf Hitler, don't qualify as leaders.
"Every ship has a great captain in calm seas." — Swedish proverb
A fall from grace can take no time at all, said Augustine, who showed a list of most respected companies from 2001. Enron was on page 1. Several months later, Fortune magazine's cover story was on "The Enron Disaster."
"It's just an example of how things can go wrong when leaders slip up," said Augustine, who admits to personally knowing besmirched executives who wound up serving time in prison. "They weren't bad people. They didn't even do their criminal acts to benefit themselves. They just made bad decisions."
"Tell the truth and tell it fast." — Warren Buffett
Being ethical and telling the truth are keys to being a successful leader, Augustine said, recounting an episode where he was going to have to testify before Congress about his company's misdeed.
"About a week before the hearing, I met with Rep. John Dingell, who had called for the hearing. I ended our meeting by coming clean and saying this is not how our company usually operates and these are the actions we're taking to rectify the situation, we're terribly embarrassed, and we apologize. Congressman Dingell said 'this is no fun' and he canceled the hearing."
Augustine lightened the mood several other times poking fun at himself.
Discussing his books, which include The Defense Revolution, Shakespeare In Charge and Augustine's Laws and Augustine's Travels, he said "if any of you have a copy, let me congratulate you on being a part of a very select small group."
When he adjusted his microphone, Augustine took the opportunity to recall "a time I spoke and I asked can everyone hear me. A fellow in the back row said no. Then a fellow in the front row jumped up and said 'I can. I'll trade seats.'"
Taking advantage of opportunity is key in leadership, said Augustine, who said Martin Marietta, which grew into Lockheed Martin, was formed from parts of 17 companies when the aviation industry collapsed after the Berlin Wall fell, ending the Cold War. "We combined our company with other companies with half-full factories and loaded overheads and then shrunk the company so whatever was left was operating at full efficiency."
"The reward of command is the opportunity to lead, not to have a bigger tent." – Gen. George Custer
Even before his speech, Augustine was a member of the UMB family as a regent with the University System of Maryland. Most recently, he headed the Augustine Commission, which in February released 32 recommendations to the Maryland General Assembly for how to make the state friendlier to the business community.
During his Core Values presentation, Augustine discussed his Essentials of Leadership and gave examples:
Character: Johnson & Johnson became a trusted company in the 1980s by pulling all 125,000 bottles of Tylenol off the market after seven died in Chicago from tampered containers.
Vision: When Alexander Graham Bell was inventing the first telephone he was asked what kind of message can you send with a phone that you can't send with Morse code? That's an example of poor vision.
Judgment: The Titanic had lifeboats for one of every two passengers, which is questionable unless you think the boat is going to half sink.
Courage: People can stand bad news. They can't stand uncertainty.
Risk-taking: Irrational risk is not smart, he said, showing a slide of a skyscraper construction crew sitting on a girder many stories up having lunch.
Listening: The ill-fated Challenger spacecraft would never have been launched if the data warnings had been heeded the night before.
Decisiveness: I had the misfortune to fire two Fortune 100 CEOs. One was a ready-fire-aim leader. The other was ready-aim-aim-aim. One fired without thinking. One couldn't fire at all.
Motivation: Motivation will almost always beat sheer talent.
Communication: Be able to listen as well as talk. The smartest coach gave Michael Jordan the ball when he asked for it.
Perseverance: An advertisement read: Dropped out of grade school. Ran country store. Went broke. Took 15 years to pay off bills. Ran for House. Lost twice. Ran for Senate. Lost twice. Signed, A. Lincoln
Selflessness: Good leaders never think of themselves.
Passion: Be willing to slide headfirst.
Augustine said leaders in crisis often make things worse, pointing to Exxon's Valdez crisis, Bill Clinton's Monica Lewinsky crisis, and Union Carbide's Bhopal crisis.
He said there are three kinds of crisis: 1) beyond your control; 2) honest mistakes/incompetence; and 3) ethical misdeeds. "You never recover from the third one," Augustine said.
"If you are not fired with enthusiasm you will be fired with enthusiasm." — Vince Lombardi
After his presentation, Augustine was asked several questions. One was about the recent unrest in Baltimore City. Augustine showed his leadership principles resonate as much today as when the Colorado native began his career in 1958 by saying, Baltimore's leaders, "No. 1, need to be absolutely truthful, painfully truthful. No. 2 is don't overpromise. It's so easy when you're under the gun to make promises. No. 3, forget yourself. You're just a player on the stage. The mayor, the attorney general, you're there to serve the people — forget about your career and make the most of the hand you've been dealt."
The UMB Core Values Speaker Series (link to https://www.umaryland.edu/corevaluesspeaker/) promotes the University's core values of accountability, civility, collaboration, diversity, excellence, knowledge, and leadership.