When Christopher Stanton, MS, talks about how he stopped a man from bleeding to death from a gunshot wound and a fractured tibia on March 15, it comes out so matter-of-factly that you get the sense he's done this before.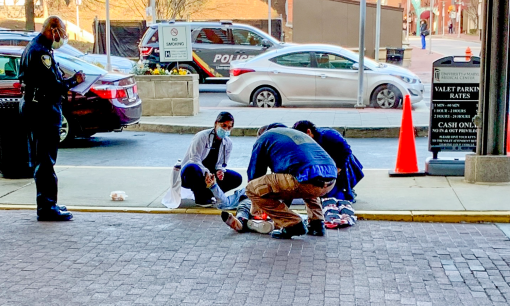 That's because as a volunteer emergency medical technician (EMT) for Laurel Volunteer Fire Department since 2001, he has.
"Very quickly I go from holding my 2-year-old's hands to cutting off the pants of this guy and putting on the torniquet. It was all based on training," said the deputy director of the University of Maryland, Baltimore (UMB) Office of Emergency Management, who is also helping to oversee the UMB COVID-19 vaccination clinic.
Rewinding back two Mondays ago, Stanton was with his wife and 2 1/2-year-old son for his son's routine checkup. When they were about to exit the lobby of the building, a woman entered shouting that a man who had been shot was pushed out of a car and bleeding on the sidewalk.
Stanton didn't hesitate to help, with his training kicking in immediately. He didn't have a dispatch call and an ambulance ride to help buy time to visualize a plan.
"In this case, I didn't expect to be helping somebody," he said.
The scissors, tourniquet, gloves, bandages, and blood weren't just handed to him by medical staff on standby. He was able to quickly save the man's life because he knew many buildings on UMB's campus have Stop the Bleed kits.
The kits are part of the national Stop the Bleed campaign, designed to teach basic skills to stop preventable bleeding deaths.
You don't have to be an EMT or a medical professional to learn how to save someone's life using a Stop the Bleed kit.
Training classes had been offered before the pandemic in conjunction with the University of Maryland Medical Center since 2017, and are expected to resume once the pandemic is under control. During a course, participants spend about 90 minutes learning and practicing techniques to apply direct pressure, pack a wound, and use a tourniquet to stop bleeding.
A wide range of ages can learn the basic skills. In the past, UMB hosted training for middle and high school students as well as UMB Cure Scholars.
"I think it's easier than learning CPR, and many people have learned that," Stanton said.
Stanton is also one of the instructors. Part of the training not only includes how to use the kit, but how to prepare yourself mentally.
"When something like that happens, and you don't expect it, having the skills you can fall back on are really important," he said. "It's empowering. Otherwise, you're going to stand there feeling helpless."
The Stop the Bleed kits are mounted on walls or building columns typically near entrances beside automated external defibrillators (AEDs). There are nearly 250 Stop the Bleed kits at UMB. They are recognizable with their red zip pouch design, resembling a first-aid kit.
Inside you will find:
QuikClot Bleeding Control Dressing to pack a wound
Compression bandage
Protective gloves
Scissors
Mini Sharpie marker
Combat Application Tourniquet
Survival blanket
Instructional booklet
Don't fear the tourniquet, Stanton said. The perception and effectiveness of their use has evolved.
"They think if you put a tourniquet on, you're going to lose the limb, and that's just not true," Stanton said. "They had a lot of experience in the recent wars overseas that applying tourniquets is a very effective and fast way to stop severe bleeding."
If you don't have Stop the Bleed training, the best thing to do is to dial 911 to get help started, and then grab a kit and tell the dispatcher so they can help walk you through if nobody else is available to help, Stanton said, because every minute counts.
"The human body has about five liters of blood in the body. You lose two liters of that, and you're dead," he said.
Back to the scene on the street, two other employees arrived as Stanton treated and comforted the man. Not only did he stop the bleed, but he helped reposition the man's foot and leg from the fractured tibia.
Once the bandages and tourniquet were applied, a rapid response team arrived in time from there to place the man on a stretcher to take away for treatment. The man was treated and survived.
As word traveled about Stanton's efforts, people labeled him as a hero, saying he saved this man's life. He admitted that the adulation is "very uncomfortable" to hear since he's been treating people in grim situations for 20 years without hesitation.
"I just believe every life has an inherent worth, so being able to help when I can is what I try to do," Stanton said.