Students from James McHenry Elementary/Middle School paid a visit to the University of Maryland, Baltimore (UMB) on Feb. 22 for a unique learning experience. The group of 30 sixth- and seventh-graders got the chance to earn a life-saving certification with Stop the Bleed training and then present their own life-saving invention to a room of students and professionals from the University of Maryland School of Pharmacy (UMSOP).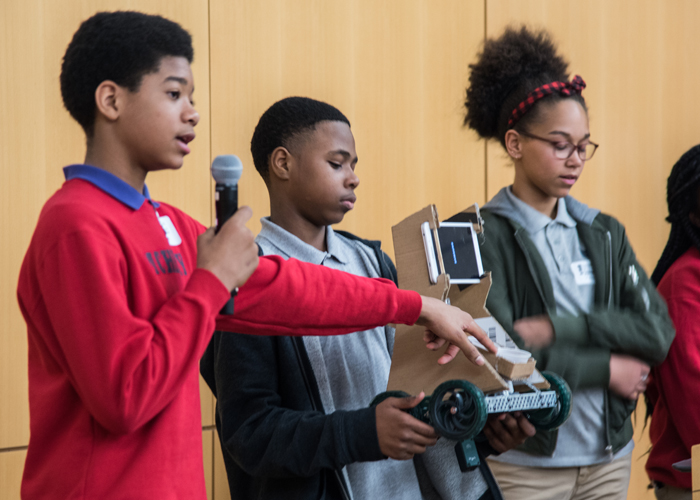 (View a photo gallery.)
"Do not hold back on questions," Harry Preston, a James McHenry science teacher, told the auditorium full of pharmacy students and professionals. "These guys may look young, but they know what they are talking about and can handle the hard questions."
The group of students is part of James McHenry's robotics team, which recently earned first place at the Samsung Solve for Tomorrow robotics competition, beating out four high schools in Baltimore and Cecil counties and Washington, D.C., for a $20,000 award. Their winning invention was a service-bot aimed to help geriatric patients keep track of their medications by dispensing the correct dosage of pills on a weekly basis.
With a major win under their belts, the students are now preparing for a national robotics competition set to take place later this year, so the presentation at UMSOP came at the perfect time. The presentation was arranged by JuliAna Garcia Brammer, MBA, UMSOP director of admissions, and Brian Sturdivant, MSW '00, UMB's director of community partnerships and strategic initiatives. Sturdivant got the idea to arrange this opportunity for the students after he saw them showcasing their service-bot to members of the West Baltimore community who would actually need to use it.
"The students came and presented at the UMB Community Engagement Center in January, and a lot of our visitors there are elderly," explained Sturdivant. "They got some really good feedback from them on a project, so I thought that it would be a great opportunity to have them come to UMB again and speak to pharmacy students and professionals to get even more good ideas on how to improve on their project."
The audience included members of the American Society of Consultant Pharmacists (ASCP), an international professional association that provides education, advocacy, and resources to advance the practice of senior care pharmacy. ASCP also represents the interests of consultant pharmacists who work with elderly patients. They all had plenty of questions about the robotic invention, including: How does the machine keep track of different medications? How will the patients get their medications refilled? Is there an alarm or a reminder to take each medication? Is there a child-proof lock that can be enabled?
The students were poised and professional in answering every question with their PowerPoint presentation and a video that included a demonstration of the robot in action. They also showed off a miniature prototype of the service-bot, so their audience had a better understanding of how the bot would function.
Although its main function is to dispense pills, the robot has a number of other useful functions that could potentially save a patient's life, including: live video chats to stay in touch with family members and health care professionals, equipment to check their vital signs, a GPS tracking device, a button to call 911 during an emergency, a water dispenser to take with their pills, and a portable fire extinguisher.
The UMSOP students and professionals were very impressed that the middle school students had covered so many services for patients juggling multiple medications. They also expressed their admiration of the students for focusing their time and effort on tackling a real-world issue.
"I'm very impressed that they're taking this initiative to create something members of their community could actually use," said UMSOP Dean Natalie Eddington, PhD, FAAPS, FCP. "I'm so proud of what they've already accomplished, and I hope they continue to be inspired to keep doing what they're doing."
After wrapping up their presentation, the students were fired up with excitement about their project. Preston says this type of enthusiasm is crucial to keeping them on the path toward success in STEM.
"This was their third presentation on their project, and I will say their best one yet," said Preston. "Presenting gave a definite boost to their confidence in science, and I think we need to do more to get students fired up earlier on about their careers."
The afternoon presentation at UMSOP was just one of two exciting activities the James McHenry students got to partake in during their visit to UMB. The students spent the morning at the R Adams Cowley Shock Trauma Center, where they each got certified in Stop the Bleed training. The unique training program teaches the proper ways to control bleeding in emergency situations while waiting for an ambulance to arrive.
(View a photo gallery.)
The students gathered in the Paca-Pratt Building, where Carla Aresco, MSL, CRNP, trauma program manager at Shock Trauma, and Pamela Smith-McNeal, RRT-ECMO specialist and special projects coordinator at Shock Trauma, led the students in their training.
"We've been doing Stop the Bleed training here at the Shock Trauma Center since January 2017," explained Smith-McNeal. "There is no age limit on knowledge, so we want everyone, young and old, to know how to save someone's life immediately until first responders can get to the scene."
During the training, the sixth- and seventh-graders learned how to wrap a tourniquet and properly pack a wound by practicing on one another and with medical practice kits. At the end of the training, each student received their own Stop the Bleed certification card.
"This group is so enthusiastic!" exclaimed Smith-McNeal. "I think when they leave here today, they're going to feel so empowered and they won't be afraid if an incident happens around them. They'll know how to take action saving someone's life, which could be monumental for someone."
Smith-McNeal tied the whole training back to the students' service-bot. She told them that in both cases they are taking steps toward becoming future health care professionals today, which could potentially save lives tomorrow.