Think of telework and it is hard not to think of pecking at the computer keyboard in one's PJs. But to be successful at working from home — the "new normal" for many people these days — look beyond the lounge pants and maintain your productivity.
Working from home, also known as teleworking, was the focus of the second in a series of virtual town halls on Facebook Live on March 17 at the University of Maryland, Baltimore (UMB).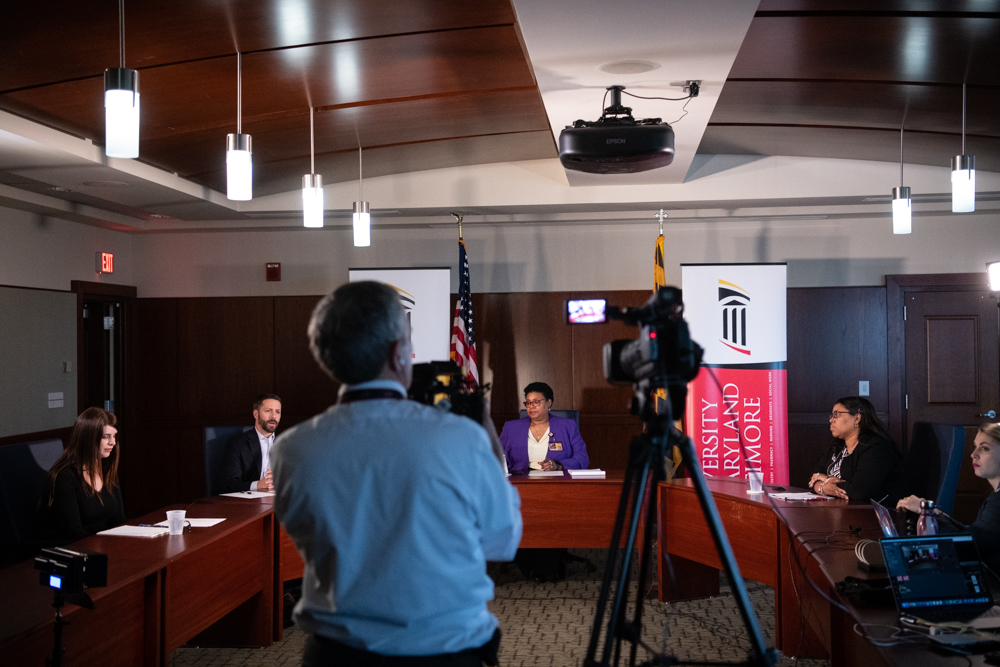 "We want to help supervisors and employees get more comfortable with telework, so that's what this town hall is all about," said moderator Dawn M. Rhodes, MBA, chief business and finance officer and vice president, as she opened up the session and introduced panelists Matt Lasecki, SPHR, associate vice president of human resources; Vicky Hunter, MS, associate vice president, infrastructure services, Center for Information Technology Services (CITS); and Alana Kyriakakis, JD, University counsel. The panel gathered in a conference room in the Saratoga Building, sitting apart from one another to maintain social distancing.
Many UMB employees have been navigating a new work environment — their homes or apartments — since March 12, when Interim President Bruce E. Jarrell, MD, FACS, issued a teleworking policy as part of an effort to minimize health risks due to the novel coronavirus (COVID-19) outbreak.
Teleworking may be something that employees will have to get used to for a while, Rhodes said.
"We do not have a tentative date" when most employees will return to work on campus, she said. "We know we will be out at least until April 5, and we will continue to assess that time frame. I would not be surprised if we are out longer than April 5."
Questions during the virtual town hall ranged from how are classifications made to determine an employee's essential or non-essential status, to what to do if someone has to take a break for a few hours while teleworking, to how to structure a typical day working from home to maximize productivity.
"Stay in touch. Set up regular interaction with your supervisor. Keep those lines of communication open so that we can make sure that we can be productive," Lasecki advised.
"Everyone should, as a take-home message, just know that we should be communicating with each other, supervisors and employees, so that everyone understands what expectations are," Kyriakakis added.
Hunter encouraged anyone having technological issues at home to contact their CITS representative or call the UMB Help Desk at 410-706-HELP (4357).
Numerous questions were received relating to the need for child care for young children now that schools are temporarily closed.
"We are really focused on trying to have as many people off campus as possible," Rhodes said. "The governor said not to establish child care. That's not something you can just put up and have a room and say, 'Kid's come.' You have to have a specific room in place and meet regulations"
Faculty, staff, and students are encouraged to visit UMB's COVID-19 website, which is updated daily and is a repository for dozens of frequently asked questions.
Watch the complete virtual town hall on telework in the video below.