One woman grew up in Brazil eyeing the stars and a career in astronomy. Another grew up in China and studied to be a diplomat before finding that she could use her skills in global markets as an entrepreneur. Both shared their words of advice with attentive listeners during the University of Maryland, Baltimore's (UMB) Women's History Month 2019 celebration.
The UMB Roundtable on Empowerment in Leadership and Leveraging Aspirations (UMBrella) Group presented the UMBrella Symposium and Workshops: Be a Catalyst for Change in Your Life and Your Career. To open the event, held on March 13, a large audience was treated to a conversation between UMB President Jay A. Perman, MD, and Mei Xu, MA, an entrepreneur who founded Chesapeake Bay Candle and recently launched Mei Xu & Co. LLC. She is a board member of the University of Maryland Baltimore Foundation.
(View a video below.)
Their insightful chat was followed by breakout sessions, lunch, and the symposium's keynote speech, "Is the Sky the Limit?" Astronomer Duilia de Mello, PhD, MS, vice provost and dean of assessment at the Catholic University of America, spoke of her area of research — extragalactic astrophysics — and described the night she made history by discovering the supernova 1997D in a galaxy 58 million light years from Earth.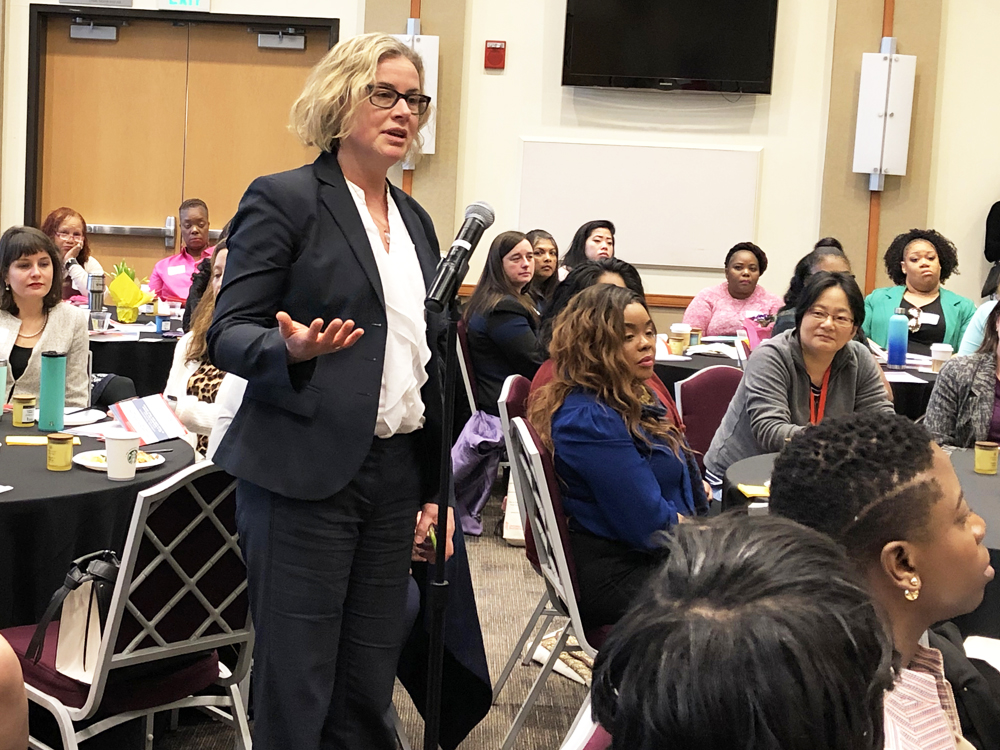 At the 2019 symposium, participants were privileged to hear from two ground-breaking speakers as well as to engage in workshops to inform their own lives and careers because UMB's typical 90-minute program had been expanded into a daylong event.
(View a photo gallery on Facebook.)
"These annual celebrations are really a reminder of all that we have done and a reminder there's still so much more to do as we fight to keep workplaces free from sexual harassment and discrimination," said UMBrella founder and chair Jennifer B. Litchman, MA, "and as we level our attention on eliminating entrenched systems and structures that even today inhibit true wage equality for women and gender parity in the workplace."
Litchman, who is UMB senior vice president for external relations and special assistant to the president, presided over the symposium. It was capped by an experiential workshop designed to integrate the day's lessons into simple mind-body practices. Kathy Flaminio, LGSW, MSW, founder of 1000 Petals LLC, led a large audience in "Taking Care of YOU: Self-Care Strategies for Mind-Body & Heart."
The day's lessons were numerous as attendees could choose among five breakout sessions led by experts in their fields: "How to Recognize Implicit Bias," Kristin Reavis, MD '09, MBS, assistant professor at the University of Maryland School of Medicine; "How to Recognize and Respond to Gender-Based Violence," Leigh Goodmark, JD, professor at the University of Maryland Francis King Carey School of Law; "How to Negotiate," Stacy Smith, JD, director, special projects, Center for Dispute Resolution at Maryland Carey Law; "How to be Authentic," F. Emelia Sam, DDS, associate professor at Howard University College of Dentistry; and "How to Craft Your Narrative," Laura Wexler, co-founder, The Stoop Storytelling Series.
At the outset, Perman expressed confidence that those in the audience, made up mostly of women, would take away "good advice, strategies, and connections." There was an opportunity for questions and answers. During Perman's conversation with Xu, the pair covered numerous topics pertinent to the day's theme of being a catalyst for change.
Xu repeatedly embraced change, starting in 1989 when China's unrest led authorities to dispatch recent university graduates to the hinterlands. She found herself far from Beijing with a boring assignment related to minerals destined for export. "I did something unthinkable at that time. I quit," she said.
That decision derailed her decade-long plan to become a diplomat. But it put her on a path to emigrating, earning a master's degree in mass communications at the University of Maryland, College Park, and gaining experience in global trade.
A hiring freeze due to the Iraq War upended her aim for an international banking career. "Once again, something happened to my dream, to work for the World Bank," she said, going on to advise listeners about the best ways to handle a setback. In her case, in 1994 she and a partner founded Pacific Trade International. She went on to become chief executive officer of its subsidiary, Chesapeake Bay Candle, and in 2010 was invited by then-First Lady Michelle Obama to design a signature candle to be given to foreign dignitaries.
Like the Obamas, Perman referred to Xu as "the candle lady." The two chatted about what became her specialty, discussing how she had grown a business built on that product into a company that sold for $75 million in 2017. Xu outlined reasons for expanding into wellness and marketing facts, including why consumers prefer pumpkin spice, an aroma considered to be an aphrodisiac. She said she expects to use both a knowledge and a love of home décor in her latest venture.
Similarly, de Mello shared with the audience many of her own motivations, such as an early love of science fiction, her dismay in casual conversation that people confuse being as astrophysicist with being a fortune teller, and her determination to pass along her passion for science to the young people of Brazil and beyond.
"Our planet is hurting. We need people to care. And that's why I do the work I do," she said.