The University of Maryland, Baltimore (UMB) assessed its campus climate to determine how UMB can continue to create, affirm, and strengthen an inclusive campus community. The results of the student campus climate survey distributed to all students in February 2018 are being disseminated, in part through a series of presentations to groups of students and members of the faculty and staff.
Input from the sessions, held on Feb. 25 and March 25, will be shared with a campus climate task force that is charged with making meaning of the survey data and using the findings to make decisions. Campus Life Services and the Student Affairs deans will collaborate to engage in additional action planning.
(View a video below of a March 25 session.)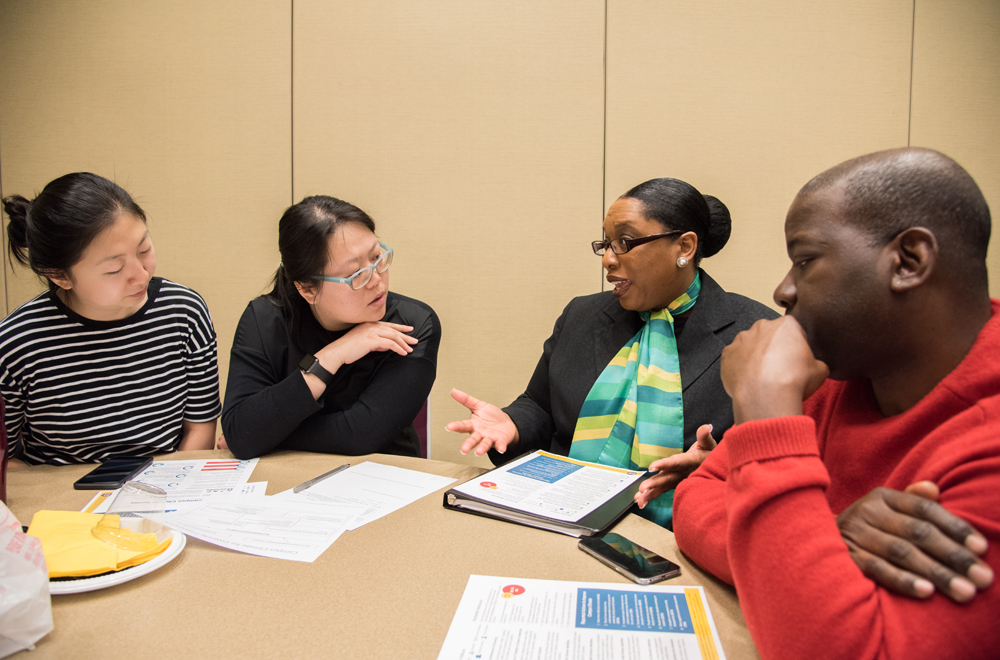 President Jay A. Perman, MD, told the attendees that UMB is committed to student success and inclusive excellence. In a message to two different groups that gathered on March 25, he said: "We're committed to better understanding the student experience — especially as it relates to diversity — so that we can improve it. And, finally, we're committed to sustaining dialogue and action around the issues brought up in the survey — which includes your work here today. Our goal is ensure that every member of our community feels included and respected and able to succeed at this University — and within your individual schools."
The three sessions, held at the Southern Management Corporation Campus Center, drew 135 attendees for the presentations, which were followed by question-and-answer sessions. Attendees also engaged in preliminary meaning making of the data and action planning.
UMB distributed the Education Advisory Board (EAB) climate survey to all students during a period from Feb. 7 through Feb. 28, 2018. From the 6,118 recipients of the survey, there was a 24 percent response rate. In regard to the general campus climate for diversity, 64 percent of respondents said, "It is easy to find people on campus who understand me," 64 percent said, "I feel close to people at this school," and 92 percent said, "I feel safe at this school." Additional results can be found in the presentation and infographic on the Campus Life Services website.
Regarding the diversity and inclusion experiences, of the 1,485 respondents:
83 percent of students believe that school leaders are visibly committed to fostering respect for diversity on campus.
80 percent of students believe that diversity is fully embraced within the campus culture.
74 percent of students believe that all students feel welcome and supported at UMB, regardless of identity.
63 percent of students believe that on campus there are enough opportunities to gain knowledge about their own cultural community.
"Once you understand it, you can impact it," said Patty Alvarez, PhD, assistant vice president of student affairs, referring to the presentation of data from the survey. She led the discussion in collaboration with Courtney J. Jones Carney, MBA, director of the Office of Interprofessional Student Learning & Service Initiatives. Both thanked participants for using their voices and being involved in the process.
Flavius Lilly, PhD, MA, MPH, associate vice president of academic affairs and student affairs and senior associate dean of the Graduate School, played a key role in analyzing the survey data and co-presented on Feb. 25.
During the sessions, attendees were able to contribute written input toward next steps and were urged to become involved. Whether or not members of the UMB community were able to attend these sessions, they are encouraged to participate. Those who are interested in becoming engaged in the process are invited to complete a form online.
"We're doing well," said Jones Carney, referring to the finding on general campus climate in which 92 percent of respondents agreed or strongly agreed with the statement, "I feel safe at this school." But she noted, "We need to pay just as much if not more attention to the experiences of the 8 percent who seemed to have a distinctly different experience."
Furthermore, she observed that inactions can be just as harmful as actions. Either way, more work is needed.
The survey also explored interactions and conversations with diverse peers, and bystander behaviors, among other factors.
The survey provided students with an opportunity to express a number of actions to improve the campus climate for diversity. Of the students whose ideas were shared by nearly a third or more of the respondents:
44.3 percent recommended having more multicultural events.
32.9 percent recommended the recruitment of more individuals from underrepresented or minority groups for leadership, faculty, and staff positions.
31 percent recommended incorporating issues of diversity and cross-cultural competence more effectively into the curriculum.
One of the areas brought to the groups' attention was the category of bystander behaviors. For example, the leaders said it was striking that 13.1 percent of respondents said that, since the beginning of the school year, they had observed "someone on campus being shunned, ignored, intimidated, or treated in an offensive, hostile manner," with the majority of individuals engaging in helpful behaviors in response to the incident.
Adopting educational experiences that focus on "bystander intervention" will need to be part of UMB's action plan, Alvarez told the group.
Overall, the purpose of the EAB campus climate survey is to understand and measure students' experiences, perceptions, and behaviors with respect to diversity and inclusion at UMB, with the goal of developing strategic initiatives designed to create inclusive campus environments.