The University of Maryland, Baltimore (UMB) CURE Scholars are making major academic strides this year. Fifteen CURE Scholars achieved sixth place or higher in last weekend's Maryland Science Olympiad-Baltimore Middle School STEM (Science Technology Engineering and Math) regional tournament.
The tournament was held March 4 at Morgan State University. The students will now advance to the Maryland State Finals at Johns Hopkins University on April 8.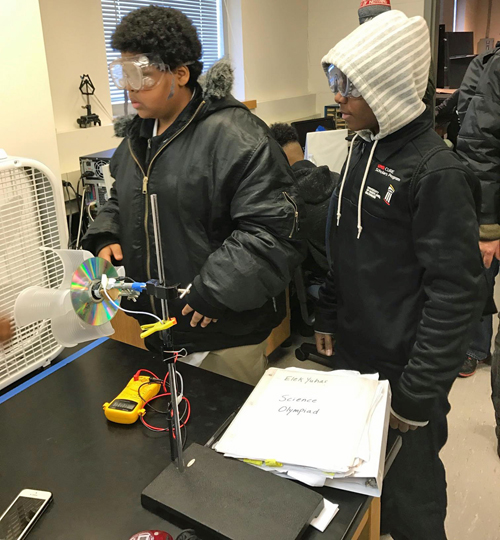 The 15 students, all sixth- and seventh-grade CURE Scholars who attend Green Street Academy (GSA), competed in a variety of activities ranging from meteorology to the "Wright Stuff," in which teams design, construct and test free-flight rubber-powered monoplanes to achieve maximum time aloft.
In all, UMB scholars placed in the following events (those from GSA will be advancing):
Meteorology: 4th and 6th place, GSA;
Disease Detectives: 6th place, Southwest Baltimore Charter School (SBCS);
Reach for the Stars: 6th place GSA;
Rocks and Minerals: 5th place SBCS, 3rd and 2nd place GSA;
Crime Busters: 6th place SBCS, 5th place GSA;
Food Science: 5th place GSA;
Bottle Rocket: 5th place GSA, 3rd place Franklin Square Elementary School;
Towers: 2nd place GSA;
Experimental Design: 5th and 3rd place GSA;
Write-it Do-it: 2nd and 5th place GSA;
Wind Power: 4th, 5th, and 6th place GSA and SBCS;
Scrambler: 4th place SBCS; and
Wright Stuff: 6th and 1st place GSA.
The UMB community wishes them the best of luck on April 8!