The majority of women with early-stage estrogen receptor (ER)-positive breast cancer, considered at intermediate risk of having their cancer recur based on a 21-gene test, can safely forgo treatment with chemotherapy, according to a large, multicenter clinical study published inThe New England Journal of Medicine.
"The findings of this landmark clinical trial will have immediate clinical impact for thousands of women with early-stage ER-positive, HER2-negative breast cancer who have a mid-range Oncotype DX recurrence score, sparing them from unnecessary chemotherapy with its negative side effects," says study co-author John A. Olson Jr., MD, PhD, the Campbell & Jeanette Plugge Professor and vice chairman of the Department of Surgery at the University of Maryland School of Medicine (UMSOM), who helped to design the study.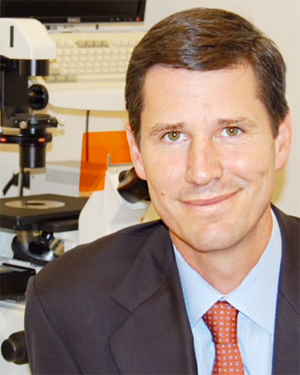 "Chemotherapy provided no improvement in invasive disease-free survival rates compared to endocrine therapy alone, showing that the biologically based biomarker guides therapy more effectively than standard pathologic variables," says Olson, who also is chief of general and oncologic surgery at the University of Maryland Medical Center and associate director of the University of Maryland Marlene and Stewart Greenebaum Comprehensive Cancer Center. "This work adds to refinements in the surgical treatment of breast cancer that seeks to 'right-size' treatment for patients."
The results of the Trial Assigning IndividuaLized Options for Treatment (Rx), or TAILORx, also were reported June 3 at a plenary session of the American Society of Clinical Oncology (ASCO) annual meeting in Chicago.
Previously, TAILORx investigators reported that low-risk patients with recurrence scores under 11 could safely skip chemotherapy in favor of hormone therapy alone. In light of the latest findings, a combined 70 percent of women with this common type of breast cancer can safety avoid adjuvant chemotherapy, researchers say.
More than 100,000 women in the United States are diagnosed each year with early-stage ER-positive breast cancer that is node-negative, meaning it has not been detected in nearby lymph nodes. Patients are typically treated with surgery, followed by hormone therapy, such as an aromatase inhibitor to limit the production of estrogen, and adjuvant chemotherapy.
TAILORx is the largest adjuvant breast cancer treatment clinical trial ever conducted, enrolling 10,273 women with early-stage breast cancer at approximately 1,200 sites in the United States and five other countries. It was conducted by the ECOG-ACRIN Cancer Research Group with support from Genomic Health, Inc., under the sponsorship of the National Cancer Institute, part of the National Institutes of Health. Joseph A. Sparano, MD, professor of medicine and obstetrics, gynecology, and women's health at Albert Einstein College of Medicine in New York, is the lead author.
Participants in the clinical trial received treatment based on their scores on the Oncotype DX test — a 21-gene assay that provides a score based on the genetics of a woman's tumor to gauge her risk of recurrence and predicts the potential benefit of chemotherapy.
In 2015, TAILORx investigators reported that low-risk patients with recurrence scores under 11 could safely skip chemotherapy. They found that less than 1 percent of the 1,626 women who took estrogen-limiting drugs and skipped chemotherapy based on their Oncotype DX test results experienced a recurrence of their cancer five years later. That rate rose to 3 percent after nine years, investigators reported in The New England Journal of Medicine. Patients considered high risk, with scores of 26 to 100, were found to benefit from both chemotherapy and hormone therapy, although the recurrence rate was 13 percent.
The primary study group consisted of more than 6,711 women, or 69 percent of the patients in the trial, who had Oncotype DX recurrence scores of 11 to 25, which is deemed to be intermediate risk. They were randomly selected to receive hormone therapy (also called endocrine therapy), such as anti-estrogen drugs called aromatase inhibitors, with or without chemotherapy. Researchers followed them for about nine years.
Investigators found that hormone therapy alone was "not inferior" to chemotherapy and hormone therapy, with similar rates of invasive disease-free survival, recurrence in a distant site or any site in the body, and overall survival between the two groups of patients.
But the researchers also said some women 50 or younger whose recurrence scores were at the high end of the intermediate range (16 to 25) may benefit from chemotherapy, although the reasons for this are not clear.
"This groundbreaking clinical trial will help patients and their physicians make more informed decisions about treating early-stage, ER-positive breast cancer using sophisticated genetic testing. It offers clear evidence that chemotherapy offers no additional benefit to anti-estrogen therapy alone," says E. Albert Reece, MD, PhD, MBA, executive vice president for medical affairs at the University of Maryland, Baltimore and the John Z. and Akiko K. Bowers Distinguished Professor and UMSOM dean.
"The findings also underscore the effectiveness of hormone therapy in treating ER-positive breast cancer," Reece says, noting that late UMSOM breast cancer researcher Angela H. Brodie, PhD, played a pivotal role in developing aromatase inhibitors, a hormone therapy widely used to treat postmenopausal women with breast cancer.