The Computer-Aided Drug Design (CADD) Center — an organized research center at the University of Maryland, Baltimore (UMB) that is housed within and led by faculty at the University of Maryland School of Pharmacy (UMSOP) — welcomed researchers from across academia, government, and industry to its biennial CADD Symposium on May 23.
Designed to facilitate collaborations between the CADD Center and researchers across the University System of Maryland and beyond, the symposium presented recent developments in the fields of drug design and development and offered opportunities for researchers to network and discuss potential collaborations.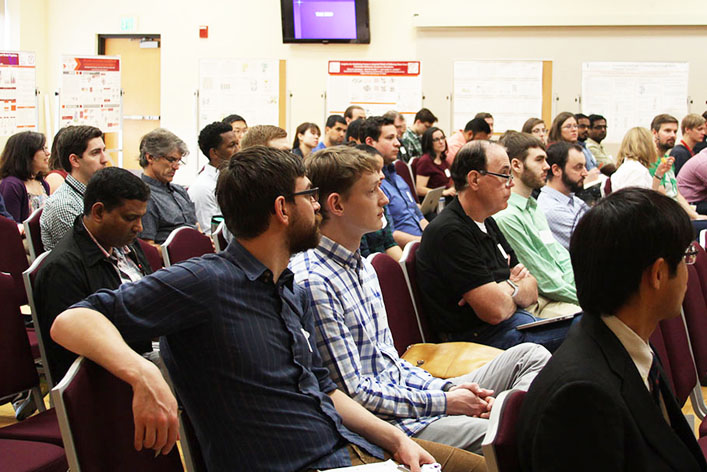 "As researchers, we know that collaboration is key not only to the success of our individual projects, but also to the advancement of science as a whole," says Peter Swaan, PhD, professor in the Department of Pharmaceutical Sciences (PSC) and associate dean for research and graduate education at the UMSOP, who offered opening remarks to attendees. "For nearly 20 years, the CADD Center has been phenomenally successful in its efforts to foster collaborative research between biologists, biophysicists, structural biologists, and computational scientists. In addition to highlighting the latest advances in computational chemistry, this symposium explores how the research being conducted in this field can be applied to solve important biological and clinical problems in other areas."
The symposium was organized by Alexander MacKerell, PhD, the Grollman-Glick Professor of Pharmaceutical Sciences and director of the CADD Center at UMSOP, who kicked off the event alongside David Weber, PhD, professor of biochemistry and molecular biology and director of the Center for Biomolecular Therapeutics at the University of Maryland School of Medicine (UMSOM). The two researchers presented an overview of the drug discovery initiatives being pursued by scientists across UMB.
"By combining experimental methods with computational methods, we can help expedite the drug design process," MacKerell said. "On their own, experimental and computational methods are very useful. However, when you combine the information, it works in a synergistic fashion to move the science ahead. Each problem is unique, and selecting the appropriate methodology to apply can be challenging. That is why researchers at the CADD Center regularly interact with experimentalists to take the idea from the basic science stage and identify compounds that can be molded into new drug candidates and brought to the market."
The symposium also included a presentation by UMB's Office of Technology Transfer, which spotlighted the University's commitment to helping faculty bring their new technologies into commercial development. And that embraced the CADD Center's pharmapreneurial spirit, in keeping with the goals of the UMSOP to encourage entrepreneurism.
Sponsored by the UMSOP, SilcsBio LLC, and Early Charm Ventures, this year's symposium focused on biologics. Unlike most medications that are developed through chemical syntheses, biologics — which include vaccines, certain medications for cancer and autoimmune diseases, as well as emerging drugs for cell and gene therapies — are made with living cells and represent the cutting edge of biomedical research, often succeeding where traditional drug treatments have failed.
The symposium featured presentations from a number of faculty members at the UMSOP, including Bruce Yu, PhD, professor in PSC and director of the school's Bio- and Nano-technology Center, who presented his work to develop a water proton nuclear magnetic resonance (NMR) technology that uses a benchtop device to perform non-invasive chemical analyses to help ensure the quality of biologics throughout the manufacturing process. Explaining that there are a number of errors that can occur during the pharmaceutical manufacturing process, Yu noted that his benchtop device would allow manufacturers and health care practitioners, such as pharmacists and doctors, to detect these rare but serious product defects before the drug is dispensed to a patient.
"Think about weather forecasting," Yu said. "Meteorologists use large supercomputers to help formulate their predictions for the week's upcoming forecast. However, the average individual also has access to an app on his or her smartphone that can display that same forecast whenever it is opened. That is how we think about our work — this benchtop device will be the app equivalent of the large NMR spectrometers with which many of us are already familiar."
Additional presenters from the UMSOP included Jana Shen, PhD, associate professor of PSC and co-director of the CADD Center, who presented her work on incorporating pH in structure-based drug design; Stephen Hoag, PhD, professor of PSC and director of the Good Manufacturing Practice (GMP) Facility at the UMSOP, who spoke about the formulation of therapeutic antibodies for colonic delivery; and Lisa Jones, PhD, assistant professor in PSC, who highlighted her efforts to examine protein structure in vivo (within living organisms).
Other presentations were delivered by Jeffrey J. Gray, PhD, professor in the Department of Chemical and Biomolecular Engineering at Johns Hopkins University; Sandeep Somani, PhD, senior scientist at Janssen Pharmaceuticals; Joseph Curtis, PhD, research chemist at the National Institute of Science and Technology (NIST); Luke Arbogast, PhD, research chemist at NIST; Eric Sundberg, PhD, professor of medicine and co-director for the Basic Science Division with the Institute of Human Virology at the UMSOM; Alex Drohot, PhD, associate professor of biochemistry and molecular biology at the UMSOM; and Suresh Singh, PhD, vice president of HotSpot Therapeutics.
"I attended the CADD Symposium because I was interested in learning more about computer-aided drug design," said Ben Nkapbela, an undergraduate student at York College of Pennsylvania. "I truly value all of the connections that I have made with other researchers during my time at the symposium as well as all of the information that I have gained from listening to the presentations."
The symposium concluded with a poster session that offered attendees the opportunity to learn more about the cutting-edge research being conducted across the region.