On a day of singular celebration, Carolyn Spencer had reason to be doubly proud June 1 as she watched not one but two sons graduate from the University of Maryland, Baltimore's Project SEARCH Class of 2018.
Spencer showed off that pride speaking at the ceremony, captivating the crowd of 75-plus family members at the SMC Campus Center with the inspirational tale of her sons, Wesley and William Powell. The twin brothers were among the 18 graduates wearing dark-blue robes and carrying sky-blue hopes after completing the UMB program, which offers a year of workforce and career development for Baltimore high school seniors with intellectual and developmental disabilities. (See a photo gallery.)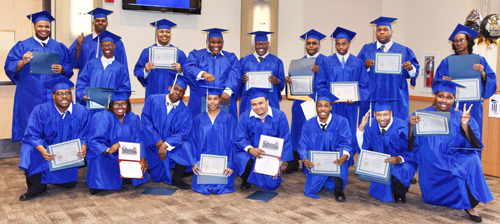 "My sons are eager and they are hungry to learn. They are wonderful," Spencer said of Wesley and William, who have gotten jobs with UMB's Office of Design and Construction and Alban CAT heavy equipment company, respectively. "There's no such thing as a child that can't learn. Someone can learn from anybody. … I thank all of you for guiding my sons the right way."
Spencer recounted the story of her surprise, mid-30s pregnancy, her sons' diagnosis of mental retardation, her fears for their futures, and their ultimate triumphs. She broke it down into three chapters: amusing, detrimental, and amazing. Amusing, because she burst out laughing when told she was pregnant — with twins. Detrimental, because a doctor told her they would never learn. Amazing, because Wesley and William have thrived in school and life.
Before asking her "two blessings" to escort her back to her seat, Spencer had a closing message to the graduates as the crowd nodded and cheered its approval: "Never let anybody say that you can't do something. Never let anybody put a label on you, because you can be anything you want to be."
This was a major theme during the emotional, 90-minute commencement ceremony for the Project SEARCH program, a collaboration among UMB, the University of Maryland Medical Center (UMMC), the UMMC Midtown Campus (a new partner this year), The Arc Baltimore nonprofit, Baltimore City Public Schools, and the state's Division of Rehabilitation Services. Student interns are placed at UMB or one of the UMMC facilities for three 10-week job rotations during their senior year of high school.
"This program gives them a chance to be who they are. They don't have to be something they're not," said Yolanda Jones, the mother of graduate Eldridge Martin. "They are the best people you can be around. This program matters, big time. This gets [the interns] out of their shell. They're like the little chickens inside the eggshell, and they're trying to get out, and this graduation is them getting out."
Added Dana Washington, the mother of graduate Jazmine McDowell, "This program changed my little girl's life."
Rotations and Salutations
The ceremony opened with welcoming remarks from graduates Robert Gray, who served as emcee, and Tiffany Waters, followed by guest speeches from Washington and Spencer. Next up were the graduates, who took turns talking about their work rotations and thanking skills coordinators, mentors, and facilitators, including Project SEARCH program manager Tameka Harry and instructor Shirley Cook.
Anthony Courtney discussed his roles in patient transportation and environmental services and how his mother told him to avoid having jitters as he spoke: "Don't be nervous, just be happy." Brian Crawford talked about tagging and delivering packages from the loading dock and cleaning tables and floors for food services. Damond Davis spoke of building cages for veterinary resources and thanked family and mentors "for teaching me skills that will help me for a lifetime." Demetriis Floyd detailed his work at URecFit, sorting and folding towels and wiping down exercise equipment.
The graduates also brought humor to the proceedings by reciting the nicknames they'd acquired during their rotations. Need to chill out? Check in with Dimarco Daley, aka "Mr. Mellow," or Jaqon Sample, "The Quiet One." Have a question? Ask Raekwon Walker, "Mr. Know It All," or Reakwon Williams, "The Answer Man." Need an unvarnished opinion? Talk to McDowell, "The Truthful One" — "I'm always honest with all the people," she said.
Several of the students announced they have gotten jobs, magical words for the program that began at UMB in 2008. In addition to the Powell twins' positions, Jamika Robinson announced she will be working at Horseshoe Casino, then blew kisses to the crowd. Gray talked about his various duties as a porter at ShopRite. Darian Moore is employed by D&L Cleanup, a nearby cleaning service.
"It's notable that we've been on this campus for so many years and given this opportunity to so many young adults," said Joanna Falcone, senior director of competitive employment at The Arc Baltimore. "There are two memorable days: graduation and the day they get their first job offer, because that's what this whole program is about."
The ceremony left Project SEARCH job coach Jeaneathia Yerby beaming with pride. Asked to describe this class in particular, she called them conquerors. "They have come a long way," Yerby said. "They have made a lot of milestones. And we are so excited to see what the future holds for them."
'An Unforgettable Journey'
After the presentations, the graduates came up again, one by one, to receive their certificates, getting high-fives, fist-bumps, and handshakes along the way, before Wesley Powell offered closing remarks.
"Project SEARCH has been an unforgettable journey that has prepared us for a future in the workplace," he said. "The past year has involved some of the most memorable and influential moments of our lives. Individually, our experiences were unique, but together we share a common bond. We are filled with excitement as we begin the next stage of our lives."
As the opening strains of Celine Dion's "Because You Loved Me" played, the graduates formed a conga line, waving to the crowd in unison, then came together for a group picture. As family and friends converged for hugs and more photos, emotions ruled the day.
"I'm just trying to keep it together," Washington said. "This program changed my little girl's life. It's an excellent program. It developed Jazmine's independent skills, made her more sociable. At first I was a little nervous about it, but it's just a win-win."
Malinda Redfearn had trepidations, too, about her son, Joseph Sparrow, but she said he has thrived after working in food services for each of his rotations.
"I wasn't sure he would accept it or embrace it, but he really did enjoy the program," Redfearn said. "He loved it and I loved it. It was a big step for him. This is an emotional day. My other kids have their diplomas, but he's my baby, and it was a long road. But we finally got here."
Emotions ran high as well for Lashonda Hudson, the aunt of graduate Chay'La Hudson-Dean.
"I'm very proud of her," Hudson said. "They initially have to deal with all the difficulties of not being what's deemed 'normal,' and they're still trying to fit into society. But it's heartwarming to see them still pushing, to see them live their lives as normal adults."
And the tears flowed from Jones, who said if she had cried any more, her eyes would have been swollen shut. She did swell with pride in her son and appreciation for Project SEARCH.
"I love this! I love this!" Jones repeated. "All the people in the program support you and listen to you, and it's the best thing ever. To me, it's almost better than winning the lottery. It's tax-free, and it's filled with love."
Departments that are interested in utilizing Project SEARCH interns can notify program manager Tameka Harry at THarry@umaryland.edu.