"If you're a person in the room under 16 who plans to go to college, raise your hand," said Freeman Hrabowski, PhD, president of the University of Maryland, Baltimore County (UMBC). More than a dozen middle schoolers' hands shot up with excitement.
Hrabowski was standing next to University of Maryland, Baltimore (UMB) President Jay A. Perman, MD, inside UMB's Community Engagement Center (CEC). Together, they welcomed 26 Baltimore middle school students and nine presidents of higher education institutions to the Inside Higher Education (IHE) student-president meet and greet on July 8.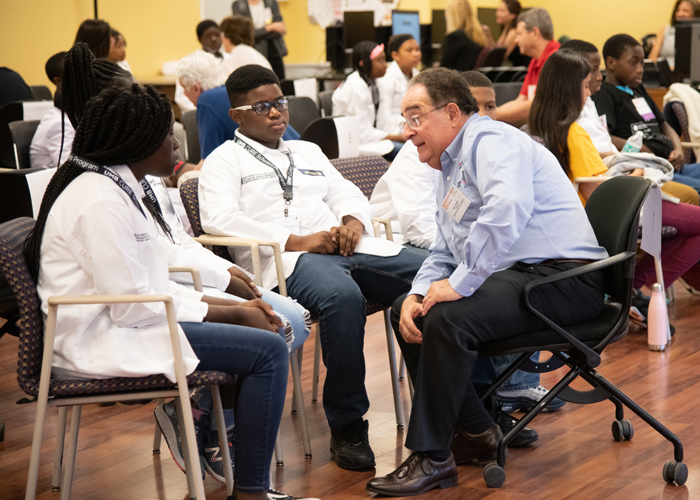 The event co-sponsored by UMB and UMBC served as an informal occasion for the students to "speed network" by talking to university and college presidents from across the country. In small groups, the students asked questions and talked about their goals with each of the presidents in 20-minute increments.
(View a photo gallery.)
The meet-and-greet was the perfect kickoff event to the first annual IHE Now panel discussion, which took place at the Renaissance Baltimore Harborplace Hotel the next day. The goal of the forum was to illuminate the presidents about broad issues of higher education access and readiness as well as engagement in their local communities where students are under-represented among college populations.
Not only was this kickoff event a great experience for the students, but it also was a great opportunity for the presidents to talk to Southwest Baltimore students about their academic journeys and their futures in higher education ahead of the summit.
"You can never hear from your customers enough," Perman said. "This is a great opportunity to talk with students and listen to what they want out of a college education."
(View a video below.)
Among the middle schoolers participating in the event were 12 students from Lakeland Elementary/Middle School, which partners with UMBC to improve college readiness among students, and 14 students in the UMB CURE Scholars Program, a pilot mentoring program aimed at reducing racial disparities in public health by introducing a pipeline toward careers in STEM (science, technology, engineering, and math).
During the speed networking portion of the event, the presidents asked the students about what they hope to accomplish in school and gave them advice. Askia Matin Jr., a rising seventh-grade student in the CURE Scholars Program, told Perman that he hoped to become a mechanical engineer but also enjoyed learning about health and nutrition.
"You should look into becoming a biomedical engineer," Perman suggested thoughtfully. "You can construct tools that doctors and other health care professionals can use to help people who are sick."
On the other side of the room, Steve Robinson, PhD, president of Owens Community College in Toledo, Ohio, was telling three CURE Scholars about the financial benefits of community college. The scholars were enlightened to hear that they could take their core credits at a community college to help them save money on tuition.
Robinson also asked the students what they wanted most from their college experience. Shai Ross, a rising seventh-grader in the CURE Scholars Program, said she wanted to have a welcoming atmosphere with teachers who show they care about her.
"A lot of colleges have really big classes with just one professor," Robinson explained. "I suggest that for every class, you find time to go to your professor's office hours and introduce yourself. That way you can start building a relationship right away."
The students also had the opportunity to ask the presidents questions about their own educational backgrounds and how they got to where they are today. The students heard from Perman, Hrabowski, and Robinson as well as the president of Slippery Rock University, William J. Behre, PhD; the president of SUNY Broome Community College, Kevin E. Drumm, PhD; the president of American Association of State Colleges and Universities, Mildred García, EdD; the president of University of Maryland University College, Javier Miyares, MA, ABD; the president of Hudson Valley Community College, Roger A. Ramsammy, PhD; the president of Southern Oregon University, Linda Schott, PhD; and the chancellor of the Coast Community College District, John Weispfenning, PhD.
"I feel kind of honored," Ross said. "They came here from a different side of the state or even country just to talk to me so we could know more about college. It just feels very special because they actually took time out of their day and their life just to come over here and talk to us about their experiences."
The presidents reciprocated that feeling and left the meet-and-greet feeling excited about the future of higher education.
"The future looks bright," García said. "We have a lot of leaders in front of us who are going to do a lot of great things after college."