The University of Maryland, Baltimore (UMB) continued its discussion on race July 28 with an update from UMB leadership on recommended University action and sharing of ideas and concerns from those in the audience. (View a photo gallery.)
UMB President Jay A. Perman, MD, led the discussion as the focal point of his quarterly Q&A, which is open to everyone on campus. He reminded the crowd of the May 6 forum titled "A Discussion About Race in Baltimore."
"It was less than three weeks after the death of Freddie Gray, two weeks after his funeral, which, as you know, was the same day that widespread rioting broke out in the city. We talked about racism, poverty, and disinvestment in West Baltimore.
"But as students, faculty, and staff took the microphone for comments, another piece to the conversation started to emerge. And it had to do with our own institutional commitment to diversity, equity, and inclusion — our institutional commitment to meaningful community engagement."
So Perman charged UMB's Diversity Advisory Council, made up of staff, faculty, and students, to review the May 6 conversation and come up with recommendations. These recommendations, under the themes of career and professional advancement, cultural competency, and community service and engagement, were revealed at the July 28 follow-up discussion.
They include:
Conduct a comprehensive analysis of the University's personnel actions relating to recruitment, promotion, tenure, reclassifications, and equity adjustments.
Enhance the University's efforts to promote a culture of diversity and inclusion.
Evaluate the University's job classification system and, where necessary, modify the system
Evaluate strategies for enhancing cultural competency at the University
Support the newly formed Office of Community Engagement
Prioritize key components including a "day of service" and a career program that educates community residents about employment opportunities at the University.
"As Dr. Perman mentioned, we heard frustration from some employees who feel that they've been passed over for promotions not based on their job performance, but based on their race or ethnicity," said DAC chair Elsie Stines, DNP, MS, CRNP, who announced the recommendations with DAC vice chair Vanessa Fahie, PhD, RN.
"And so we decided that the first thing we need to do is to examine our track record when it comes to hiring under-represented minorities, promoting under-represented minorities, paying under-represented minorities fairly according to their job responsibilities, and paying them equitably when compared to their non-minority colleagues.
"We need a baseline assessment to gauge whether equity in recruitment, promotion, and salary is a problem at UMB."
Fahie spoke about how the President's Fellows, an interprofessional group of students from all seven UMB schools who lead a yearlong discussion on a topic of interest to UMB and its community, will do its 2015-2016 White Paper on cultural competence.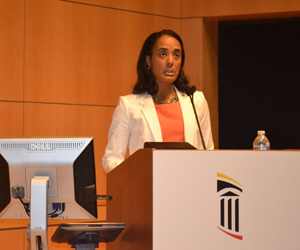 Then Roger J. Ward, EdD, JD, MPA, chief accountability officer and vice president of operations and planning, and interim chief of Human Resource Services (HRS), spoke of how the University "will bring these recommendations to life" in terms of race and ethnicity as well as gender.
For instance, HRS has begun a comprehensive review of the University's personnel actions relating to recruitment, promotion, tenure, reclassifications, and equity adjustments over the past three fiscal years.
UMB's job classification system will be evaluated, Ward said. An Extension Center will be opened to offer job training for community residents and much more. And HRS will engage an external consultant to conduct an institutionwide climate survey to assess perceptions of diversity and inclusion among students, faculty, and staff. "We're doing it externally so the integrity of the survey itself isn't called into question," Ward said.
Perman lauded the ideas put forth and then opened up the floor, saying the recommendations were not final and the audience's input was welcome. As in the May 6 discussion, there were plenty of comments.
One attendee reminded leadership to not forget about University affiliates. "A lot of corporate employees work side by side with state employees and there is a vast difference in their salaries."
Carla Jones from the School of Dentistry echoed that view. "I've been on both sides of the fence. Within the University you should be compensated for the work you do whether you're with a corporation or the state. There should be no in between. You have to count the time, the years, the experience, the department you work in, and classify the jobs accordingly."
Colette Beaulieu, president of the Staff Senate, reminded the audience to contact the senate with troublesome issues "so we can advocate on your behalf."
A staff member from the multi-trade shop spoke of the importance of respect and added, "in my department I see 'I-I-I'. As a University and as a community, it should be 'we'."
Perman praised the presenters and the audience for their participation and assured them that the dialogue would continue.
"What you've heard represents a lot of thoughtful work on the part of the Diversity Advisory Council," Perman said. "I thank the members for their commitment to bettering the University. I know everyone here is dedicated to those ideals and we will go forward."
---