Lisa Rawlings, MBA, does not have to look far for inspiration at work.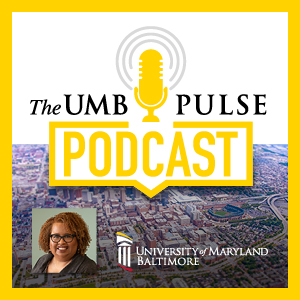 Rawlings, the director of workforce development and job readiness for the University of Maryland, Baltimore (UMB) Office of Community Engagement, is a Union Square resident and is deeply embedded as a Baltimore native.
"Many of the folks that I work with are people that live in this community. And since I live in this community, many of the people I work with are my neighbors," Rawlings said on the season debut of "The UMB Pulse" podcast.
The people she meets have incredible skills and experiences, she added. They just need help in breaking down technology barriers or other nuances of job searching.
That's where Rawlings enters in her role. The hallmark program she leads is Workforce Wednesdays, connecting local residents with career opportunities and job training with organizations where people might not think they'd have an opportunity. You can hear more about the program in this episode of "The UMB Pulse."
Workforce Wednesdays and other upcoming job training and career readiness programming for Baltimore residents can be found on the Local Hiring page and the UMB Workforce Wednesdays Facebook page. The Office of Community Engagement and its programs for West Baltimore residents are Presidential Initiatives of UMB President Bruce E. Jarrell, MD, FACS, displaying UMB's commitment to our neighbors' success.
Rawlings has a skill to not only make people comfortable in themselves, but comfortable in reaching for their dreams within large organizations they're not familiar navigating. Take a medical center or a research institution like UMB, for instance.
"How am I going to fit in to, you know, half a billion dollars' worth of research in an organization?" Rawlings said. "But if you had to, for your job, interview patients every day, get new demographic information, take their vital signs, ask them about the protocol that they're following — all of a sudden, that sounds like a research assistant. Right? It just takes a little bit of time and advice on my part."
Rawlings has a long history of success with connecting people to careers.
She directed the University of Maryland BioPark's BioWorkforce Initiatives (BWI), a series of collaborations between the University of Maryland and Baltimore City Community College (BCCC) to address the shortage of life science professionals. BWI was funded with a generous $1.4 million grant from the U.S. Department of Labor and supported students at BCCC's Life Science Institute located at the BioPark to pay for college, get jobs, and transfer to bachelor's degree programs.
In 2006, Rawlings launched the Hillman Entrepreneurs Program, an innovative partnership between the University of Maryland, College Park and Prince George's Community College. This award-winning program, which has since expanded to include Montgomery College, provides scholarships and mentoring for entrepreneurially minded community college students of any major transferring to the University of Maryland. She continues to serve on the Hillman Entrepreneurs Advisory Committee.
As Rawlings shared in the episode, the Hillman program is now called the Southern Management Corporation Leadership Development Program, as it was the vision of the late founder and chief executive of Southern Management Corporation, David Hillman.
During the interview, Rawlings expanded on program opportunities and the journeys that her clients encounter. One of those clients, Gemini Hanson Barnes, is now a co-worker as a community outreach partner at the UMB Community Engagement Center.
Hanson Barnes, who also appeared on "The UMB Pulse," shared that after being laid off from her job of 11 years, she met Rawlings after completing training at the Center for Urban Families.
"One thing I can say is that she never gave up on me. And then her colleagues did the same as well," Hanson Barnes said. "You know, really, it was very helpful."
Hanson Barnes wanted to be in a position where she cared about the organization and her work was meaningful.
She found that at the CEC, where she provides educational information to community members, including where to get the COVID-19 vaccine, about the community lunches and dinners available, and other programs.
The key to Hanson Barnes' transformation is not only having others believe in you, but to believe in yourself.
"Sometimes people see things in you that you don't see yourself," Hanson Barnes said. "So, give yourself a try."
The entire episode is available to listen to above. "The UMB Pulse" podcast is published on the first Friday of each month and is available at umaryland.edu/pulse, on Apple Podcasts, and wherever you like to listen to podcasts.
The next episode will drop March 4.