When Tamara Hicks, PhD, MSW, was hired by the University of Maryland School of Social Work last year, she did some research about employee benefits and came across the University of Maryland, Baltimore's (UMB) Live Near Your Work Program (LNYW). Thanks to the homebuying assistance initiative, Hicks is now a proud resident of Hollins Market.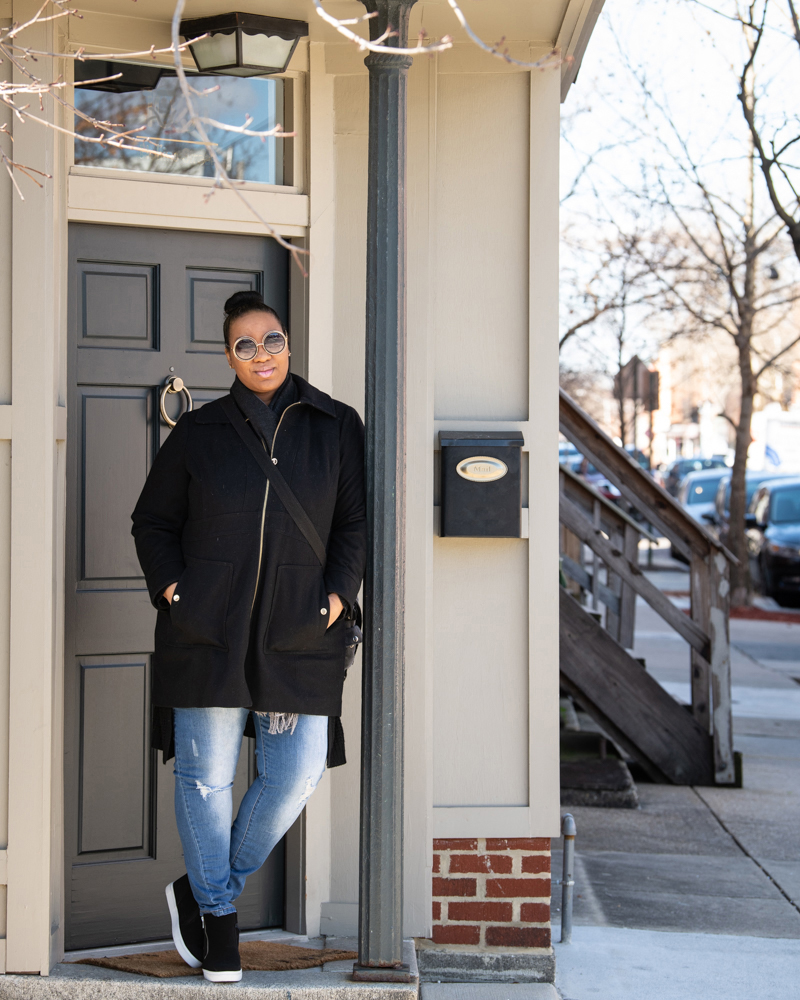 "I looked into Hollins Market before I moved here and added several neighbors on Instagram so I could see if they loved it," says Hicks, a clinical assistant professor who moved to Baltimore from Charlotte, N.C. "I always look for community engagement and how the residents buy in to the neighborhood.
"I'm quite pleased because I get to live near my workplace — just three bus stops and I'm at my office. I also really wanted to live in the city. The feeling is different than being in the suburbs. It's very hard to explain. But I love the city, and I love my neighbors. I had to navigate the program from many miles away in Charlotte, but I got it done!"
Hicks is one of 14 UMB employees who benefited from the LNYW Program in 2019, joining 20 others who bought houses with UMB assistance since January 2018, when the program was revamped with additional funds and homebuying resources. It now offers $18,500 — grants of $16,000 from UMB and $2,500 from the city of Baltimore — for closing costs and down payment. Hollins Market is one of seven targeted Southwest Baltimore LNYW neighborhoods; the others are Barre Circle, Franklin Square, Mount Clare, Pigtown/Washington Village, Poppleton, and Union Square.
With a total of 34 new homeowners, the LNYW Program has used nearly $550,000 of the $1.5 million that UMB leaders committed to boost the grant. The funds have transformed the program, which used to offer a grant of $2,500 and was rarely used by employees between 2013 and 2017. The initiative also has been boosted by community partnerships with Live Baltimore, the Southwest Partnership, and GO Northwest Housing Resource Center to offer homebuying workshops, financial counseling, neighborhood tours, a housing fair, and more.
In 2020, LNYW is entering a second phase, which includes a potential expansion of neighborhoods participating in the program and efforts to connect potential grant recipients with real estate developers who are renovating or building properties in the participating neighborhoods, says Karen S. Park, MA, MBA, UMB's director of strategic planning and chief of staff to the chief business and finance officer.
"UMB has solicited four neighborhoods to apply for inclusion in the program: Harlem Park, Heritage Crossing, Upton, and Druid Heights," Park says. "These neighborhoods were identified for their current partnerships with UMB programs and proximity to our campus.
"We also conducted focus groups to better understand what types of properties and community amenities that future homeowners are seeking. In this process, we discovered that there was some confusion about the LNYW Program's requirements and parameters, so additional meetings were established with these focus group participants to answer their questions."
In terms of demographics, program leaders say nearly 65 percent of the UMB homebuyers are African-American, 85 percent are women, and the average home purchase price is $177,258. Pigtown/Washington Village has been the most popular neighborhood, with 18 grant recipients buying houses in that community.
Demetrius Shambley, MA, facilities planner for UMB, is among those employees who used the LNYW grant to buy a home in Pigtown.
"The close proximity to campus and the Orioles' and Ravens' stadiums and easy access to interstates are what initially attracted me to that community," says Shambley, who moved from a downtown apartment. "It's a strong neighborhood where people care about their homes. My experience with the Live Near Your Work Program was very pleasing. The workshops and counseling sessions were helpful and informative."
Sophie White, academic services coordinator in the Department of Neurosurgery at the University of Maryland School of Medicine, also bought a house in Pigtown after living in a downtown apartment.
"I was drawn to the small community feel, the emerging local businesses, the diversity within the neighborhood, and of course its proximity to UMB," White says. "The grant significantly contributed toward the down payment for our first home. The process of applying was much easier than I anticipated and all went smoothly with receiving the benefits. My experience was very positive."
Park says that high level of satisfaction was typical with the 2019 grantees, and she's optimistic of more to come.
"We remain on target to assist up to 90 families through this program by the end of its fifth year," Park says. "The program has far exceeded our expectations and continues to generate a steady interest in homeownership in West Baltimore."