Last February, when officers of the University of Maryland, Baltimore Police Force (UMBPF) were first introduced to the city's pilot pre-booking diversion program, the reaction was less than enthusiastic, said Sgt. Matthew Johnson.
"My officers really didn't want to participate," Johnson said of Baltimore's Law Enforcement Assisted Diversion (LEAD) program, aimed at keeping low-level drug users out of the criminal justice system and putting them on a path to support services. "And I was pushing, pushing, pushing, because I think it's a good thing."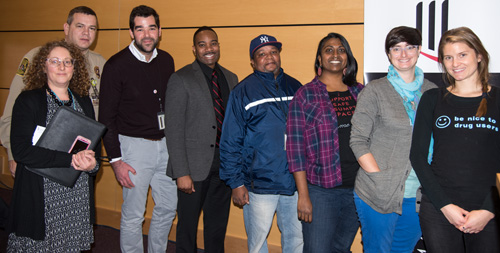 Based on a Seattle model that is being replicated in cities across the country, the LEAD program encourages police officers to redirect individuals with certain drug offenses to services for help with treatment, housing, health care, job training, and mental health support. The program's goal is to improve public safety, reduce criminal behavior, and avoid the costs associated with multiple arrests and incarcerations. The pilot area includes the entire University of Maryland, Baltimore campus north of Pratt Street.
Johnson shared UMBPF's experience with LEAD at a Jan. 29 workshop entitled "Intro to Harm Reduction and Diverting Drug Users to Treatment with Baltimore City's LEAD Program." The event was sponsored by the University of Maryland School of Social Work (SSW) and the University of Maryland School of Medicine (UMSOM). It was held in the SSW Auditorium.
Since LEAD was launched in February 2017, UMBPF officers have come to see the program's benefits, Johnson said.
"It took awhile, but now my officers want to make LEAD referrals because they've seen over the years that when you make that drug arrest, a lot of times it doesn't do anything" to provide help to the person arrested, Johnson said. The program was developed in coordination with Behavioral Health System Baltimore (BHSB), the Baltimore Police Department (BPD), and the State's Attorney's Office.
Attendees of the workshop were introduced to the basic tenants of Harm Reduction, a public health philosophy and intervention that seeks to reduce the harms associated with drug use, and to the LEAD program. Speakers included LEAD Program Manager Daniel Atzmon, Behavioral Health System Baltimore; Harriet Smith, Baltimore Harm Reduction Coalition; Lt. Thomas Leone and Johnson, both of UMBPF; Ricky Morris, harm reduction specialist, Bmore Peers Offering Wellness Education and Resources (POWER); and Rajani Gudlavalleti, Baltimore Resources for Indoor Drug-use Grassroots Education and Safety (BRIDGES) Coalition organizer.
In an arrest referral, an individual is approached by a police officer and diverted to the LEAD program instead of being booked on drug-related charges. In a social referral, officers offer individuals the chance to join the LEAD program based on previous interactions but without having any cause to arrest them at the time of contact. To date, 70 people have enrolled in the program. Of those, only two were arrested again, according to Atzmon.
"What we're really doing is just giving police another tool to address criminal activity that might have underlying behavioral health issues," he said. "Whether we like it or not, public safety officers are generally the first line of response to what are public health issues. So that's why LEAD tries to pair the public health response with the public safety response."
Individuals arrested in the last 10 years for homicide, child abuse, arson, or felony assault are not eligible for the LEAD program, nor are people who are on parole or probation, awaiting trial, or have outstanding warrants.
Atzmon said he is hopeful the program will expand beyond the pilot zone, which is bound by MLK Boulevard on the west, St. Paul Street on the east, Franklin Street on the north and Pratt Street on the south.
When it comes to fighting the war on drugs, Leone said the law enforcement community has learned a major lesson. "We realized years ago that we couldn't arrest our way out of the problem that we have, and it was the opioid overdoses nationwide," he said. "It's hitting Baltimore hard, but it's hitting communities all across Maryland, having the same impact."
In his previous position, Leone was director of a drug task force in Western Maryland and on call to respond to overdoses around the clock, some of which still haunt him.
"As a police officer, we sometimes become jaded as to how things affect other people," he said. "But going to those overdose deaths, you saw a lot of young people, early 20s, that have changed the lives of their families forever. It's sad to lose that person, but the impact goes much deeper than the overdose itself."
Now with the LEAD program, there is another avenue for getting help to those who need it, Leone said.
"I still do believe that there is a deep value in what were doing," he said. "We're not touching hundreds and thousands of people, but the people that we are touching, we're helping."
Johnson said when the LEAD program was first introduced, it was not unusual to hear an officer say, " 'That's not our job to save addicts.' Then you have addicts who want nothing to do with police."
On the first day of the program, Johnson and an officer approached a man on MLK Boulevard and told him about LEAD. "He didn't want anything to do with it," Johnson recalled.
But as time went on, officers started making arrests that turned into LEAD referrals. So many drug users were starting to show up in one area of MLK Boulevard and being referred to LEAD that Johnson asked his officers, "Why do we keep getting these people arrested in that same spot?" The location became known as a place drug users could get help, Johnson said. "They told us, if we get high here, that you'll help us."
The workshop was organized by SSW associate professor Corey Shdaimah, LLM, PhD, with, and at the initiative of, UMSOM student Zofia Kozak, along with the support of the University's Center for Addiction Research, Education, and Services (CARES) directed by SSW assistant professor Michelle Tuten, PhD.
"I'm just really happy that the School of Medicine and the School of Social Work can collaborate on this because I think we all know that the opioid epidemic didn't happen overnight," Kozak said. "It's not something that is going to be solved in one easy fix. It really requires an interdisciplinary approach and people coming from all different fields talking about how we can reduce the harm associated with it."