Studying strategies to fight HIV in Brazil. Researching HIV care in Liberia. Investigating ways to increase cervical cancer screening in Nigeria.
These are just some of the ways students and faculty from the University of Maryland School of Nursing (UMSON) spread their reach beyond Baltimore as participants in programs offered through the School's Office of Global Health.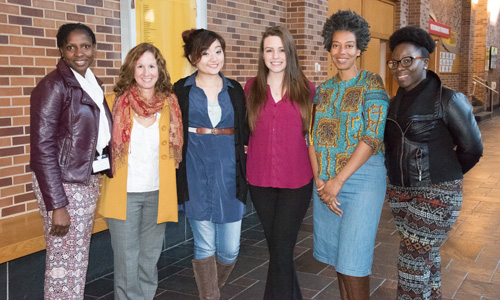 Experiences from around the world were shared recently during the ninth annual "Global Health on the Ground: Students & Faculty Reflections from the Field." The event featured student and faculty accomplishments from field placements in Brazil, Liberia, Nigeria, and Rwanda.
Attendees gained insight into global health systems, international humanitarian partnership building, and important equity issues facing vulnerable communities. The event was co-hosted by the student group Nurses for Global Health.
UMSON student Meagan Hayes spent more than two weeks in Salvador, Brazil, the capital of the northeastern state of Bahia, to study Brazilian strategies to fight the HIV epidemic. The Interprofessional HIV Global Health Project in Brazil was led by University of Maryland School of Dentistry Clinical Assistant Professor Isabel Rambob, DDS, accompanied by Hayes and University of Maryland School of Medicine public health student Breanna McKinnon. The purpose of the trip was to study the Brazilian model of nursing, the differences and impacts of public vs. private health care, and to investigate the Brazilian model for mitigating the HIV epidemic in an interprofessional setting.
"You are learning how to be every type of nurse possible," Hayes said of her experience in Salvador, where she shadowed physicians, nurses, infectious disease specialists, and other health professionals in two hospitals.
Nursing student Allison Pugay shared her research on HIV care in Liberia, conducted in coordination with two University of Maryland School of Social Work students and led by UMSON Clinical Instructor Beth Barrows, RN, MS. It was the first University of Maryland, Baltimore (UMB) trip to Liberia, Pugay said.
"It was heartbreaking the information that we gathered," Pugay said. For example, an HIV patient would have a wait time of up to six hours to be seen in a hospital. Homes that were visited by the team were littered with broken glass and debris and lacked clean water.
The team created a "Tree of Hope" activity for an HIV support group in which HIV patients were asked to write down something that made them happy.
"We were trying to help them look beyond this stigmatized diagnosis that they live with everyday," Pugay said.
Joined by Yolanda Ogbolu, PhD '11, MS '05, BSN '04, CRNP, director, Office of Global Health, who led the team, Oriyomi Dawodu, MS, Martine Kirwin, BSN, and Trish Milburn, DNP, CRNP, participated in the Global Health Certificate Program Brazil to Baltimore. They spent nearly two weeks in Rio de Janeiro visiting the Saude Crianca Association (ASC), an innovative community health organization that aims to improve the quality of life for impoverished families by addressing the social determinants of health. The team sought to strengthen the partnership between UMSON and ASC and to explore the possibility of designing a cultural adaptation study model for Baltimore.
Under the Saude Crianca model to assist families, a family action plan is developed and families must sign a contract to receive services addressing their well-being in five categories: health, psychology, income, citizenship, and education.
"The person receiving the services must do their part," explained Kirwin.
Families also participated in cooking classes to learn how to create nutritious meals, she said.
"You are building friendships in the kitchen," she said, adding that one of the key lessons learned is that the social determinants of health is a global concept.
UMSON student Toya Sherrill traveled to Nigeria to research ways to increase cervical cancer screenings. Cervical cancer is the second-most-frequent cancer among women in Nigeria, killing 8,240 women each year. In the United States, about 4,210 women die from cervical cancer annually.
Former director of UMSON's Rwanda Human Resources for Health (HRH) Program Marik Moen, MPH, MSN, RN; HRH faculty member Kimberly Pierre, BSN, MS, and Milburn relayed stories about their experiences in the East African country.
"I stepped away from the Rwanda program about two years ago, and it left a big hole in my heart," Moen said.
Added Milburn, "The biggest thing I think these people needed was just to feel empowered."
"When you're in a different culture, your eyes are just open to everything, and when you come home, you notice more, too," said Pierre.