A University of Maryland, Baltimore (UMB)-led clinic has begun helping patients who are discharged from the University of Maryland Prince George's County (UMPG) Hospital Center to succeed in their transitions from hospital or the emergency department to home by addressing circumstances that could harm their health and lead to readmissions.
The new Interprofessional Care Transitions Clinic (ICTC) in Cheverly, Md., is designed to expand access and continuity of care for Medicare, Medicaid, and newly insured patients who lack access to a primary care provider by addressing that gap after their discharge.
"We saw a way to assemble around these patients a team of professionals who can integrate the kind of treatment and services that promote health and well-being," said UMB President Jay A. Perman, MD. "We saw a way to keep patients out of the hospital and the emergency department and in their home communities."
Partially supported by a two-year, $1.2 million grant to UMB from the Maryland Community Health Resources Commission (CHRC), several collaborating institutions established the clinic in June at the University of Maryland Family Health and Wellness Center on the UMPG hospital center's campus. Leaders of UMB, the University of Maryland Medical System (UMMS), and University of Maryland Capital Region Health (UMCRH) celebrated its formal opening on Nov. 28, 2017, with remarks and a ribbon-cutting ceremony.
(View a photo gallery.)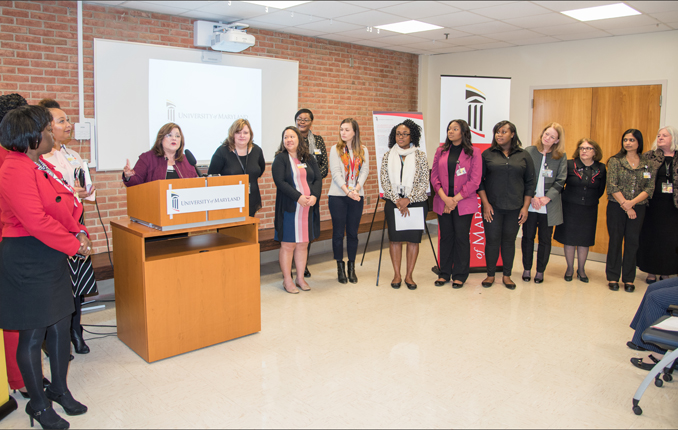 To facilitate patients' linkages to providers within the community, the ICTC combines the clinic and two UMB-managed resources: the Governor's Wellmobile operated by the UM School of Nursing (UMSON) and the e-Health Center operated by the UM School of Pharmacy (UMSOP). The clinic is an interprofessional, team-based program that includes pharmacists, nurse practitioners, social workers, and lawyers.
"This rich representation is critical, because we know that collaboration among a health care team is essential for vulnerable patients," said Perman, who conducts his own interprofessional pediatric clinic each week at the University of Maryland Medical Center in Baltimore.
Howard Haft, MD, deputy secretary for public health at the Maryland Department of Health, called the ICTC "an important development" in health care delivery by providing an interprofessional model for "times of transition to care from hospital to community."
Services provided by the ICTC are funded by the University of Maryland schools of pharmacy, nursing, social work, and law; UMPG hospital center; and the CHRC.
"This important and innovative project will help expand access to health care for vulnerable populations in Prince George's County," said Mark Luckner, CHRC executive director. "The commission is thrilled to support this project, which is innovative, sustainable, and replicable."
The ICTC has "transitions" in its name because it offers patient-centered services to hard-to-reach individuals and those with complex cases as these patients undergo transitions in care.
Transitions, such as moving from hospital to home or hospital to long-term care facility, increase the risk of adverse events due to the potential for miscommunication as responsibility is given to new parties, according to the Agency for Healthcare Research and Quality, which also notes that hospital discharge is a complex process representing a time of significant vulnerability. Nationally and locally, measures are in place to reduce readmissions.
The new clinic's model is to provide continuity of care as people go through these transitions, which also may include release from an emergency department after an urgent health issue. To do so, the ICTC relies on three elements: services provided at the UM Family Health and Wellness Center; services offered by the Wellmobile at locations in Bladensburg, Greenbelt, Langley Park, and Laurel; and an e-Health Center that connects with patients via telephone and/or telehealth.
Magaly Rodriguez de Bittner, PharmD, FAPhA, professor and associate dean at the UMSOP, directs the ICTC. In describing the clinic's innovative model, she introduced many of the individuals who would otherwise remain behind the scenes. And in thanking them for the many ways in which they care for newly discharged patients, she gave an example of one team member who literally went the extra mile.
"Imagine you get home, within 48 hours you get a phone call from our e-Health Center asking you what your needs are," she said. In this case, there was a medication problem. To resolve it, one of the clinic's pharmacists drove to a Prince George's County pharmacy to ascertain that the homebound patient would get the prescription.
"We take into account patient preferences," she said, such as whether people wish to be seen at the clinic in Cheverly or in the Wellmobile closer to their homes. "This expanded, interprofessional team care model will meet patient needs where they are — either at the clinic or right in their neighborhoods — creating flexibility and innovation in a true, patient-centric model."
The clinic's objectives are to address patients' needs across the continuum of interprofessional practice by utilizing nurse practitioners, clinical pharmacists, nurse care managers, lawyers, and social workers to reduce wait time for follow-up appointments post-discharge from the hospital or emergency department; to increase the percentage of patients receiving transitional care in the community post-discharge; to connect patients with primary care providers; and to assist patients with social and legal issues that impact their health.
Sherry B. Perkins, PhD, RN, FAAN, executive vice president and chief operating officer of UMCRH, spoke of the rapport that team members create with patients: Mary, 67, who had been hospitalized more than once, was discharged after being treated for chest pain and revealed that she was about to become homeless.
"The ICTC team helped Mary mange her social, housing, and medication issues, briefed the doctor on her concerns, and scheduled her follow-up visit," Perkins said. Mary had lacked a primary care provider; now she sees one "right in our building."
The ICTC expects to care for 1,200 to 1,500 people in Prince George's County over the two-year period. The intent is to link them to primary care providers within 60 days, despite gaps in the county's provider workforce.
Bradford L. Seamon, chair of the board of UMCRH, alluded to the provider challenges facing Prince George's County in his remarks, saying he hopes the program will bring in people who "will train here, serve here, and hopefully stay here."
Also participating in the ceremony were Robert A. Chrencik, MBA, CPA, president and and chief executive officer of UMMS; and Neil J. Moore, MBA, MPH, MPA, president and chief executive officer of UMCRH.
UMB was represented at the event by, among others, Jane M. Kirschling, PhD, RN, FAAN, dean of UMSON; Richard P. Barth, PhD, MSW, dean of the UM School of Social Work; and Bruce Jarrell, MD, FACS, executive vice president, provost, and dean of the Graduate School.
Team members conducted tours of the ICTC and of the Wellmobile during a reception after the ceremony.