UPDATE: Lamont's mother has set up a GoFundMe account to fund his ongoing care.
Lamont Roberson spent this summer working in his West Baltimore community on behalf of the University of Maryland, Baltimore (UMB) Community Engagement Center. Unlike many 16-year-olds, he spent the hot days going door-to-door in Poppleton, spreading information about the Community Engagement Center, which works to put community members in touch with UMB programs and services.
Lamont now is fighting for his life at the University of Maryland R Adams Cowley Shock Trauma Center, the victim of a shooting in his West Baltimore neighborhood. Just days after ending his summer job at the Community Engagement Center, Lamont was shot while innocently playing basketball with friends. After many uncertain days, Lamont became more alert earlier this week and began speaking to his family members. He is expected to recover.
Community members had a chance to turn out for Lamont on Aug. 17 at an American Red Cross blood drive held in his honor at the University of Maryland Medical Center (UMMC). They did so in force, UMB and UMMC employees mixing with members of the Poppleton neighborhood as they lined up to donate. The response was so great that by late morning, all the donation slots for the day were taken.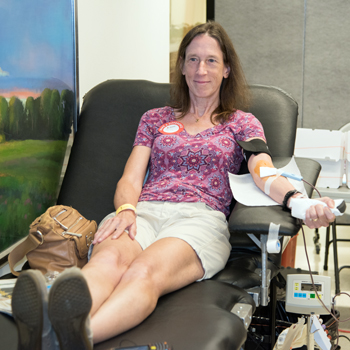 "I'm overwhelmed," said Lamont's grandmother, Maxine Ware, a longtime community activist and former resident of Poe Homes. Ware sat in the hospital all morning Aug. 17 and watched people line up to donate blood in Lamont's honor. Lamont received more than 25 units of blood while being treated at Shock Trauma, and his family wanted to give back by encouraging people to donate, she explained.
The Community Engagement Center distributed fliers in Poppleton to tell residents where and when to go to donate in Lamont's name, and emails went out to UMB staff, said Ashley Valis, MSW, executive director of strategic initiatives and community engagement at UMB. Everyone is affected by Lamont's story, she said.
"He was doing the best thing he could for his neighborhood, and in his neighborhood he had this happen," Valis said. "This gives us a renewed commitment to what we do."
Lamont, a student at the Green Street Academy charter school in West Baltimore, worked at the Community Engagement Center through the YouthWorks summer job program. YouthWorks is an initiative of the Mayor's Office of Employment Development that connects city schoolchildren with full-time jobs for five to six weeks each summer. Part of Lamont's job involved walking through West Baltimore, knocking on doors to raise awareness about the resources available at the Community Engagement Center, from job search services to discounted groceries. In the extreme heat of summer, he researched the closest cooling center available to the community. He also helped serve lunch every day to younger children, since the Community Engagement Center is designated as a summertime food distribution location for children who would ordinarily eat a free midday meal in school.
The shooting was shocking, said his grandmother, especially since Lamont was doing everything right. "It wasn't like he was out there on the corner," Ware said. "He just wanted to play basketball."
Lamont's fellow YouthWorks kids joined classmates, teachers, and even the principals from his current school and his former school – the KIPP Ujima Village Academy – who have visited during his time at Shock Trauma. Two teachers from KIPP Ujima Village Academy gave blood at the drive in Lamont's honor.
"He is the funniest kid I've ever taught," said Joe Francaviglia, Lamont's eighth-grade social studies teacher. "His sense of humor is clever and sophisticated."
"We would do anything to support Lamont," said Brad Nornhold, who taught Lamont in seventh and eighth grade. "It's terrible what happened. It doesn't make sense – he's such a wonderful kid, and he wasn't doing anything wrong."
Incidents such as this push UMB's Office of Community Engagement to evaluate its work and push to do the very best it can for the University's neighbors, according to Valis.
"This is a time to reflect on what we do and what we can do differently," Valis said.
Lamont's grandmother, Ware, serves on the advisory board to the Community Engagement Center. She spent decades as a community leader when she lived in Poe Homes. At the age of just 18, she began organizing summer camps for the children whose families lived in the Westside public housing projects. The camps continued until 2005. More community resources are needed, she said.
"I'm glad the [Community Engagement] Center is there," Ware said. "We need people who are dedicated to the children."