Lea Berman, MA, is an expert on the subject of civility and co-author of "Treating People Well: The Extraordinary Power of Civility at Work and in Life." She says being civil is not only the right thing to do, it also carries many side benefits.
"We're not suggesting you just do what your mother said to do and be nice, we're advocating for civility because it's incredibly self-interested," Berman told a crowd of 150-plus at the University of Maryland, Baltimore (UMB) on April 8 as the latest guest in the University's Core Values Speaker Series. "When people like you, they are more helpful and more pleasant. If you make an effort to talk to someone, to make eye contact, any little thing like that, it makes them feel better and it makes you feel better.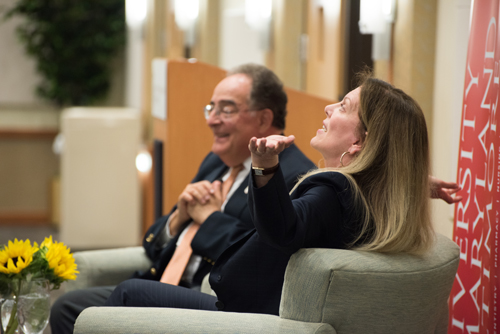 "We're not saying you should be a pushover, we're saying you should have some standards about your personal behavior that can be an example for others. And then you can allow that to serve you in your own life, because it makes your life less stressful and easier."
Berman, the White House social secretary under former President George W. Bush from 2004 to 2007, shared stories about that high-profile job, lamented the decline of civility in American discourse, and offered tips on social and workplace behavior during a 45-minute question-and-answer session with UMB President Jay A. Perman, MD, and audience members. Berman's main message: Be nice to people and maintain a positive outlook.
(View a video below.)
"Manners are more than just etiquette," she said. "By creating a template of who we are on the outside, we create who we become on the inside. So our manners are the visual manifestation of our sensitivity to others. And that's why it's really important to be positive and reach out to people in a civil way."
Perman introduced Berman as a longtime Washington, D.C., insider and the consummate hostess, noting that before her White House tenure she served as chief of staff for former Second Lady Lynne Cheney and social secretary for Cheney and her husband, former Vice President Dick Cheney. A mother of two, Berman also has worked for political campaigns and the National Republican Senatorial Committee, run an event planning business, and is the creator of America's Table, a blog dedicated to food and entertaining.
"Civility is a value that seems rather hard to come by nowadays, and we're deeply grateful to Ms. Berman for sharing her hard-earned wisdom," said Perman, who noted that Berman had declined an honorarium for her appearance. Instead, UMB made a donation to a charity she supports called So Others Might Eat, an interfaith organization that helps the poor and homeless in Washington.
UMB's president pointed out that Treating People Well was a bipartisan effort with co-author Jeremy Bernard, the White House social secretary under former President Barack Obama, then Perman kicked off the discussion by asking Berman to describe a typical day in the life of a White House social secretary.
Berman said the secretary is responsible for all events that take place in the White House and on its grounds except for the press room and the Oval Office, meaning more than 400 public events a year, including holiday celebrations, Rose Garden receptions, and even private get-togethers such as two first ladies having lunch in the family residence.
"It's like being on a hamster wheel," Berman said. "It never really slows down, because you have events every day and you're also working on things that are happening next week, next month, or three months from now. It's very hectic and therefore stressful, but everybody's job is stressful, because we are all concerned about doing our job the best we can and maintaining our good reputation. Stress is just something that's a part of everybody's work life."
Berman's stress level definitely spiked at times at the White House. Asked by Perman about the highs and lows of the job, she detailed an event with the president of China and his delegation that devolved after the White House announcer referred to "the Republic of China" (also known as Taiwan) rather than "the People's Republic of China." The Chinese delegation was insulted, with many of them declining to attend the ensuing luncheon.
As for a high point, Berman recounted her most memorable events as two annual dinners tied to the celebrations of Hanukkah and Ramadan, with the latter coming at a particularly difficult time during the Iraq War. "It was so wonderful to see these expressions of tolerance in an institutional form, and it made me really proud," she said.
The conversation steered into the decline of civility in U.S. discourse, with Berman lamenting that the impersonality of the internet leads people to behave in ways online that they would never do face to face. She said the coarseness of political dialogue has been fueled by leaders with no filters or boundaries such as President Donald Trump. But there is plenty of blame to go around, she says.
"We have these very two narrow extremes politically who are running the show and then the rest of us are all in the exhausted middle," Berman said. "Aren't you sick of it? Aren't you so tired of how these politicians can't figure out how to get along? That is their job, and they're all failing at it.
"All they're doing is creating future American political leaders who think this is how they're supposed to behave, and that is really something to be concerned about," Berman added. "I don't know what to do as a society to fix this, but all I can do as an individual is treat people with kindness and set myself as an example as a form of passive resistance. I will not lower myself to the level that these people have brought this country."