The Weise Gallery at the University of Maryland, Baltimore (UMB) is awash in spring color thanks to Maryland First Lady Yumi Hogan's art exhibit, "Nature's Spring Sonata," which runs through April 18, 2019.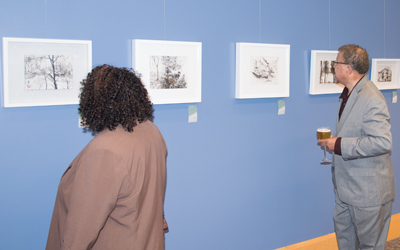 At a reception celebrating the opening of the exhibit, UMB President Jay A. Perman, MD, extolled the value of art in education as a way for people to connect in a deeper way. In our roles as health professionals, lawyers, and social workers, art is "how we feel and empathize and understand," he said. "Art makes UMB a richer campus — and a richer community. It's important to what we do and who we are."
Mrs. Hogan's works — made with sumi ink and hanji paper, displaying interpretations of her life and memories, and visually reflecting connections with nature — are the second exhibition sponsored by the UMB Council for the Arts & Culture.
"My artwork is my interpretation and abstract vision of the harmony of nature," said Mrs. Hogan, who is an adjunct professor in the drawing department at the Maryland Institute College of Att. "The flowing colors and lines represent a childhood memory of my mother and grandmother making silk fabrics, carefully moving each silk strand in the air."
All proceeds from the sale of the art benefit the Yumi Cares Foundation, which operates an art therapy program for pediatric patients in Maryland hospitals. Launched 18 months ago at the University of Maryland Children's Hospital, the program grew out of Hogan's personal encounter with cancer in the role as a caregiver and support system for her husband, Gov. Larry Hogan, as he underwent treatment at the University of Maryland Medical Center for non-Hodgkin's lymphoma.
As a mother, artist, and caregiver, Mrs. Hogan saw firsthand the many positive benefits of creative pursuits, including mental and emotional benefits, for patients facing the stresses of cancer and treatment.
"My husband underwent six months of cancer treatment here," Mrs. Hogan said, explaining the genesis of Yumi Cares. "I met so many special children, and I was thinking, 'How can I help them?' Yumi Cares is about helping children's recovery and empowerment through art."
The "Nature's Spring Sonata" exhibit is open to the public in the Weise Gallery at UMB's Health Sciences and Human Services Library, located at 601 W. Lombard St. in Baltimore.