Kahamari Stubbs, a sixth-grade student from West Baltimore considers himself a city kid. Living in an urban environment, Stubbs is familiar with honking cars, crowded sidewalks, and brick buildings.
On April 22, Stubbs swapped out his city views for trees and greenery when he visited the Carrie Murray Nature Center as part of a field trip with the University of Maryland, Baltimore (UMB) CURE Scholars Program — a unique mentoring/STEM (science, technology, engineering, and math) education program aimed at reducing racial disparities in public health by establishing a pipeline to careers in STEM.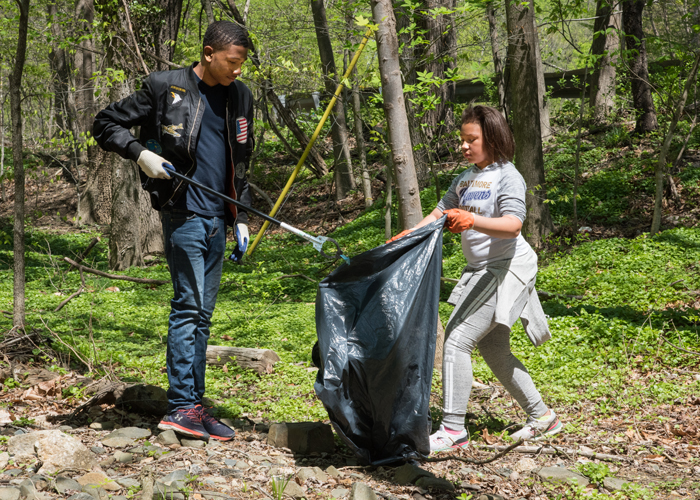 "I don't spend a lot of time out in the woods," Stubbs said as he wandered around the nature center. "It's a change for me because I'm not used to it, but it's an adventure so I have to do it!"
(View a photo gallery.)
The trip to the nature center was certainly a new kind of adventure for Stubbs and the seven other CURE Scholars who attended. During their visit, they were able to explore the wild side of Maryland along the Gwynns Falls hiking trail and even got to meet several animals living at the Carrie Murray Nature Center including turtles, lizards, owls, several other birds of prey, and snakes.
"At first, I was a little shocked because I'm not used to petting animals like that," said Stubbs. "They were kind of creepy, especially the snakes. For me to actually pet a snake, it was weird but fun at the same time!"
(View a video below.)
For Stubbs' classmate, Kamara Jenkins, also a sixth-grade student, meeting the animals was her favorite part of the trip. Jenkins has dreams of becoming a veterinarian, so she was excited to see and handle each of the animals.
"Being out here is helping me learn more about animals," she said. "I learned that owls have tunnel vision that can help them see farther, and they have more bones in their necks to turn their heads all the way around. It was really cool! I would really like to be around nature and animals more."
The trip was not only an exciting learning experience for the scholars, but it was also the perfect way to celebrate both Earth Day and Global Youth Service Day, a worldwide civic action event that encourages youth of all ages to take action for the betterment of their communities.
For their act of action, the CURE Scholars split up into teams of two. Armed with a trash bag, gloves, and pronged sticks, they wandered along the creek bed in Gwynns Falls Leakin Park and picked up trash.
"It makes me feel good because we're cleaning up the Earth which is important, and the animals can have a better environment," Stubbs said.
The scholars' clean-up project at the nature center put an emphasis on how they can help the environment on a local level. It also helped to show the scholars a different side of their Baltimore community.
"This opportunity is crucial for many students in West Baltimore," explained Shawdae Harrison, the volunteer coordinator for the CURE Scholars Program. "The Carrie Murray Nature Center is located right in their own backyard, and this will help them really understand that West Baltimore is not just an urban environment. Hopefully by the end of the day, they're encouraged to keep coming back and have a new appreciation for nature."
The scholars did end up walking away from the center with a new appreciation for nature. For Stubbs, he felt that the Murray Carrie Nature Center was a peaceful escape from the city that he hopes to visit again soon.
"I like that there are a lot more trees out here than in my neighborhood and it's quiet," he said. "It's a nice place to just sit down and get your mind right and your head straight."
That message of tranquility was exactly what members of the nature center were trying to convey to the scholars during their visit.
"We are really passionate about spreading environmental education in the city of Baltimore," explained James Schulte, the volunteer coordinator at the Carrie Murray Nature Center. "We believe that having a strong connection with nature and having a natural environment is really important to the physical and mental health of kids growing up in urban environments."
This hands-on learning experience served another purpose for the scholars. The trip gave them a crash course in environmental science, which will help the scholars this summer when they attend an environmental science camp at the University of Maryland, Baltimore County. There, they will spend a week in July learning about renewable energy sources and how science can help conservation efforts in the environment.