Mentor. Friend. Colleague. Lifesaver.
The late Angela H. Brodie, PhD, professor emeritus in the Department of Pharmacology at the University of Maryland School of Medicine (UMSOM), filled all four roles, said a panel of women who were fortunate enough to be the beneficiaries of Brodie's intelligence, humor, inspiration, and friendship.
Brodie, who died in June 2017 at the age of 82, was honored at a Women's History Month luncheon celebrating her life and legacy March 28 at Westminster Hall. She pioneered the development of aromatase inhibitors, which block the production of breast cancer-fueling estrogen. It is considered to be one of the greatest advances in treating breast cancer in the last 150 years.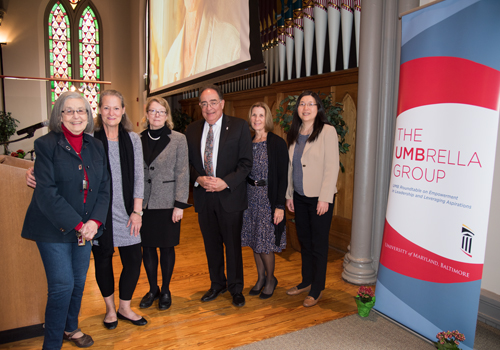 The event featured a panel discussion moderated by Margaret M. McCarthy, PhD, professor and chair of the Department of Pharmacology. Panelists included Laure Aurelian, PhD, and Yun Qiu, PhD, both UMSOM professors who worked with Brodie; Carolyn Choate, a breast cancer survivor in long-term remission, thanks to the drug developed by Brodie; and Ann Robbins, PhD, MS, president of Ann Robbins, LLC, a firm offering regulatory affairs consulting services to pharmaceutical companies, startups, and nonprofits. The UMB Roundtable on Empowerment in Leadership and Leveraging Aspirations, also known as the UMBrella Group, hosted the luncheon.
"I do indeed call her a friend and it was a privilege to be able to have that relationship with her," McCarthy said. "I always just have to point out as well, everybody emphasizes so much that she did for breast cancer, but her drug actually was revolutionary in the study of neuroscience was well. Her impact cannot be underestimated."
University of Maryland, Baltimore President Jay A. Perman, MD, described Brodie's career as one "marked by discoveries that would fundamentally change the way we treat breast cancer and that would ultimately save the lives of hundreds of thousands of women around the world."
Brodie's contributions encompassed more than those she made in the scientific community, Perman said. She helped shatter the glass ceiling in science; led in a male-dominated lab; insisted that her work be free to stand on its own merits; and made it her mission to ensure that more women are recruited and supported in science, Perman said.
"We'll talk about the hard work we must still undertake to ensure that women in research have the same opportunities as men," he said. "Regrettably, we have to do this because academic science isn't immune to the Me Too movement or the Time's Up movement. Far from it. They simply remind us that we do have so much more to do," to keep harassment and discrimination out of the workplace and to level the playing field for wage equality and gender parity in positions of leadership.
"In these conversations, as well, we owe a great debt to Dr. Brodie," Perman said.
Initially working with her husband, Harry Brodie, PhD, a chemist, Angela Brodie's research in aromatase inhibitors began in the 1970s, when she was one of very few women in academic science and had to fight to find an audience for her research. Early on, she and Aurelian were the only two women in the lab at UMSOM and they formed a close bond, Aurelian said.
"Thank you for this opportunity to see that smile again. It was such a special smile," Aurelian said after attendees watched a video highlighting Brodie's career. "I'm supposed to talk about myself and I will in a minute but that smile reminded me of many wonderful afternoons that we got together and complained so it made us feel better. I was blessed to have a friend like Angela in my life for which I'm grateful and I'm glad that we are here to remember her."
Aurelian said the two especially bonded because they both wanted to have careers in academia while raising a family. "To have children in those days and want to have a career in academia was an absolute no-no. But Angela did it and I did it," she said.
Choate, a breast cancer survivor and advocate, said Brodie was the embodiment of this year's national Women's History Month theme, "Nevertheless She Persisted."
"In an industry, academia, that was ruled basically by men, in an industry, pharmaceuticals, that was by and large ruled by men, it took her almost two decades to get that drug to market for a drug she believed in, that she knew would work for women like me," said Choate.
Last summer, as a tribute to Brodie, Choate and her daughter, Sydney, completed a 300-mile kayaking journey, which raised more than $400,00 for breast cancer research.
Brodie recruited Qiu from the University of Minnesota to UMSOM in 2002. Qiu collaborated with Brodie to study molecular mechanisms underlying therapeutic resistance in prostate cancer, mainly focused on androgen receptor and protein kinases signaling.
"As a woman scientist, especially when you have little kids in the family, it's very difficult to balance the career and personal life," Qiu said. "Angela taught me a lot of her experience, how to handle the personal life and the career. I am glad I learned a great deal from her and I survived a very competitive environment during my early academic life. I am very grateful for Angela's encouragement."
While the two never met, Robbins, a neuroscientist, said Brodie still shaped her life professionally and personally.
"In 1990, I knew about aromatase inhibitors," she said. "I started looking at what drugs were currently in the pipeline being developed for women, and that is where I learned about the research of both Dr. Brodies."
That same year, Robbins' mother was diagnosed with estrogen receptor positive breast cancer. Today, her mom is an 84-year-old cancer survivor.
"I have now continued to work with big companies, small companies and I am continually inspired by the work of women, entrepreneurs, like Dr. Brodie and others, women before her and after her, that have and will continue to help pursue products that are important for women's health," Robbins said.