As the University of Maryland, Baltimore (UMB) has begun encouraging entrepreneurship among students as well as faculty, the President's Symposium and White Paper Project completed a year-long exploration of how best to encourage innovation.
A keynote presentation of the findings capped UMB's first Entrepreneurship & Innovation Expo, a day of workshops, exhibits, and panel discussions held April 3. The event was organized primarily by students who are members of the Entrepreneurship & Innovation Network (EIN). (View a photo gallery.)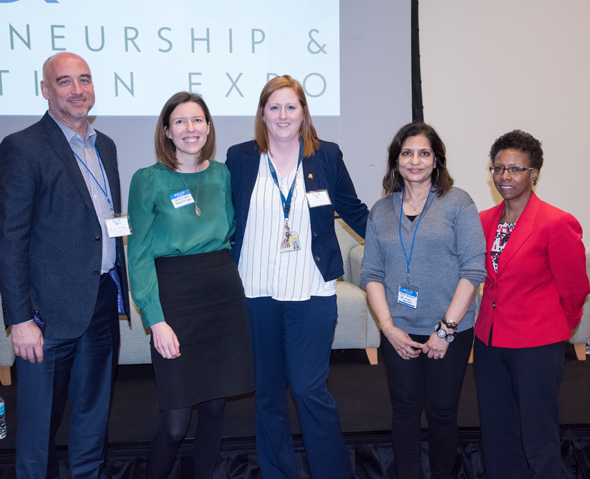 Speakers at the Expo from UMB included President Jay A. Perman, MD; Natalie D. Eddington, PhD, FAAPS, FCP, professor and dean of the School of Pharmacy (UMSOP), Rana Quraishi, PhD, director of new ventures, Jenny Owens, ScD, MS, director of academic and student affairs; Scott Thompson, PhD, professor and chair of physiology in the School of Medicine (UMSOM), and Sara Menso, MBA, MS, business analyst in the UMSOM Office of Student Affairs.
Perman reviewed several initiatives growing out of state legislation passed last year to create the University of Maryland Strategic Partnership: MPowering the State. It strengthens a preexisting partnership between the University of Maryland, College Park (UMCP) and UMB.
"We're going to launch a student innovation center, where students, faculty and staff from the University and schools from across the University System of Maryland can come together to commercialize important research," Perman said.
Perman complimented the four President's Fellows for the White Paper project, noting they are already innovators and entrepreneurs and saying, "I am eager to hear how we at UMB can do an even better job of fostering an entrepreneurial ethos and letting our risk-takers and our innovators run with their ideas."
(View video below.)
The fellows are Chinonye Donna Egbulem of the School of Social Work and UMSOM; Anna Hung, PharmD, of the UMSOP; and Benjamin Portney and Camilo Vanegas of the Graduate School and UMSOM.
Their report, "Exploring Entrepreneurship at the University of Maryland, Baltimore," found that as a graduate and professional university, UMB is uniquely suited to create "an interdisciplinary and interprofessional" entrepreneurial ecosystem on campus and in West Baltimore. The paper reviewed challenges such as students being fettered by lab duties and assets such the Innovation Space at the Health Sciences and Human Services Library.
UMB has an opportunity "to integrate and align each facet of our burgeoning entrepreneurial ecosystem," the fellows said, concluding that the most crucial issue is to centralize UMB's effort. The report recommended the formation of a standing working group and urged that EIN continue to host the Expo, which it called the first steps toward centralization.
"This proposed yearly event is designed to showcase current UMB faculty and student entrepreneurship, and to have substantive collaborative dialogue," the report states.
At the 2017 Expo, the spotlight was on pharmacists, for example, during Eddington's remarks to fellow panelists and an audience that included representatives of the Maryland Department of Commerce. "Faculty and students at the School of Pharmacy have embraced a unique type of entrepreneurship -- what we are calling 'pharmapreneurship,'" she said.
"In addition to increasing students' exposure to pharmapreneurship through the curriculum, we plan to create a dedicated space to support student pharmapreneurs as well as further define the concept such that it aligns with activities in which our faculty already participate." Eddington added that UMSOP is also determining how best to disseminate information about the School's pharmapreneurial endeavors to others across the University.
"As pharmapreneurs, our faculty and students are always searching for new opportunities to partner and collaborate. We want to share our experiences, but also bring in experts from other fields to provide guidance on these initiatives," she said.
Thompson suggested students could inspire faculty to become more open to entrepreneurial activities. He has been the mentor to Adam Van Dyke, a research fellow at UMSOM who is chief executive officer of a start-up, Asulon Pharma.
Quraishi spoke about teaching a new course, CIPP 980, on entrepreneurship in life sciences as well as her work guiding a group of UMB entrepreneurial fellows who are distinct from those assigned to the 2016-17 White Paper on the topic. She contends that "exposure to entrepreneurship is critical to almost everybody" because it broadens perspectives. "Once you know the pathway to drug development, or device development, it equips you better in a job search" or in other ways, she said.
Called the President's Entrepreneurial Fellowship, the ongoing program places teams of students with UMB faculty members to help move their discoveries out of the lab and into the marketplace. Launched in 2016, it is overseen by the UMB Office of Research and Development.
James Hughes, MBA, chief enterprise and economic development officer and vice president of UMB and director of UM Ventures Baltimore, presided at an earlier white paper event in which he was joined by Quraishi and by Darryl L. Carter, MD, a successful entrepreneur who brings an expertise in biologics to his role as UMB venture adviser.
"We need to accelerate the creation of an entrepreneurial culture here," Hughes said, outlining plans for the Center for Maryland Advanced Ventures (CMAV).
The Strategic Partnership law calls for appropriation of $4 million in the fiscal year beginning July 1 to fund CMAV, which is being integrated into UM Ventures under the MPowering initiative. "It can be, it will be, it needs to be transformational," said Hughes.
One phase, the New Ventures Initiative, has opened in the historic Lion Brothers Building; another would be in connection with a future BioPark building.
The center will house multiple resources including UMB's entrepreneurs in residence, some university–owned start-up companies; a Small Business Development Center, a UM Carey School of Law clinic offering legal assistance for intellectual property and business law, and I-Corps services to be coordinated by Owens.
At both events, Owens described how I-Corps, a National Science Foundation Initiative offered at UMCP has helped in her personal life in launching Hosts for Humanity, a startup in the social entrepreneurship realm.
Speaking of the new spirit at UMB, she said: "Whether it's doing co-curricular programs for students, new degree programs, or giving students, faculty and staff space to launch their own things, I think these are very exciting."
Excitement has become a familiar emotion for two of the fellows. Vanegas is on the team whose startup, Nanobernetics, LLC, won the Lightbulb Moment Competition on Feb. 27 that Menso had organized for UMSOM students; Portney is on a team whose startup, AgamiLife Inc., was a finalist. And on April 20, at the BioHealth Capital Region Forum in Gathersburg, Md., Portney presented on behalf of AgamiLife as one of five finalists in the CrabTrap competition.
Entrepreneurism is the sixth in a series of topics explored by the annual President's Symposium and White Paper Project. The Office of Interprofessional Student Learning & Service Initiatives welcomes applications for the 2017-18 fellows, who will study global literacy.