Lisa Berlin, PhD, MS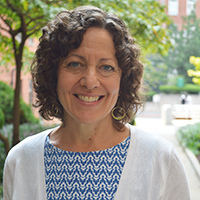 Lisa Berlin is a professor at the University of Maryland School of Social Work. Her research focuses on early child-parent attachment as well as programs and policies to support early parenting, especially among low-income families. Berlin has been conducting attachment and intervention research for over 20 years across multiple disciplinary fields such as human development, psychology, social work, and public health. A major thrust of Berlin's research agenda concerns the extent to which attachment-based interventions can improve the efficacy of community-based programs for supporting parenting and early child development.
Berlin directs the Baltimore Babies Project (BBP), a randomized evaluation of Family Connects Maryland, a nurse home visiting program for Baltimore City families with infants.
Berlin earned her PhD and master's degree in human development from Pennsylvania State University, and her bachelor's in psychology from Barnard College at Columbia University.