Diane Hoffmann, JD, MS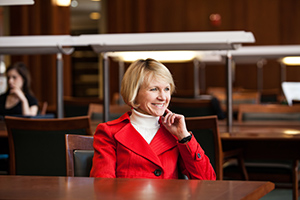 Diane Hoffmann, JD, MS, is the Jacob A. France Professor of Health Law at the University of Maryland Francis King Carey School of Law and director of the law school's Law & Health Care Program.
She received her law degree from Harvard Law School and her master's degree from Harvard School of Public Health. She was one of the primary authors of Maryland's Health Care Decisions Act, which establishes standards and procedures for making medical decisions for individuals at the end of life who lack decision-making capacity.
She has served as a member of a number of ethics committees including those at the University of Maryland Medical System and the Clinical Center at the National Institutes of Health. She is the founder and director of the Maryland Healthcare Ethics Committee Network, a membership organization that provides educational resources and consultation services to ethics committees at health care facilities in Maryland.
From June 1994 to May 1995, Hoffmann was the acting staff director of the Senate Subcommittee on Aging reporting to U.S. Sen. Barbara Mikulski. From 2008 to 2014, she served as a member of the board of directors of the American Society of Law, Medicine and Ethics and as president of the board in 2010 and 2011. She is currently a member of the Maryland Stem Cell Commission, the Composite Committee of the U.S. Medical Licensing Exam, and the editorial board of the Journal of Medical Regulation.
Hoffmann has published numerous articles on health law and policy issues in legal journals as well as scientific and medical journals including Science, JAMA, New England Journal of Medicine, and Annals of Internal Medicine.
Her areas of research and scholarship include legal obstacles to the treatment of pain, including restrictions on the prescribing of opioids; the regulation of medical marijuana; federal regulation of new microbiome-based diagnostics and therapies, including probiotics and fecal microbiota transplants; and legal and ethical issues related to the COVID-19 pandemic.