It doesn't take a rocket scientist to help a university address an issue. But if one happens to be available, and is willing to help, the institution would be wise to utilize his/her services.
That in a nutshell describes the role of Norman Augustine, MSE, retired chair and CEO of the nation's largest defense contractor, Lockheed Martin, who has agreed to be the University of Maryland, Baltimore's (UMB) inaugural President's Distinguished Scholar.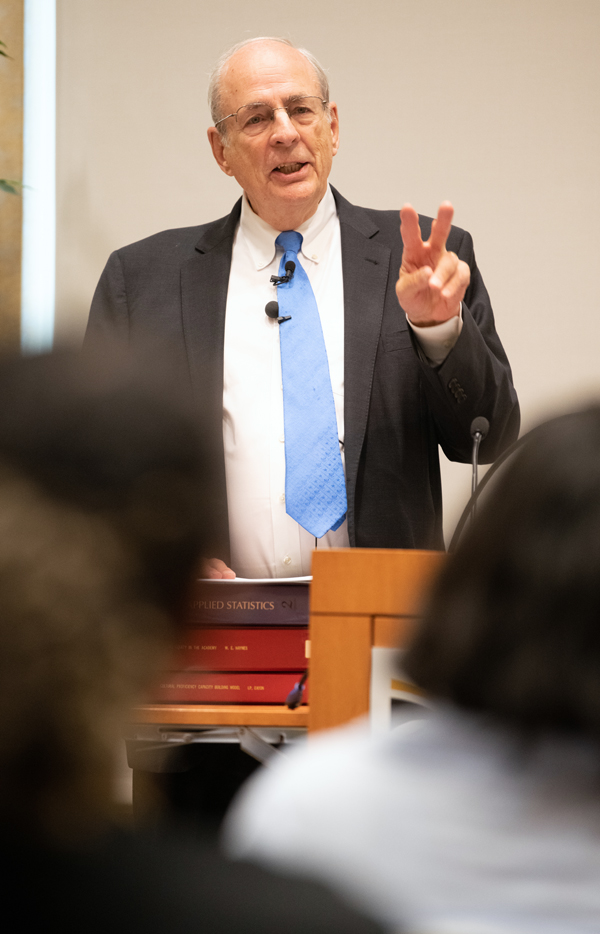 He will voluntarily give lectures and workshops on crisis management and organizational effectiveness, engage associates for conversations about what it means to succeed and what we gain from failure, and help guide UMB's progress using lessons he's learned over a lifetime of business leadership.
Augustine also will advise the 2019-2020 President's Fellows, who in their ninth annual White Paper are exploring how to institutionalize UMB's Core Values so that they remain durable even as the University and its people change.
"I told President Perman I'm no expert, I have no PhD in values," Augustine said in his folksy, self-deprecating way at the White Paper kickoff presentation in the SMC Campus Center. "I've gathered a lot of scar tissue during my career and I'm like the Farmers Insurance ad that says, 'We know a thing or two because we've seen a thing or two.' I'd like to share some of those things with you today." (See video below.)
For the next 45 minutes, he told stories from his phenomenal career, which includes stints as undersecretary of the Army, chair of the American Red Cross, president of the Boy Scouts, chair of the National Academy of Engineering and American Institute of Aeronautics and Astronautics. He has won the National Medal of Technology and is a five-time recipient of the Department of Defense Civilian Distinguished Service Medal, in addition to 35 honorary doctorates.
Referencing the date of his Sept. 11 presentation, Augustine said, "I'm sure everybody in this room remembers where you were on 9/11. I was on a train riding alone off the border of Afghanistan. That was not a good place to be that particular day and so I can tell you I really am pleased to be here with you today."
Earlier, UMB President Jay A. Perman, MD, mentioned how UMB's seven core values — accountability, civility, collaboration, diversity, excellence, knowledge, and leadership — had come to be. "The 140 people who were working on our [2011-2016] strategic plan said that we needed pillars before we could construct a plan. Pillars meaning principles, values that we would never forsake. The DNA of our institution. Strategic plans can change, but values need to be permanent."
Augustine agreed. "I like that word 'pillars.' The same is true of quality people I've known in my life. In companies, you're often proud of what they've done but even more proud of how they had done it."
He gave a few examples. Herb Kelleher, who made flying fun as former chair of Southwest Airlines. Two gas stations existing side-by-side in Texas. Same gas, same prices. But only one was busy. Why? They're in a different business than we're in, Augustine was told. They're a filling station. We're a service station — and everybody in that place understood the difference between the two.
Another friend, Jim Burke, then-CEO of Johnson & Johnson, made the hard decision in 1982 to pull all 30 million bottles of Tylenol capsules off American store shelves after seven died from capsules tainted after they left the J&J plant.
"The financial people said it will crater our stock price," Augustine said. "I asked Jim how he made such a difficult decision. He said it was easy. 'We've been talking about our values for so long in front of everybody, in front of our customers, the media, our employees.' He said, 'There's no way I could not recall.' Ever since, Johnson & Johnson has become the gold standard of ethics, culture, and values in the industry."
Augustine, a former University System of Maryland regent who spoke on leadership in 2015 as part of UMB's Core Values Speaker Series, offered some closing suggestions before taking questions from the 100 or so in attendance.
Values start at the top and they work their way down. "I was running the astronautics division at Martin Marietta and we had hit a rough patch. It was clear to me we didn't have money for our managers to fly first class anymore. They were working so hard — flying somewhere in the morning, working all day, flying home at night to save time and the cost of a hotel. I didn't have the heart to [change the policy]. I just started flying coach. I never said a word about it to anybody and within about a month there were employees flying coach."
Think creatively. "We made a board game of values of ethical decisions. You got to move forward three squares to get to the right decision based on actual cases at the company. I broke 300 managers into groups of three and had them play the board game. Pretty soon, the noise in the room was so loud you could hardly hear. There were all these arguments going on. Suddenly, the subject of values became something right at the top of everyone's consciousness."
Listen. "At Lockheed Martin we were given a contract to take 8,000 pounds out of the weight of these huge fuel tanks. The first 7,200 pounds came out easy. The last 800 pounds was really hard. A group of engineers was discussing this when a young man from the factory came up. After listening for a while, he interjected, 'Why don't you not paint the tank white?' Well, there's silence, and finally some engineer says space hardware has always been white. The young man didn't give up. He said, 'Well, why don't you not paint that space hardware black?' Finally, somebody says, 'I wonder what that paint weighs.' So it's a scramble to the computer and they come back. The paint weighs 800 pounds. So we saved paint, we saved time, we saved weight, we saved nuisance. Listening is one of their core values."
Read Dr. Perman's announcement of Norman Augustine as UMB's inaugural President's Distinguished Scholar. Meet the 2019-2020 President's Fellows (students Jamaad Abdi, School of Dentistry; Meghna Bhatt, School of Pharmacy; Marina Gettas, School of Nursing; Anicca Harriot, Graduate School and School of Medicine; Adrienne Kambouris, Graduate School and School of Medicine; Nina Marks, Carey School of Law; and Jenny Torres, School of Social Work).