University of Maryland, Baltimore (UMB) President Jay A. Perman, MD, sat alongside Baltimore Ravens tight end Benjamin Watson, former safety Ed Reed and the mayor of Baltimore this week at a news conference to kick off the newly renovated Renaissance Academy.
"This is where my heart is … here with the students of Renaissance Academy and with all of you who care so deeply about them," Perman said. "I thank … everyone in the Ravens organization who was so touched by the story of Renaissance and wanted to help."
The Ravens were responsible for the $1.5 million renovation to the school, which was under threat of closure after a spate of violence in which three students were killed. At the news conference, Ravens President Dick Cass said the club was inspired by news stories of the dedication of the community fighting the school's closure.
The renovations were necessary to make the school — housed in Booker T. Washington Middle School — safer and more workable.
"We are happy it turned out so well," Cass said of the renovations. "It was a tremendous group effort."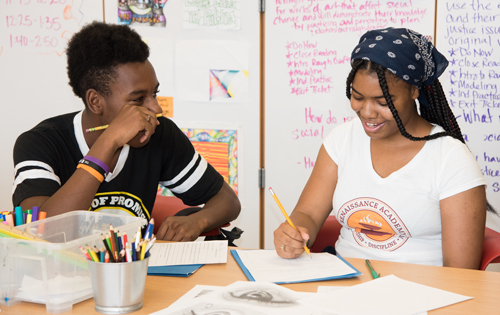 Catherine Pugh, mayor of Baltimore, thanked the Ravens for stepping up and showing that the school is important to them.
"You all know what this school looked like before," she said. "For these young people to be able to walk around these hallways … and be in classrooms ready to learn, it makes them feel proud."
Sonja Santelises, Baltimore City Schools CEO, said that the school "feels like what our young people deserve."
The front entrance of the school, formerly dark, cavernous, and covered by bars, is now bright, open, and freshly painted. The halls are crisp and clean, and the walls are covered with inspiring quotes, such as:
"Hold fast to dreams, for if dreams die life is a broken-winged bird that cannot fly." – Langston Hughes.
The science and art rooms are completely updated, large classrooms have been modified to increase office space for counseling services, and a large student common area with desks and comfortable seating is available for studying and socializing.
Renaissance Academy is part of UMB's Promise Heights initiative, which seeks to improve the lives of children and families in the impoverished neighborhood of Upton/Druid Heights. The University of Maryland School of Social Work provides the high school with services directed by a full-time community schools coordinator.
"The University of Maryland, Baltimore has invested so heavily in Renaissance because — like you — we believe in these young people," Perman said. "We know that if they're given the right supports, the right services, and the right people guiding them, there's no limit to what they can do."
Watson, who has played for teams in four cities during his 13-year NFL career and is the father of five, also addressed the crowd, urging them to invest in the community.
"My challenge to all of us is to find out what is the best investment we can make. … Each of us has something we can give," he said. He turned to the students waiting to give tours of the school and told them he could see the pride on their faces.
"We care about you," he said, "and we want to see you succeed."
Senior Jazmine Hull was one of those students.
"I think it's wonderful," she said of the school's changes. "Before it wasn't inspirational. Some would say, 'I feel like I'm in prison when I'm here.' But now, oh my goodness. It's just amazing to me."
Special Education teacher Anne Schmitt agreed that the renovations make a tremendous difference.
"It's like a completely different place," she said. "It's fresh and modern. … And I've seen a difference in the kids. They are a lot more willing to step it up."
Daijeon Powell, a mentor who works full time providing the students' services and working to help them succeed, says he's also seen a big change in the kids, who can now take pride in their building.
"We are just so grateful that someone saw the work we were doing and were willing to help," he said.
Hallie Atwater, LCSW-C, MSW, community schools coordinator for Promise Heights, said that the renovations reflect on how other people see the kids.
"[The kids] see that they are worthy of a school that looks like this," she said. "I'm so grateful that the Ravens made this a reality for our school. … It does make me wish that every school in Baltimore could look like this. Environment does make a difference."
In the art room, students worked in what now feels like a real art studio with tall desks and stools and plenty of supplies. Tenth graders Shakeenah Cole and Kevin Fleming sat quietly sketching.
"It's way better than before," said Fleming, who hopes to be an architect someday. His eyes got big as Watson wandered into the classroom.
Watson stopped to talk to senior Tyshaun Wallace to give him a few words of advice.
"He said sometimes you got to do some things you don't like. … You are not always going to like what you do, but you gotta do it," Wallace said
Reed, the former Ravens standout who has volunteered in the community and the school over the past nine years, called the renovations amazing.
"This is something the kids can hold on to," he said, explaining that this shows them that their village is extended, that many people want to support them.
At the news conference, Santelises praised the efforts of the University of Maryland School of Social Work and specifically, Bronwyn Mayden, MSW, executive director of the Promise Heights Initiative, for investing in the schools and the wellness of the students.
"This isn't just talk," Perman stressed. "We've seen what's possible. We've seen graduates of this high school overcome challenges that would floor any one of us. And they still rise. Renaissance is a lesson to all of us in Baltimore — that if we come together as partners … that if we care enough about the children of this city … and we prove it with our actions, then we shouldn't ever be surprised by what they can do. "