"Global literate students think critically of their role in the world and how they interact in it," said Roger J. Ward, EdD, JD, MPA, University of Maryland, Baltimore (UMB) chief accountability officer and vice president, at the launch of the 2017-18 President's Symposium and White Paper Project. "They are empowered to invent positive change in an increasingly interconnected world."
The event was held Sept. 6 at the Southern Management Corporation Campus Center. The address, "Global Learning: Moving from an Option to a Priority in Today's Interconnected World," was given by Dawn Whitehead, PhD, senior director for Global Learning and Curricular Change for the Office of Integrative Liberal Learning and the Global Commons at the Association of American Colleges & Universities (AACU).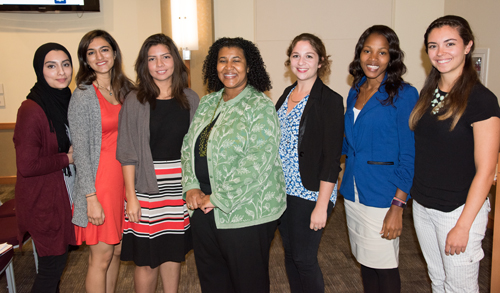 Citing research by the AACU, Whitehead said employers are increasingly globally connected and placing more emphasis on hiring candidates with global knowledge and experiences.
"They want all students to have global and intercultural skills," Whitehead said. "Especially in solving problems with people who have views different than their own."
As an example, Whitehead explained that in Kenya, email is not considered an official way of communication but more a form of gossip. "That is something you have to be aware of if you are working with people of other cultures," she said.
According to Whitehead, students understand the importance of global learning and believe that colleges need to improve how they prepare students with global learning outcomes. Students and employers agree that students are not well prepared in terms of global knowledge and skills, she said.
Just as the public perception of the need for higher education went from a luxury before World War II to a right in the last 10 years, Whitehead asked if the same could be said for global learning. It is her hope that it be perceived as a necessity and even a right, she said.
Before a change can be made, Whitehead said it's important that everyone in an institution have some understanding of what global learning is. The AACU defines it as a critical analysis of and an engagement with complex, interdependent global systems and legacies (such as natural, physical, social, cultural, economic, and political) and their implications for people's lives and the earth's sustainability. Florida International University defines global learning as "the process of diverse people collaboratively analyzing and addressing complex problems that transcend borders," Whitehead said.
It's a skill that we want all of our children to have and one that could be put on any program, Whitehead explained. It has been determined that faculty can influence global perspectives by the types of assignments they provide and the way they structure their classroom setting, "neither of which requires extra funds to implement," she said.
"Global Learning cannot be achieved with a single course or a single experience. It is acquired cumulatively across a student's entire college career," Whitehead said. "Everyone needs to have global experience, not just students who go abroad. … It is something that will be rewarded in the workplace. If they don't have the experience or understanding, they aren't going to get a job."
The UMB community will be delving into the topic of global literacy this year through the guidance of guest speakers and the scholarship of an interdisciplinary group of President's Fellows. The fellows will conduct an environmental scan, research best practices, issue and analyze a student survey on global literacy, author a white paper, and present recommendations to the University community.
Molly Crothers, a fellow from the University of Maryland School of Nursing, introduced Whitehead and said afterward that she thought it was a great speech to kick off the project.
"It got us thinking what we can ask our faculty and offices about what we can improve upon in regards to global literacy," Crothers said.
The other 2017-18 President's Fellows include Wesley Chan and Rhiya Dave, MPH, of the University of Maryland School of Medicine; Saniya Chaudhry and Esther Kimani of the School of Pharmacy; Alexandra Huss and Elizabeth Sibrian of the University of Maryland School of Social Work; and Nana Akua Tufuoh and Sheridan Todd Yeary of the University of Maryland Francis King Carey School of Law.
This is the seventh year of the symposium, which is a joint initiative of the Office of the President and UMB's Office of Interprofessional Student Learning & Service Initiatives. The most recent white paper was submitted on the topic of entrepreneurial exploration. Previous topics were cultural competency, community engagement, interprofessional education, civility, and urban renewal.