"For 10 years, we've known as scholars that we're better together," University of Maryland, Baltimore (UMB) President Jay A. Perman, MD, said at the 10th annual Research and Innovation Seed Grant reception, held in the University of Maryland BioPark garden on West Baltimore Street. "We're better when we join our expertise and start looking at problems from angles we may never have considered before."
Faculty, staff, and administrators from UMB and the University of Maryland, College Park (UMCP) gathered Oct. 2 to congratulate the 2017 seed grant winners. The grant is part the University of Maryland Strategic Partnership: MPowering the State initiative, and seeks to encourage faculty members from both institutions to collaborate on structured, cross-disciplinary, and cross-university research that impacts human lives.
The seed grant partnership, which began in 2008, has produced innovative research across multiple disciplines and is a source of pride for UMCP President Wallace D. Loh, PhD, JD.
"Someday I'll retire and look back, and if I were ever asked what is the thing you're most proud of when you were president of University of Maryland, College Park, I would say the partnership with University of Maryland, Baltimore that was forged because of the personal relationship between Jay Perman and I," he said.
Written into Maryland law with the University of Maryland Strategic Partnership Act of 2016, the MPower program is now a formal agreement that extends beyond presidents Loh and Perman. The collaborations are now "permanent for generations to come," Loh said.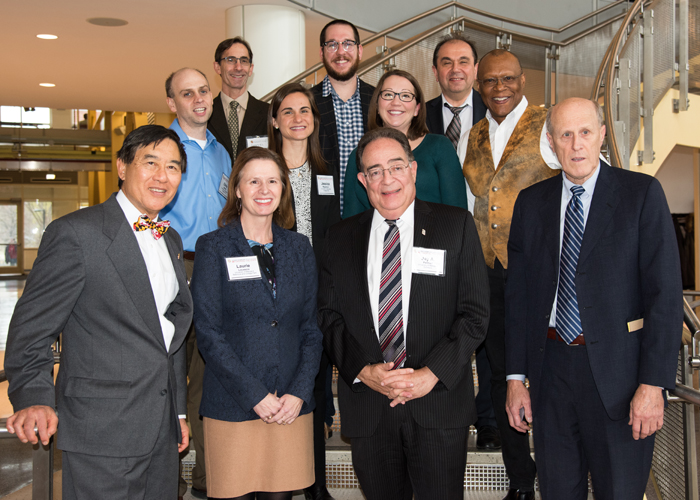 Recipients of the 2017 seed grants will be researching subjects ranging from transplant rejection to genomics research in the African-American community. The four teams of awardees are:
Local Engineering of the Lymph Node Microenvironment in Non-human Primates to Support Translational Therapies Targeting Autoimmunity and Transplant Rejection
Christopher M. Jewell, PhD, School of Engineering, UMCP
Richard N. Pierson, MD, University of Maryland School of Medicine (UMSOM)
Agnes M. Azimzadeh, PhD, UMSOM
Jonathan S. Bromberg, MD, PhD, UMSOM
Assessing Knowledge, Attitudes, Beliefs and Willingness of African Americans in West Baltimore and Southern Prince George's County to Participate in Genomics Research
Stephen B. Thomas, PhD, School of Public Health, UMCP
C. Daniel Mullins, PhD, University of Maryland School of Pharmacy (UMSOP), UMB
Noninvasive and Direct Imaging Methods for Characterizing Protein Aggregates in Biologics
Taylor Woehl, PhD, School of Engineering, UMCP
Bruce Yu, PhD, UMSOP, UMB
Utilizing Peer-recovery Advocates to Implement an Evidence-based Intervention to Decrease Substance Use Among Low-income Minority Adults
Julia Felton, PhD, College of Behavioral Social Sciences, UMCP
Kelly Doran, PhD, RN, University of Maryland School of Nursing, UMB
Grant recipient Stephen B. Thomas, PhD, a professor at the UMCP School of Public Health, said he and his partner C. Daniel Mullins, PhD, a professor in the Pharmaceutical Health Services Research Department at the University of Maryland School of Pharmacy, aim to increase African-American participation in clinical research in West Baltimore and Prince George's County.
"I could not be more excited about this collaboration with our partners here at the University of Maryland, Baltimore and the School of Pharmacy," Thomas said.
Thomas said he and Mullins are fighting to overcome a history of research abuse in the African-American community, including the Tuskegee syphilis experiments and the story of Henrietta Lacks that recently was told in a best-selling book and movie. That history, Thomas said, "is so deep and so enduring that unfortunately many African-Americans are not involved in clinical research and therefore left out of the science knowledge base."
This project, Thomas believes, "is the first step toward building the trust necessary to make sure that this population, this community, is actually benefitting from the best science and health care available."
The event also included research presentations by the 2016 seed grant recipients.
Philip Resnik, PhD, professor of linguistics in UMCP's College of Arts and Humanities, and Deanna Kelly, PharmD, BCPP, professor of psychiatry at UMSOM, shared their collaborative work using language analysis and social media interaction to help identify depression and schizophrenia.
Clement Adebamowo, BM, ChB, ScD, FWACS, FACS, professor of epidemiology and public health, Institute of Human Virology at UMSOM, presented research on geospatial mapping and access to cancer screening in Nigeria. Adebamowo shared how he and his partner Kathleen Stewart, PhD, MS, of the UMCP College of Behavioral Sciences and Social Sciences, used a geocoding system called What3Words to map 3,000 miles of rural roads in Nigeria to locate patients seeking care and preventative treatment for cervical cancer.
Mary Ann Rankin, PhD, senior vice president and provost at UMCP, noted that the seed grant program has involved more than 150 researchers and students working on nearly 65 projects on multiple campuses since 2008. "It's been a terrific example of what MPower means," she said.