When Hollins Market resident Anita Maynor first came to the University of Maryland, Baltimore's (UMB) Community Engagement Center (CEC), she was looking for a job but had no idea how to use a computer.
Thanks to the resources at the CEC, she learned the skills she needed to use the technology, but the computers were slow and would often freeze.
"My first application I put in for the University of Maryland took me three days," she said.
Not anymore. The Center for Information and Technology Services (CITS) recently donated 17 desktop computers and a laptop to the CEC. The new lab was unveiled Sept. 25.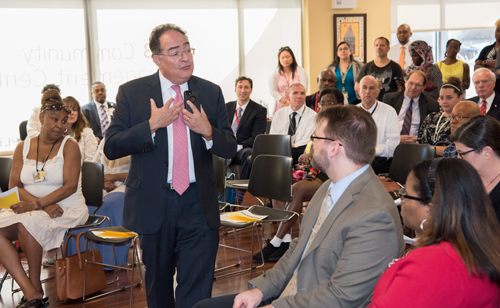 "It's not always a matter of how to use these devices … it is sometimes a matter of availability," UMB President Jay A. Perman, MD, said at the ceremony. "Devices cost money, probably too much money, and certainly too much money for a lot of folks. … It's important to make available to our neighbors a resource like this."
Peter J. Murray, PhD, chief information officer and vice president for information technology at UMB, said the computers feature all the latest "bells and whistles," which make them fast, secure, and easy to use.
"The university has state-of-the-art technology throughout the campus. It just makes sense to be sure that the CEC is equipped with that same technology ­— it is part of our strategic plan for the center, and the CEC is one of the president's priorities," Murray said.
Kelly Quinn, PhD, CEC coordinator, said she was excited to have the new computers installed.
"We really think of the computers as a tool for workforce development, but they are also important for the community to feel more connected," she said.
Residents from seven surrounding Southwest Baltimore neighborhoods are welcome to use the computers for a range of purposes, she said. Some come to look for jobs, others to check their email or social media. Students may need to work on college essays, and others might just want to read a newspaper online or watch YouTube, she said.
More than a year ago, Maynor took advantage of training at the CEC. She learned how to send email, fill out an online job application, and revamp her resume, she said. Eventually, she obtained a part-time job that has led to a full-time position as a research data entry technician for the University of Maryland School of Medicine (UMSOM).
"I'm doing data entry. That means I know how to use a computer," she joked. "This has allowed me to come into the 21st century. Computers are the mainstream, and everyone has to use them."
Maynor now serves on the CEC's Community Advisory Board and comes to the CEC nearly every day to help others. She calls herself an ambassador for the center and often sends notices of job openings and training opportunities. Though she doesn't like to sound unappreciative for what the center used to have, she is so thankful for the new computers.
"It's so much better," she said, rating it a 12 on a scale from one to 10.
Vernell Lewis, another member of the CEC's Community Advisory Board and chair of the Hollins-Roundhouse Community Association Education Committee, said she will do what she can to get the word out.
"People need computer skills, and I think this will be very beneficial," she said.
"This is the right thing to do," Perman said after admitting that not too long ago he had no idea how to turn on a computer, much less use one. "I am so happy we can be part of resourcing our neighbors in order to have the sorts of things I didn't even understand and now take for granted."
Quinn invited those in attendance from the neighborhood to check out the CEC's programs, including Tech Tuesday on Oct. 4, which will offer basic instructions on using a computer; Workforce Wednesday, held weekly to assist in job searches, job training, and resume building; and a persuasive writing workshop Nov. 8.
Dana Rampolla contributed to this article.